Classic DACB Collection
All articles created or submitted in the first twenty years of the project, from 1995 to 2015.
Elesin, Benjamin Bamidele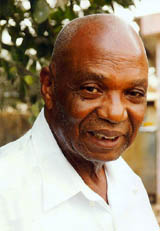 Early Life, Education and Career
Benjamin B. Elesin was born on July 4, 1931 in Offa, where he had both his primary and secondary school education. In 1949, immediately after completing his primary education, he became a teacher in order to save money and further his education. He did this near Offa until January, 1951, when he started his secondary school education in the famous Offa Grammar School.
Coincidentally, Elesin and his future wife were grouped into the same house in school, a house named Ludlow. While he was in school, one of his attributes was humility, and this was noted by a majority of his thirty classmates, who voted him class captain. His ability as a coordinator was evident.
Throughout the entire six years he spent in Offa Grammar School, his immediate two elder brothers were of assistance to him both morally and financially. His mother, though fairly old, played her role as a mother along with his younger sister Olu, who is now Mrs. Oluyemi. Latin and mathematics were two of his favorite subjects. He completed his secondary school education in December of 1956 with twenty-one others. It was his group that set the record of a 100% passing class in the West African Senior School Certificate Examination (WASSCE) of November/December 1956. In 1957 he started his working life with the Nigerian Railway Works Department as an architectural draftsman, while his close friend Chief Arch. Adeyemi Bilewu joined the building division of the Northern Nigeria Public Works Department in Kaduna.
In 1959, he gained admission to Yaba Technical College (now Yaba College of Technology), where he studied architecture, completing his studies in 1961. After working briefly in the Federal Public Works Department in Lagos, he decided in 1962 to travel overseas to study Quantity Survey in Ilford, Essex, England, leaving behind his fiancée (then Miss Esther Aduke Abimbola), who was a student in a Methodist Teachers Training College in Sagamu at that time. She later joined him in England to complete her course of study.
While in England, he struggled to make both ends meet by working and studying. When his wife joined him, she proved to be a reliable partner by also helping to make their stay in England moderately comfortable. They had their first two children in England, named Oluwatoyin, and Olumide. After receiving full qualification as a quantity surveyor, he worked in Britain for a short time.
Early in 1971, he was recruited as a quantity surveyor by the North Western State on a permanent basis (unlike other states, which normally recruited on contract basis). Still in the service of the Sokoto State Government after the breakup of the state into three parts, he became the chief quantity surveyor – a post in which he retired. He set up his own modest private practice a bit later.
A Family Man
Ben, as he was usually called, was an amiable and complete family man who took pride in the spirit of "live and let live." In his life, his family came first. His respect for others, age notwithstanding, endeared him to the heart of those that knew him. He lived a life of contentment. He never hid his religious activities, and he always introduced himself to churches when he moved. His love for music propelled him to learn how to play keyboards (organ and piano). He may have been inspired in this by his close friend Adeyemi Bilewu, who started playing organ while they were students in Offa Grammar School.
He was very caring, kind, and loving not just to his family, but also to others. He never allowed his family to lack for anything, and he cared for his extended family and his in-laws as well. He sent many children to school, and helped anyone that came to him with a need. He always had a good word of advice for everyone.
One time, in Sokoto, a certain Alhaji teased him and asked him why he had only one wife. This person brought his daughter to him as a wife, but he rejected the offer.
His Church Activities
Benjamin Bamidele Elesin played the organ, and was the organist in the Anglican Church, Sokoto. He was also the choirmaster there, and was a helpful member of the building committee. When he moved to Akure, he was also the organist in the Anglican Church there for a while. He was always regularly in attendance, and had prayer meetings, first in his house in Sokoto and later in the homes of other members, also encouraging the church to have weekly Bible studies.
Friends
Elesin had many friends, and he was a man of the people. Some of his friends are: Mr. and Mrs. Bilewu, Alhaji Raji and family, Mrs. Jonathan and her family, pastor Martins Atanda and his family, Mr. and Mrs. Ashcroft, Mr. Ige, Mr. Araoye, and the Oyinlolas. One of his closest friends, Mr. Bilewu, has been his close friend from the cradle. They started schooling together in Offa, when they would trek nine miles from where the vehicle dropped them off for school. They were in the same school, and Elesin was the football captain. He once had a fractured leg and also had examinations ahead of him, so he wrote the examinations with his leg injury, nonetheless earning distinctive marks in that examination.
Another one of his friends was Chief Adesoye, a very popular man who owned a biscuit industry. Elesin was his best man in London when he got married. He was very happy when Pa Bamidele's first child, Toyin got married.
His Guiding Principles:
Trust in God

Work Hard

Success in school is not success in life.

Don't depend on anybody; set the hook and fish for yourself.
Benjamin Elesin shared sorrow with those who sorrowed and rejoiced with those who rejoiced. He was a peacemaker all his life and always aligned himself with good ideals. He was a Christian worthy of emulation, an ideal family leader who never condoned any misbehavior, and his love for his family was never compromised.
Samuel Ikemba
---
Sources:
Funeral program and his biography.
---
This story, received in 2010, was written by Samuel Ikemba of Zethar Al-Umma Foundation Inc. Sokoto, Nigeria. The DACB liaison coordinator is Rev. Martins Atanda.