Classic DACB Collection
All articles created or submitted in the first twenty years of the project, from 1995 to 2015.
Idowu, Bolaji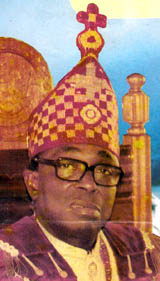 Bolaji Idowu, referred to as "His Pre-Eminence Bolaji" within the Nigerian Methodist circles, was the third indigenous leader of the Methodist Church Nigeria, from 1972 to 1984. He was president of the church from 1972 to 1975, and when the leadership title of the church was changed, he became its patriarch from 1976 until his retirement in 1984. As the architect of the church's 1976 constitution, his tenure has been described by some as one of the most eventful in the history of the Methodist Church Nigeria.
Born in Ikorodu, Lagos State, Nigeria on September 28, 1913, Bolaji's parents were Idowu Ogunbanke and Oke Bandele. Of the several names given to him, Bolaji was the one that stuck, and he is known by this name.
Bolaji's grandmother had a strong influence on his spiritual life. Although she was not a Christian, her life of devotion and prayers, according to her own light, was the basis for Bolaji's sense of spiritual understanding. Years later, this culminated in his awareness of the existence of the Almighty. His grandmother prophesied about his unique spiritual calling when he was around the age of ten, and warned his father, who was not a Christian at the time, not to put any obstacle in his way. From then on, his grandmother encouraged and sometimes even made him attend church services. Eventually he was allowed to go to school instead of spending all of his time as an apprentice gold- and silversmith in his father's workshop and part-time apprentice in his grandfather's smithy. Thus, from his grandmother he caught a sense of the Divine Presence and from his father he gained a sense of craftsmanship and a good retentive memory. His mother taught him discipline and good behavior.
Bolaji received his early education at the Anglican and Wesleyan Methodist Schools at Ikorodu. There he came under the influence of Reverend Dr. A. T. Ola Olude and became a Christian. He then went to the Baptists Boy's High School in Abeokuta, and from there to Wesley College, Ibadan, where he trained for four years to become an assistant pastor.[1] The course of study combined training in further secondary school education, education for lay ministry, training in school methods, and a practical component.
After finishing his Wesley College training, Bolaji was posted to Ogere in Remo, Ogun State, where he worked as an assistant pastor and headmaster of the primary school. He returned to Wesley College in 1942 as a divinity student and trained to become an ordained minister. At the end of that course Bolaji was stationed at Trinity Methodist Church, Tinubu Lagos, where he had the privilege of working under a very senior superintendent widely revered as a man of God, Reverend Evan. E. Williams, M. A. Under him, Bolaji learned a great deal about spiritual life and effective ministry. He also served for a brief period at Obun Eko Methodist Church, Olowogbowo Circuit, under Reverend M. O. Dada, a highly respected minister in the Methodist Church.
In 1945 Bolaji went to study in England, but because of World War II he had to go to Wesley House, Cambridge and Wesley College Headingly, Leeds, instead of Richmond College. Since he had finished half of his London B.D. degree before leaving Nigeria, he returned in 1948 and was stationed at Otapete, Ilesa, Osun State. Although his stay was brief–barely one year–Bolaji learned a great deal about God's grace during this time. He was then transferred to Jos, in northern Nigeria, to be in charge of what was then called the Northern Mission of the Methodist Church. In 1951 he was transferred to Tinubu Methodist Church, became its superintendent in 1953, and served the church till 1957. During this time he received the joyful news that his parents had converted to Christianity.
In January 1949, Bolaji Idowu and Miss Elizabeth Yewande Thomas were married at Williams Memorial Methodist Church in Ago-Ijaiye. Bolaji was a devoted family man, a caring husband to his wife, and a dutiful father to his six children, as well as to his many grandchildren.
In 1957 a call came from Germany for a person who could work to find practical solutions to the problems that confronted Asian and African students. The Methodist Church, under the leadership of Reverend E. J. Jones, M.A., was the only church to respond to the call. Rev. Jones asked Bolaji to take the assignment, and he left Nigeria for Germany in September 1957. It was a challenging situation but as the results of the experience were positive, it seems Bolaji was a good choice for this assignment.
Bolaji joined the staff of the Department of Religious Studies of the University of Ibadan in 1958 as a professor. He became head of the department in 1963 and retired in 1976. While at the university, he met Sunday Mbang. The two men had a lot in common and shared similar ideas on many issues. Bolaji became a strong influence upon, as well as academic mentor to Sunday, the man who eventually became his chaplain and succeeded him as the head of the Methodist Church Nigeria.
Bolaji was elected president of the Methodist Church Nigeria on October 4, 1972. He initiated several reforms as president, a major one being the review of the constitution of the church in 1976. Even before becoming head of the Methodist Church Nigeria, he had a clear view of what the church in Nigeria should look like. In his book Towards an Indigenous Church, he emphasized the need for the autonomy and indigenization of the church. When he came into office, he brought this conviction to bear upon the Methodist Church Nigeria by reviewing its constitution. He declared, "We must undertake the review of our constitution in such a way that it would reflect and emphasize the fact that ours is an autonomous church in Nigeria." He set out to work on this with others in the church, and the new constitution was ratified on January 20, 1976. As a result of the new constitution, Bolaji became the patriarch of the Methodist Church Nigeria.
After his consecration, Bolaji set out to visit each church in the denomination–especially those in the eastern states–to reassure them of the goodwill of the Methodist churches in Nigeria and overseas. Wherever he went on his episcopal visits he was received with excitement. He was always sympathetic to people in distress, paying personal visits of condolence and encouragement and praying for them. He founded a tailoring factory for the church. He was a great encourager of men and women in the ministry of the church; the Deaconess Order was formed in Nigerian Methodism due to his efforts. Many had such strong faith in his prayers that they tried to be touched by whatever Bolaji held when blessing people, whether it was a hand cross, or the "keys of the kingdom." He was held in high esteem in the church by clergy and laity alike. Under his tenure, the church became a better organization and achieved worldwide recognition.
One major event of his term in office was the integration of the Christ Zion Methodist Church in Nigeria into the Methodist Church Nigeria, bringing in their 24,000 members and twelve ministers.
Bolaji sought to educate the church through messages and literature. His addresses to the conference tended to be long, sometimes spanning thirty pages or more. Yet they were said to be original, down-to-earth, educational, inspiring, and challenging. Some of the titles of his speeches were: "Restoring the Years that the Locust had Eaten," "The Keys to the Kingdom," and "The Church of Believers." [2] A renowned teacher and scholar, Bolaji also published many books, articles, and papers; most notable among his publications are: Olódùmarè: God in Yoruba Belief; Towards an Indigenous Church; and Job - A Meditation on the Problem of Suffering. [3]
Bolaji served the church faithfully until his retirement in 1984. He died nine years later, in 1993, at the age of 80. Methodists throughout the conference area are said to be grateful to God for raising up Bolaji to advance the course of Methodism in Nigeria. In recognition of his devoted service to the church, a cathedral of the Methodist Church Nigeria in his place of birth, Ikorodu, Lagos, Nigeria was named after him. Familusi, in his assessment of him and his service to the Methodist Church Nigeria, said,
There is no doubt, however, that His Pre-Eminence Bolaji will remain the first Patriarch of Nigeria Methodist Church–notwithstanding whatever happens after him to that very honorable and highly time-honored, world-wide revered title, Patriarch, His Pre-Eminence has done much more than any of His predecessors to lift the Methodist Church Nigeria to Pre-Eminence. He had an unprecedented foresight, and planned to meet and effect his imagination of things to come. God's work prospered in his hands–the number of dioceses rising from seven to fifteen and that of the ordained ministers from about a hundred to over three hundred during his time. The Christ Zion Methodist Church Nigeria, Incorporated fused with Methodist Church Nigeria before he left office. The new order of deaconesses, and the improved liturgy and order of worship will remain a permanent tribute to His Pre-Eminence Bolaji.[4]
Michael Leke Ogunewu
---
Notes:
The author uses the term "sub pastor." (Editor's note)

More of Bolaji 's teachings include: "On His Divine Majesty's Service," "Peace with Righteousness," "There is a Light Upon the Mountain," "The Worshipping Church," "Let my People Go," "The Church at Worship," "Thy Kingdom Come," and "To the End of the Age."

Some of his other publications include: African Traditional Religion: A Definition; "Obituary: God's or Man's" - an inaugural lecture delivered at the University of Ibadan on Thursday, October 24, 1974; The Selfhood of Church in Africa; Between God and You; Man, His Faith, and His Destiny; and God or Idol.

The church commemorated the 10th anniversary of Bolaji 's passing with a service in 2003, and paid him this tribute:
Ode To a Colossus And Dreamer Par Excellence

The Bible tells of great dreamers

And among the most conspicuous was Joseph

His told his dreams to his brothers

And his brothers hated him because of his dreams.

The more one thinks of the dreamer's place in history

The less one feels entitled to the distinction

Truly, the dreamer lives forever

While the toiler's dies in a day.

In traveling through the great cities of the world

One finds great cathedrals and magnificent edifices of worship.

An architect had a vision of a temple of worship and he put the vision upon paper

Then the builders began

And they laid stone and brick upon brick until finally the temple was completed

Sometimes centuries after the dreamer's death

And people now travel from all corners of the world to look upon the temple.

There has been a great dreamer in the realm

Of theology, liturgy and churchmanship,

His Pre-Eminence, Professor Bolaji Idowu.

He saw a vision of a church needing liberation and emancipation for true African selfhood.

He puts his vision upon paper.

For close to four decades, multitudes have been building upon the foundation he laid

His handworks have continued to shine in world circles

His native intelligence and academic prowess

Have continued to enlighten and challenge the universe

His initiative has drastically transformed the

Methodist Church Nigeria and World Methodism.

His Pre-Eminence Bolaji belongs by right in the hallowed company

Of dreamers who are architects of greatness.

Their vision lies within the soul

They never see the mirage of facts but peer beyond the veils and mists of doubt

And pierce the world of unborn Time.

Through all ages

They have heard the voice of destiny

Call to them from unknown vasts.

Their brains have wrought all human miracles

In laces of stone their spires stab

The old world skies

With the golden crosses kiss the sun

They are a chosen few

The blazers of the way,

Who never wear doubt's bondage on the eyes.

Who starve and chill and hurt,

But hold to courage and to hope,

Because they know that there is always

Proof of truth for them who try.

Walls do crumble and empires fall

The tidal wave sweeps from the sea

And tears a fortress from its rocks.

Only things the dreamers make live on.

They are the eternal conquerors–

Their vassals are the years.

As we celebrate the 10th Anniversary of our BABA NLA's home call,

And rejoice in the luminous life of a man who DARED GREATLY;

Methodist Church Nigeria acknowledges that:

It is not the critic who counts;

Not the man who points out how the strong man stumbled

Or where the doer of deeds could have done better.

The credit belongs o the man who is actually in the arena,

Whose face is marred by dust and sweat and blood;

Who strives valiantly, who errs and comes short again and again;

Who knows the great enthusiasms

The great devotion, and spends himself in a worthy cause.

Who at the best knows in the end triumph of high achievement?

And who at worst; if he fails at last fails while daring greatly,

So that his place shall never be with cold and timid souls

Who know neither victory nor defeat.

From Socrates to Edison,

Every forward step taken by mankind

Through revolting centuries

Has been led by some valiant dreamers,

Whose eyes were fixed upon the dawn.

Methodist Church Nigeria is grateful to a FATHER

Whose ingenuity and courage gave our church a new identity,

The pride of selfhood and dignity of autonomy, and autocephaly.

We know how far we are from reaching

Your envisioned goal,

But we are surely and steadily moving on

With the cross of Jesus ever before us

And emboldened by a pace-setting and challenging cloud of witnesses.

Sleep on, Leader, Father and Friend,

Rest in peace, a Colossus and Dreamer Par Excellence!
---
Bibliography
Rev. Dr. Sola Adekoya, Christian Religious Education Unit, Department of Arts and Social Sciences, Faculty of Education, University of Lagos, Akoka, Nigeria, interview.
M. M. Familusi, Methodism in Nigeria (Ibadan: NPS Educational Publishers Limited, 1992), 145-146; 175-181.
Methodist Church of Nigeria, "His Pre-Eminence Bolaji 1913-1993" Brochure for the 10thYear Remembrance Service (Patriarch Bolaji Methodist Cathedral, Ita-Elewa, Ikorodu, Thursday, November 27, 2003) 1-2; 15-16.
O. Osayomi and O. O. Babalola, His Eminence Sunday Coffie Mbang, Footprint of a Pelican (Surulere/Lagos: Asaba Communications Limited, 2006), 52-53.
Works by E. Bolaji Idowu:
Towards an Indigenous Church (London: Oxford University Press, 1965).
African Traditional Religion: A Definition (London: S.C.M. Press, 1973).
Olódùmarè; God in Yoruba Belief (London: Longmans, 1962).
"Obituary: God's or Man's," an inaugural lecture delivered at the University of Ibadan on Thursday, October 24, 1974.
The following do not have publication information:
Between God and You
God or Idol
Job - A Meditation on the Problem of Suffering
Man, His Faith, and His Destiny
The Selfhood of Church in Africa
---
This article, received in 2009, was researched and written by Dr. Michael Leke Ogunewu under the supervision of Rev. Dr. Deji Ayegboyin, DACB liaison coordinator.