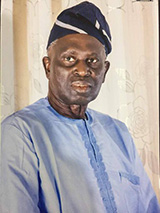 The work of the gospel is multifaceted; as our faces differ so does our calling. Some are called to pulpit ministry and others to several spheres of God's Kingdom business. Late Engr. Deacon Daniel Adewuyi Ige was a strategic contributor to expanding the gospel up North Nigeria, Sokoto the Seat of the Caliphate.
Early Life
Late Engr. Daniel Adewuyi Ige (a. k. a. Toluwanile) was born on March 3rd, 1933, to Pa Ige Adio of Ile Jagun Abidiodan popularly known as ile Jagun Ologede in Isale Affon, Ogbomosho and Late (Mrs) Oyaranti Aweniopo Ige of Bosunla family Osupa area in Ogbomosho. His father was a traditional healer, while his mother was a trader who sold uncooked beans (ere). His mother was very popular in those days and was Iyalode (head) of bean sellers in Ogbomosho. He started elementary school at age ten as evening class at Tard institute, in 1943, He further his education at the same institution (Tard institute, Sokoto) in 1950. He was a salesman par excellence, he was engaged in selling cooking plates for households, this gave him the opportunity to evangelize and share gospel with everyone he met. He was bold enough to share the gospel even at the emir's palace and was given the name (Musa mai kwano) by the Sardauna Of Sokoto who was his close friend.
Baba Sokoto as he was fondly called left Sokoto for a while to leave with his uncle Pa Adetutu who was a businessman in Jos, it was while staying with his uncle that he trained as an Electrician. He joined the Public Works Department (PWD) on Monday 24th February, 1958 and was employed in the Ministry of Works. He served as a civil servant in the then Northern Region for thirty-five (35) years before his retirement in 1992. He served in Maiduguri, Kano and Sokoto respectively.
Spectacular Event, Christian Life, His Conversion Experience and his Kingdom Service
A spectacular event occurred when the Sardauna of Sokoto visited Jos and while in his guest house had an electrical problem the British engineers arrived Jos with Engr Ige, as soon as the Sardauna saw him he exclaimed.
He got converted at First Baptist Church in 1944 through the ministry of Pastor Adejumobi, a student Pastor assigned to the newly founded church, after its spilt from Okelerin Baptist Church Ogbomosho. He was a founding member of the Immanuel Baptist Church and was baptized in 1947 by Rev J. C. Pool in River Aduine in Ogbomosho town. He attended St. Paul Anglican Church Sokoto before the establishment of First Baptist Church, Sokoto in 1956. The church was planted by eight members, amongst them were Pa Gbadero, Pa Solomon Ige, Mama Esther Gbadero, Deacon Daniel Awoniyi Ige and four others. He was ordained as A deacon in 1992 under the leadership of Rev. D. A. Alao of First Baptist Church, Sokoto. He worked assiduously to fulfil his calling in many capacities as a Deacon.
He was among the first Christians in Sokoto State, apart from the Civil servants who were in and out of town. He was among the pioneer members of First Baptist Church, Sokoto. He was passionately involved in many church planting activities with other deacons which led to the planting of the following churches: First Baptist Church Talata Mafara, Gidan Madi, Illela, Jega and Dogon Dawa which was later shut down due to hostilities of the area. All these churches were founded during the Pastoral leadership of Rev M. A. Taiwo and Rev. D. A. Alao.
Ige served as Church Maintenance Chairman for 25 years (1970 – 1995), Sunday School Superintendent (1973 – 1975), and Sunday School teacher (1971 – utill he left Sokoto in 2017). He was among the choristers in 1971. He was the first initiator of Church Society with Late Baba Adeleke in 1970. He was among the founders of Afiadurajagunsegun (Prayers warriors) during the Pastoral leadership of Rev. M. A. Taiwo.
He was a member of the Executive Committee of Christian Association of Nigeria, during the tenure of Rev. Mamam Barkeji. He has christened many children in the church as Deacon. He was choir adviser for many years. He was a special Adviser to Christian Council of Nigeria. He has been an adviser to Yoruba Community in Sokoto till he left town. He served as the Shepherd of First Baptist Church, Sokoto for four years when the church had no Pastor 1999- 2003. He is a Nigerian and a Yoruba by tribe. He spoke Yoruba, Hausa and English languages. His proficiency in these languages enabled him to have great impact in the Northern regions. In addition, it helped him reach those he came in contact with. He preached the gospel without fear of anyone.
He got married at Kano in 1968 to his lovely wife, Abigail Olanrewaju Adenike Ige, in line with the traditional requirements and Christian doctrines. He was a man of few words, a giver almost to a fault who was willing to lend a helping hand to anyone who had a need even at his own detriment sometimes. He loved the Lord, he was a peacemaker and man of prayer. He was happily married for over fifty years. He was blessed with lovely biological and spiritual children and many grandchildren. He was also blessed with spiritual children both far and near.
My personal experience with him was mind-blowing of his simplicity and humility in 2015. He loved to impact the younger generation as a continuity of the great work they started. He was not biased nor denomination-conscious, a passionate God's die-hard. One of his daughters is my friend, Bola, an evident man who taught and trained his children. She was also instrumental to this story writing.
His parting words at his final breath were "resurrection, resurrection, resurrection". This gave the confidence that Late Engr. Deacon Daniel Adewuyi Ige is only sleeping and one day we will meet at the feet of a cross.
John Babatunde Adeniyi
---
Sources
The burial program and biography.
Interaction with his daughter, Mrs Bola Ige-Akande.
A personal interaction with him in 2015.
---
This story, received in 2020, was written by Pastor John Babatunde Adeniyi, a graduate of Science Education Unilorin, Ilorin Nigeria. He is the administrative officer of Zethar Al-Umma Foundation, Sokoto as well as a teacher, mentor, clergy, life-coach, and writer. He received training in an Oral History workshop sponsored by DACB in Nigeria in 2010. He is married to Omolola, and they are blessed with two children, Bezaleel and Bethel.