Classic DACB Collection
All articles created or submitted in the first twenty years of the project, from 1995 to 2015.
Ikwan, Okenwa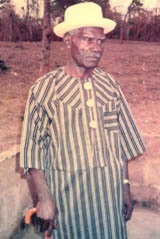 Okenwa Ikwan was born on November 17, 1914 to Elder (Chief) Ikwan Onwuka and Madam Oyediya Ikwan of Ndi Oriri Compound, Umueso in Abiriba, Abia State of Nigeria. His parents were among the pioneer Christians who laid the foundation upon which the Church of Scotland Mission was built (which is now the Presbyterian Church of Nigeria, also popularly known in Abiriba as "Church Afiankwo" - i.e, the church at Nkwo Market-place). His father, in particular, had the honor of being one of the first three indigenous elders of the Presbyterian Church of Nigeria in Abiriba land.
Owing to his Christian parentage, young Okenwa enjoyed the rare privilege of early education. First, he attended the Church of Scotland Mission School (now, Nmaju Memorial Primary School) Abiriba, between 1921 and 1931. As a result of his brilliant performances, he was recruited as a probationary young teacher (PYT) at Igbere Primary School, immediately after his primary school program. Not satisfied with a PYT position, young and ambitious Okenwa proceeded to the famous Hope Waddell Training Institute, Calabar. He kept up such a remarkably brilliant performance at the College that at the end of his first year, he gained a scholarship which saw him completing his secondary education with flying colors.
Upon his graduation from the secondary school, he gained admission to the School of Agriculture Samaru, Zaria, where he equally distinguished himself academically. As a fresh graduate from the School of Agriculture, Okenwa was quickly employed by the Federal Ministry of Agriculture. He served in various capacities and at different stations in the Northern Region of Nigeria. But, in the wake of the country's independence, he returned home to the Eastern Region and joined the Eastern Nigeria Development Corporation (ENDC). He began his service with the ENDC at Calaro Estate, Calabar. From there, he moved to Ogoja. He also served at Ozuitem and finally retired at Ndi Oji Abam in 1971 as an Assistant Manager.
Okenwa Ikwan was first married in 1949, and that marriage was blessed with three boys. [1] That marriage ended with the death of his spouse. In 1957, he married Madam Ada Okenwa (née Eluigwe) of Amaediaba Nkpa in Bende Local Government Area of Abia State, and the marriage was blessed with nine children. [2]
Okenwa Ikwan was baptized at a very tender age by the late Rev. R. Collins of the Church of Scotland Mission, Abiriba. In 1937, he became a full member and communicant of the church while studying at Hope Waddell Training Institute, Calabar. The confirmation service was conducted by the late Rev. J. K McGregor. Several years later, while he was in the service of the ENDC at Calaro Estate, Calabar, his dedication and commitment to both the church and to the Lord Jesus were publicly acknowledged at the Odukpani Road Parish where he was ordained a ruling elder of the Presbyterian Church of Nigeria. That historic ordination service was performed by Rev. E. U. A. Inyang. So began his life-long labors and toils for the building up of the church wherever he went. Never looking back, he identified with Christian work both within and outside of his own church for the rest of his life. Although he rendered meritorious services to the Presbyterian Church in Calabar for many years, his most active years of church work began after his retirement from public service in 1971. The Nigerian Civil War was just a few months behind when he returned to Abiriba, and there was a lot of work to be done in the area of reorganizing the church he found back at home. The task required a great deal of leadership experience as well as a strong personality. He felt personally challenged by the situation, having been a part of the leadership of the church in the city of Calabar. He could not help but dedicate his life, time and experience to help rebuild his home church. Things happened fast and dramatic changes took place as the Lord blessed and prospered his efforts. To that end, Okenwa Ikwan served as the first parish commissioner of the Abiriba Urban Parish between 1976 and 1979. During that period, he represented the Abiriba Church effectively at the presbytery and synod meetings, and his invaluable contributions were largely instrumental to the rapid growth and development of the church in Abiriba.
By the grace and mercies of the Lord, Okenwa also enjoyed the singular honor of serving as both the first session clerk and the first congregational board chairman of the Abiriba Urban Parish of the Presbyterian Church, from 1978 to 1984. He held those important positions effectively and discharged his duties efficiently with a sense of dedication and commitment. It was not surprising that the parish experienced tremendous growth and expansion during his tenure. It is worth noting that among the many wonderful things he is remembered for, he was the prime mover for the creation of three congregations out of the one central church that had been maintained until his time. Thus, his administration successfully delivered the decentralization of the Presbyterian Church in Abiriba by the creation of St. Peter's Parish, Omaghuzor, St. Andrew's Parish, Amogudu, and St. Paul's Parish, Afiankwo – at the very spot on which the church was originally planted in 1911.
As a church leader, Okenwa was very outspoken on issues of principle in church administration. His strictness and firmness in upholding justice, fair play, and discipline in all church matters was unequalled. Abiriba Presbyterian parishioners generally regarded him as a respectable gentleman who always spoke knowledgeably and compellingly. His views and judgments on church matters were often considered authoritative. So the nickname "Authority," which he earned incidentally from the parishioners, naturally fitted him and gradually became a title of honor among the brethren. Today, more than twenty years after his death, the popularity of that nickname has been sustained as his children still find that his admirers, both within and outside of the Presbyterian circle, address them as "Nwa Authority" (i.e. Authority's child). To immortalize his legacy, one of his sons adopted "Ets. Authority (W.A) Inc." as a registered business name in Lome, Togo. There is also the "Authority Music-Evangelism Network, Inc.," a name that comes from the same source.
His closest friend and close companion in church work, Rev. L. K. Okoro, also nicknamed him "Ogbutim" (i.e. one who does not mince words), because of his straightforward and uncompromising stance on church tenets.
In 1989, his health showed a serious decline. Consequently, he was hospitalized for some time, first at a private hospital at Amsco House, Agbor-Court, Abiriba. He was later referred to the University of Nigeria Teaching Hospital (UNTH), Enugu. Throughout that period, his greatest concern was for the unity of the home church which was threatened by internal strife. Terrible disagreements and divisions among the component clans of the community had unfortunately engulfed the church, making her vulnerable and almost unable to initiate peaceful reconciliation. He longed and prayed earnestly for the day he would return to active participation in the church, but unbeknownst to all, the end had come. So, during the early hours of December 19, 1989, Okenwa Ikwan answered the call to meet his Lord and Savior in glory. His death occurred at the University of Nigeria Teaching Hospital, Enugu. Okenwa Ikwan had been one of the few truly multi-lingual Nigerians: he spoke English, Ibo, Hausa, and Ibibio fluently.
Ukoha Okenwa
---
Notes:
The children are: Mr. Agbai Okenwa (Aba-based businessman), Mr. Ben Okenwa (Abuja-based businessman), and Mr. Ifegwu Okenwa (Togo-based businessman).

The children include: Elder (Mrs.) Onyenaturuchi Ojum (Deputy Director of Nursing, Abia State University Teaching Hospital, Aba; a Presbyterian Church Elder), Mrs. Lucy O. Agba (Aba-based caterer), Mrs. Joy N. Nwokocha (Lecturer, Abia State Polytechnic; Ph.D cand. Federal University of Agriculture, Umudike), Evangelist Godswill Okenwa (Presbyterian Church Evangelist at Oko Mission Station), Pastor Ukoha Okenwa, (P.A. to the Aba North District Superintendent of the Assemblies of God, Nigeria; President, Authority Music Evangelism Network,Inc.), Mrs. Ifigbo Ibe Awo (Lab technician at Abia State University Teaching Hospital Aba), Mrs. Udunma Okali Orji (Aba), Mrs. Chidinma Uche (Ghana) and Mrs. Harrieth Mike Abakwuo (Abuja).
---
Sources:
This is a revised and expanded edition of the biography of the late Senior Elder Okenwa Ikwan that was released by the Ikwan family in a funeral program booklet at his burial in February, 1990. The original biography, endorsed by Elder Ukoha Ikwan (his younger brother) for the family, was based on his memoirs and the record books of his home church.
---
The author of this story, Pastor Ukoha, is Elder Okenwa Ikwan's youngest son. He is a full-time minister of the gospel with the Assemblies of God Church. He served as a missionary and teacher in Douala, Cameroun where he pastored a church between 2007 and 2009. Presently, he serves as personal assistant to the Aba North District superintendent of the Assemblies of God, Nigeria. This story was received in 2011.