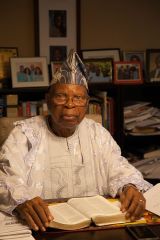 Biography of Reverend Professor Osadolor Imasogie (1928-2022)
A theologian whose contributions are greatly admired by Baptists and others worldwide.
Osadolor Imasogie was born in Benin City, Nigeria, on June 28, 1928 to Chief Ogbeide and Madam Enehiweze Edo-Imasogie. He hails from the lineage of the great Benin Iyase Nohenmwen, a lineage of nobility and royalty, by marriage. In fact, the land on which Central Baptist Church in Benin and most of the area around the church was originally Imasogie land. As such, it gave Imasogie great joy to have laid the Foundation stone of Central Baptist Church in 1959.
Osadolor Imasogie, decided to take a different path with his life. In 1946, Imasogie accepted Jesus as his personal Lord and Savior and was baptised by the American Baptist Missionary, Rev. Ralph Lee West, in 1947.
With the inspired support of Chief R. A. Edigin, the headmaster of Ogbe Baptist Primary School and Lay Acting Pastor of Ogbe Baptist Church, Imasogie started his path to becoming a minister of the Gospel of Jesus, the Christ, by going to Iwo Baptist College in 1948, through the scholarship support of Ogbe Baptist under the leadership of Deacon JA Odiase. Prior to going to Iwo, Imasogie served as a teacher under the Baptist Mission, teaching at Uhi and Igieduma Baptist Primary Schools.
In 1952, with the continued support of Ogbe/Central Baptist church, Imasogie commenced his theological studies at the Nigerian Baptist Theological Seminary in Ogbomoso, under the tutelage of the revered Rev. Dr. JC Pool, graduating in 1955 with a Bachelor of Theology degree, with honors. His first pastorate was as a student pastor at Orioke Baptist Church, in Ogbomoso. In 1956, he became the pastor of Ogbe Baptist Church which was later renamed as Central Baptist Church. In 1958, he married the love of his life, Ms. Yewande Abebi Akinwumi, daughter of Reverend Akanbi and Mrs. Efunwale (nee Adesina) Akinwumi, at Ilare Baptist Church, Ile-Ife. Reverend Akinwumi was one of the first graduates from the Nigerian Baptist Theological Seminary in Ogbomoso.
In 1961, four years after his ordination into the "Gospel Ministry," Imasogie, (accompanied by his wife who joined him in 1962) went to the United States for further studies at the Oklahoma Baptist University. In 1963, he obtained a Bachelor of Arts degree in sociology (Magna Cum Laude) from the Oklahoma Baptist University. Subsequently, he engaged in further studies at Golden Gate Baptist Theological Seminary in California, obtaining a Bachelor of Divinity degree and winning the Von Baker House Publishing Company Award as the best student in Theology. In 1972, Imasogie obtained his Ph.D. in Christian Philosophy from the Southern Baptist Theological Seminary in Louisville, Kentucky, with the support of a scholarship from the World Council of Churches.
Imasogie contributed significantly to the spiritual and vocational formation of numerous Baptist ministers via his teaching and mentorship of these up-and-coming ministers of the gospel. He served as the Secretary of the Benin City Protestant Ministers' Fellowship, Member Edo Bible Translation Committee, Midwest State Churches Representative on the Nigerian Bible Society Board, Chairman, Publications Board of the Nigerian Baptist Convention, Member, Midwest State Advisory Council on Education, Member, Accrediting Council For Theological Education in Africa, and many more positions of honor and prestige, too many to count.
In 1979, Professor Imasogie became the first Nigerian President of the Nigerian Baptist Theological Seminary, Ogbomoso, arguably the largest theological seminary on the African continent. Professor Imasogie retired from the seminary in 1993 but continued to teach and educate ministers at every opportunity while spending half of each year in the US/Canada and the other half in Nigeria, and remained, until his transition into glory, its President Emeritus.
In another historical first, also in 1979 through 1985, Imasogie was elected President of the Nigerian Baptist Convention. During this period, he also served as a member of the Standing Committee of the Christian Council of Nigeria. Imasogie was an examiner in Philosophy for the West African Association of Theological Institutions and was a member of the Executive Committee of the All Africa Baptist Fellowship. He also served on a number of study commissions of the Baptist World Alliance (BWA) and as a Vice President of the BWA from 1995-2000.
A lifelong Baptist, Imasogie was a committed ecumenist. He was moderator of the World Council of Churches (WCC) Program for Theological Education and, from 1983-1990, a member of the Central Committee of the WCC. This required Imasogie to travel to many places in the world such as Fiji Island, Japan, and widely throughout Africa, the United States and Europe. He was among those who attended the Baptist World Congress in Durban, South Africa, thus witnessing the day when the BWA convened its first congress in Africa which filled him with great joy.
Baptists celebrate the highly esteemed ministry of this erudite Baptist Theologian who was a humble servant of God, an educator par excellence and a model of holy living for Baptists not only in Africa, but across the world. His biographer, Dickson Uwagboe, has described him as "an accomplished theological educator" and "an exemplary minster" who has demonstrated "humility without weakness, stability without stubbornness, objectivity without lack of passion, patience without indifference, [and] dependability without inflexibility."
Accomplished Scholar, Philosopher and Theologian
Imasogie is the author of over 20 books (some of the most famous being African Traditional Religion, Guidelines for Christian Theology in Africa, and his last major book, Earthly Life and Mission of Jesus Christ and the Anticipation of Parousia), with over 33 peer reviewed articles and papers, chaired numerous academic Boards and committees in Nigeria, throughout Africa and on a Worldwide basis and has been a professor in several universities and seminaries, including but not limited to the Nigerian Baptist Theological Seminary, Ogbomoso, Southern Baptist Theological Seminary in Louisville, Kentucky, Southwestern Baptist Theological Seminary, Fort Worth Texas, Vanderbilt University, Nashville, Tennessee and Belmont University, Nashville Tennessee, etc.
In fact, there have been several scholars, across multiple universities and disciplines that have done their doctorate work on various aspects of the theology and philosophy of Osadolor Imasogie, to the Glory of God. In the seminal book/work titled Baptist Theology, A Four Century Study by James Leo Garrett, Imasogie was one of only two African Theologians covered in the book with regards to his Contextualized African Theology (page 616, Chapter 12). Likewise, in the profound book entitled Baptist Roots, A Reader in The Theology of a Christian People written by the erudite scholars Curtis W. Freeman, James Wm. McClendon, Jr. (one of Imasogie's professors) and C. Rosalee Velloso da Silva, Imasogie was one of the foremost Baptist thinkers and theologians featured in the book, based on his African Theology (page 384), along with the Reverend Dr. Martin Luther King, Jr. Lastly, in the very well received book, Science Faith and Revelation, An Approach to Christian Philosophy, edited by Robert E. Patterson, in honor of Professor Eric Rust, Imaosgie's Ph.D. dissertation supervisor, Imasogie was the only African that was invited to write a Chapter (page 167, Chapter 10), entitled " The Apologetic Challenge of the Radical Theology Movement."
On his 80th Birthday, as a high mark of honor and respect as a scholar and teacher, his former students produced and published a Festschrift in his honor, titled Pedagogy, the Church, Leadership and Theological Education in Africa. This significant body of work was edited by Dr. Ademola Ishola, Dr. Deji Ayegboyin and Dr. Sayo Oladejo. A list of Imasogie's additional honors is available in the endnotes below.[1]
Osagie O. Imasogie
---
Notes:
Additional honors include

In 2007, the Oba of Benin honored Baba as a Benin Achiever
In 2006, the Federal Government of Nigeria awarded Imasogie the national honor of Commander of the Order of the Niger (CON).
In February 1996, Imasogie was appointed a Justice of the Peace by the Government of Edo State
In 1987, Imasogie was featured in the publication of "'Profile in Excellence'' by the Oklahoma Baptist University, USA
That same year, 1987, Imasogie was awarded the Alumni of the Year by the Southern Baptist Theological Seminary, Louisville, KY, USA
Also in 1987, he was listed in the Biography International of Men and Women of Achievement
Imasogie was awarded an honorary Doctor of Divinity by Samford University, Birmingham, Alabama in 1985
In addition, Imasogie has been recognized in the publications of:

Who is Who in Oyo State, Nigeria
Who is Who in Africa
Who is Who in the Commonwealth
Who is Who in the International Book of Honors
Who is Who in International Register of Biographies
Sources:
Osadolor Imasogie, Life in the Service of God, Dickson Uwagboe, 1995;
Baptist Roots, A Reader in The Theology of a Christian People, Curtis W. Freeman, James Wm. McClendon, Jr. and C. Rosalee Velloso da Silva, 2009
Pedagogy, The Church, Leadership & Theological Education in Africa, Papers in Honour of Professor Emeritus Osadolor Imasogie, Ph.D. at 80, 2009.
---
This article was written by Osagie O. Imasogie, adjunct professor of law at University of Pennsylvania Carey Law School. Beyond his role as professor, Osagie Imasogie LLM has over 30 years of experience in the fields of law, finance and business management, healthcare, and the pharmaceutical industry. He is currently chairman of the Board of Advisors of Penn Carey Law school. For more information about him or how to contact him, please visit https://www.law.upenn.edu/faculty/oimasogi.