Classic DACB Collection
All articles created or submitted in the first twenty years of the project, from 1995 to 2015.
Jemigbon, Samuel Sunday (B)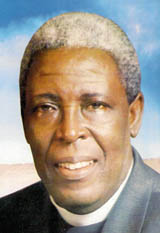 Third LAWNA territorial chairman and second national vice-president of the Apostolic Church Nigeria; president, Christian Pentecostal Fellowship of Nigeria (C.P.F.N.).
Family Background, Early Education, Conversion and Marriage
Samuel Sunday Jemigbon was born to a Muslim father and a Christian mother: Pa Elewusu Ikuejemigbon (shortened to Jemigbon) of Ayeh-Gbede in the Old Kabba province of the present Kogi State of Nigeria, and Madam Rhoda Ikuejemigbon (née Omogbonewore). As he was born on Sunday, March 4, 1934, he was given the name Sunday, though his original name given by his father was Sadiku, in consonance with his father's religion. He was the last born of his parent's four children and the only male child.
His father was not just a Muslim; he equally combined African native medicine practice with his Islamic religion. He was, in fact, the leader of the herbal practitioners (native medicine healers) in his community. But as mentioned earlier, his mother was a devout Christian like Monica, the mother of St. Augustine of Hippo. She was a member of the Apostolic Church in the community.
Sunday could be called a child of promise. His parents had had three daughters and no son. Because of this, his mother was in constant prayer to God for a male child. She attended a revival program where his birth was foretold by prophetess Leah of the Apostolic Church from Ilesa who visited Ayeh-Gbede to do evangelical work in 1933. Prophetess Leah, in her revival message on Okuta Ako Mountain in Gbede, allegedly foretold that God had brought two male children to the revival ground and had given them to those looking for them. Two women present at the revival looking for a male child each gave birth to a son nine months after the revival. They were Rachel Omoboni, who gave birth to Daniel, and Rhoda Ikujemigbon, who gave birth to Sadiku (Sunday).
However, in spite of the prophecy, Sadiku in early childhood followed his father's religion. He was enrolled in a Quranic School at an early age, and became versed in Quranic recitation. He grew up to be a staunch Muslim and was opposed to his mother's religion which he hated with passion owing to his Islamic indoctrination. It was said that he hated walking by or passing through church buildings. In fact, at one time, he vowed to his friends that he would never in his life enter a church.
The story of his conversion to Christianity was funny and dramatic. In 1948, one of his friends who was a Christian by name, Matthew Ibikunle (a son of a leading prophet in the Apostolic Church) one day conspired with some other friends to trick him into entering the church. When the bell for Sunday School rang, he gave the books he was taking to Sunday School to Sadiku to hold for him with the excuse that he wanted to relieve himself. Unknown to Sadiku, Matthew took another direction and went to the church. He then sent for Sadiku to bring his books to him saying that he needed them urgently in the Sunday School class. Matthew had secretly arranged for his other friends to immediately carry Sadiku inside the church building if he came onto the church premises. Sadiku, being ignorant of the plan, went to the church to deliver the books. The friends surrounded him and carried him inside the church auditorium. They then began to shout: "Sadiku has entered into the church; you are a member of Sunday School." This supposed child-play became the instrument God used to set his feet on his path to divine destiny. The embarrassment dealt him such a devastating blow that going to the Quranic school or mosque that day became a thing of shame to him. Like Monica, the mother of Augustine, his mother at this point seized upon this opportunity. She pacified him and consequently played a great role in introducing him to Jesus the Savior. She influenced him to follow her to church programs. He was consequently converted to Christianity and baptized, thus, changing his name from Sadiku to Samuel.
In 1950, at the age of sixteen, Samuel enrolled at the Apostolic Church Primary School, Ayeh-Gbede for his primary education. In 1955, after finishing his primary education, he gained admission into E. I. College, Aramoko-Ekiti (in the present Ekiti State) for his secondary education. As he was self-sponsored, he had to work for the college during vacation so he could pay his school fees. On discovering his zeal and hard work, the school authorities decided to award him a scholarship while at the same time continuing to pay him for the services he was rendering to the school. However, his joy and hope were short-lived when suddenly the school was forced to close down following government directives.
By divine intervention, his hope and aspiration were again revived when he received a foreign scholarship from an American owned school in Lagos, called the Metropolitan College headed by Rev. Reeves (board chairman) from New York and Rev. Collins (college principal). After the completion of his studies, he enrolled with the famous Rapid Results Correspondence College, where he received tutorials for his advanced level papers.
While at school, he was careful to live a godly life and was very selective in choosing his friends. At a time, one of his close associates was challenged by people in the neighborhood on why such a Christian like him should be friends with Sunday, the son of an herbalist. But his friend's father, instead of dissuading his son from maintaining his friendship with Sunday, encouraged him to pursue it with a prophetic statement that "he (Sunday) would one day hold a chair in the Apostolic Church." This prophetic utterance was made at a time when there was no such office as chairman in the Apostolic Church.
After finishing his education, Samuel Sunday Jemigbon took up an appointment with K.J.D.S. (Kabba Joint Division School) at Olle Bunu as a pupil teacher. He kept this job until he joined the full-time ministry.
On September 6, 1965, Samuel Sunday Jemigbon married Miss Mary Olanrewaju Kaiyeja Alaherin. The marriage was blessed with many children, including, Oluwafunmilayo, Immanuel, Oluwafemi, Sunday, Israel, and Oluwakemi, and many grand-children.
His Pastoral Calling, Ministerial Training, Ordination, Appointments, and Labors
In February of 1969, Samuel Sunday Jemigbon received a call into the full time pastoral ministry of the Apostolic Church in Kabba Area under the leadership of Pastor K. P. Titus, the superintendent. Thereupon, he attended a Pre-Bible School at Ayetoro Gbede, then known as Tule (a Yoruba word for "beginning from scratch"). From there, he proceeded to International Bible College, Kolden, Denmark, where he received a diploma in theology in 1972.
On his return, he was ordained a pastor in 1972. In 1976, he was called and ordained into the office of apostle (the most exalted ordained office in the Apostolic Church, following the "Five-fold Ascended Gifts of Christ" in Ephesians 4:11). Jemigbon labored in the following capacities. His first posting when he began his full-time ministry in the Apostolic Church in 1969 was Olle Bunu Assembly. In 1973, he was transferred to Oke-Adeye Assembly, still in Kabba Area. In 1977, he was transferred to Oke-Iro in Ilesa Area as district apostle.
In April 1980, he was appointed as the LAWNA (Lagos, Western and Northern Areas) territorial administrative secretary under Pastor I. G. Sakpo who was chairman at the time. He succeeded Pastor C. O. Onabanjo (who then became the Lagos Area superintendent) as the third LAWNA territorial administrative secretary (Pastor J. Ayo Anjorin being the first).
He continued in this position till 1994 when he was appointed the third LAWNA territorial chairman following the demise of Pastor I. G. Sakpo. This appointment was ratified by the LAWNA General Executive Council on May 24, 1994. He was subsequently inducted on July 31, 1994. That same year, he was appointed the second national vice-president of the church by the National Executive Council. When he assumed office, he labored tirelessly for the expansion of the Apostolic Church in Nigeria. Through his efforts, the church recorded unprecedented growth as many new assemblies of the church were planted. This consequently led to what could be called a proliferation of areas (equivalent of dioceses in the mainline churches). Within the fifteen years of his administration as LAWNA territorial chairman and national vice-president of the Apostolic Church, the number of areas increased from thirty-two to sixty-seven between May 1994 and before his death in June 2009.
He was also devoted to foreign mission. During his tenure, many new missionary stations were opened in African countries, the United States of America, and Israel.
Furthermore, Jemigbon committed more to the provision and improvement of infrastructural facilities. During his tenure, the church's 100,000 seating capacity auditorium reputed to be the world's single largest church auditorium (popularly called the National Temple) whose foundation was laid by his predecessor (Pastor I. G. Sakpo) on May 10, 1986 was brought to near completion. In addition to this, he saw to the construction, completion, and commissioning of the ultra-modern LAWNA secretariat complex, official residence for the LAWNA chairman, administrative secretary, and financial secretary, a three-storey superintendents' lodge, and a council hall.
Jemigbon made a significant impact in the areas of education, ministers' welfare, and the development of manpower. He reviewed the ministers' stipend and welfare packages. He was devoted to ministerial training and manpower development. He encouraged ministers at all levels to pursue theological education programs. This led to the introduction of both full-time and sandwich bachelor of theology degrees, and other related programs at the seminaries of the church in LAWNA territory, in addition to the existing ones. He was a visionary leader who aimed at raising and developing manpower in the church by organizing a series of leadership retreats, seminars, and special training programs for both ministers and elders of the church. His administration also opened many more primary and secondary schools of the Apostolic Church in Nigeria. The vision of the church establishing a private university was born during his tenure. The proposed university, called Glorious Vision University (later renamed Samuel Adegboyega University after the first LAWNA territorial chairman of the church) with its permanent site at Ogwa, in Edo Sate of Nigeria, is presently undergoing approval processes by the National University Commission (NUC).
Jemigbon was seen by both ministers and members of the church as an agent of change. On assumption of office as the third LAWNA territorial chairman of the church, he showed his abhorrence for the status quo and tried everything within his power to transform the system. He made an impact in many facets and ministries of the church and many felt that during his tenure in office he had accomplished his mission.
He made a significant contribution to the youth ministry. In his bid to check the flow of youths away from the church to the Neo-Pentecostal churches, he encouraged improvements in youth activities in the church. He introduced a program called Youth Convocation, designed for the spiritual and physical development of young people, featuring such items as career talk, marriage counseling and the like. He also approved the introduction of a youth drama ministry and a youth soccer competition.
He equally contributed to the development of music. As a lover of music, he helped improve Apostolic Church music by approving the introduction of modern and sophisticated musical instruments. He inaugurated an urbane elite choir called National Temple Choir to complement the efforts of the longstanding LAWNA territory combined choir.
In 1998, as part of his quest to make the church a structured institution, he facilitated the review and registration of the church's constitution with the Corporate Affairs Commission.
In his untiring attempts to bridge the gap between the clergy and the laity, he initiated and established the Annual Southern and Northern Elders' Meeting – a forum for bringing together laity and clergy, with the goal of enhancing the good administration of the church.
Jemigbon was an apostle of ecumenism in Nigerian Christianity, working tirelessly for the unity of churches, irrespective of denominational differences. This role led to his appointment as one of the trustees of Christian Association of Nigeria (C.A.N.). He initiated the coming together of the earliest Pentecostal denominations in the country under a block in C.A.N. with the umbrella name Christian Pentecostal Fellowship of Nigeria (C.P.F.N.). He was elected national chairman of the C.P.F.N. and retained this office until his death.
In his quest to forge unity among Apostolic Church missions in Africa, he initiated and convened the Apostolic Church's first African Zonal Leaders Conference which was hosted by the Apostolic Church in Nigeria at the national headquarters of the church in Lagos in September of 2008. This conference challenged the churches and redirected their attention to mission and evangelism in North Africa, a region once dominated by Christianity but which is now Islamic.
Jemigbon was a great author who contributed to church growth and Christian spiritual development through his writings. His publications include: "The Apostolic Church at 70: the Vision and the Mission"; "The Growing Church"; "Justification"; "It Is Well"; "The Living Word"; "Holy Spirit at Work"; "Adopted Child"; "Saving Religion"; "Apostolic Movement in Nigeria"; "Place of Discipline in the Church"; "The Christian Minister"; and "The Power in Oneness".
He was a great preacher and teacher, and a lover of the word of God. He never neglected his primary duty of "rightly dividing the word of truth." He equally encouraged the propagation and publishing of the Bible. He was recognized as one of the major donors to the Bible Society of Nigeria.
He was a man of prayer who lived an exemplary prayer life. He taught and encouraged his fellow ministers to take on the same spirit as the key to a successful ministry.
Jemigbon blended spiritual leadership with social responsibilities. In addition to his pastoral labors, he was a great community leader and developer. In spite of his tight pastoral schedule, he never neglected his social responsibilities, especially to his hometown, Ayeh-Gbede Community. Here are some of the things he accomplished:
(i) Through his intervention, the community was connected to the National Grid. On January 25, 2005, he commissioned an electrification project in the community which he initiated.

(ii) In education, he contributed immensely to the development of the Community Comprehensive College in Ayeh-Gbede.

(iii) In the area of youth empowerment and development, he assisted a great deal in getting gainful employment for youths in his community.

(iv) In the area of social welfare, he responded more positively to the welfare of the needy and the less privileged in the community, meeting both their physical and material needs.
His Leadership Traits
In his pastoral ministry as LAWNA territorial chairman and national vice-president of the Apostolic Church, Nigeria, he was known as a caring leader. He led an exemplary life in the way he cared for ministers under him and church members at large.
As a minister, he combined charisma with character. He was generous, loving, caring and receptive; tough, but not difficult; strict, but humane.
His receptiveness to views and advice from his colleagues and members considerably helped to bridge the gap between the clergy and the laity in the church. In fact, he has been described as "a leader who brought the laity closer to the clergy."
He was the epitome of love, humility, and peaceful co-existence. He believed strongly that Christians should learn to settle their differences among themselves in the spirit of love rather than resorting to court actions. He did much to bring about reconciliation between factions in the church and even the restoration of broken homes. As a good leader who led by example, he exhibited the spirit of forgiveness – he easily forgave those who hurt him, even those who made open confessions of such.
He was indeed a great leader and administrator par excellence. He combined the five-fold gifts of apostle, prophet, evangelist, pastor, and teacher of the word. He was such a hard-working and indefatigable minister that he hardly had any leisure time. In fact, he was attending a retreat program when he received his call to glory.
His Last Days
Exactly a month before he died, Jemigbon preached a sermon which many later interpreted as his farewell sermon. This sermon entitled "Bound for Canaan" was delivered on May 17, 2009 at a combined service organized for him by Zaria Area Council after his inauguration of the Northern Areas Elders' Annual Meeting. This message which aroused the emotions of all in attendance was said to have been occasioned by a Spirit inspired rendition by the Area Combined Choir of hymn 79 (Appendix), "I am Bound for Canaan," from T.A.C. Gospel Hymn Book. After hearing it, he had allegedly received divine leading to replace his earlier prepared sermon topic, "Working with God" with "Bound for Canaan." In his admonition, he charged the congregation to shun corruption, immorality, and other vices in order to be Canaan bound. He called the people to pursue holiness, righteousness, justice, peace, and truth, as characteristics of Canaan bound people. During the delivery of the sermon, eyewitnesses felt that he demonstrated his readiness for Canaan-land, to the consternation of all. Afterwards, on his return to Lagos, he travelled again to Calabar, in good health, to attend the National Executive Council Meeting which was held between June 8 and 11, 2009.
On June 17, 2009, however, a few days after his return from Calabar, during a retreat program in Lagos, he was called to glory in a dramatic fashion, according to eyewitnesses. He was buried on September 18, 2009 at the Apostolic Church LAWNA international convention grounds, OLorunda-Ketu, Lagos. He was survived by his wife, Deaconess Mary Jemigbon, children, and grand-children. He was succeeded by Pastor Gabriel O. Olutola, the fourth LAWNA territorial chairman, and vice-president of the Apostolic Church, Nigeria.
Samson Adetunji Fatokun
---
Sources:
The Life and Ministry of Pastor S. S. Jemigbon. Lagos: The Apostolic Church LAWNA Literature Committee, 2009.
Excerpts from "Pastor Samuel Sunday Jemigbon's Funeral Ceremony Program," Lagos: T.A.C. LAWNA Printing Press, 2009, pp. 24-33.
---
This story, submitted in 2011, was written by Rev. Dr. Samson Adetunji Fatokun, who is Senior Lecturer in Church History and Pentecostal Studies in the department of Religious Studies at the University of Ibadan, Nigeria, where he also serves as the DACB liaison coordinator.