Classic DACB Collection
All articles created or submitted in the first twenty years of the project, from 1995 to 2015.
Kalu, Ogbu Uke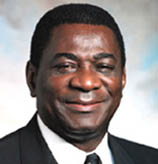 Professor Ogbu Uke Kalu, the Henry Winters Luce Professor of World Christianity and Missions at McCormick Theological Seminary in Chicago, died unexpectedly, after a brief hospital stay, on January 7, 2009. He was 66. He is survived by his wife Wilhelmina and four children: Edward, Stella, Jayne, and Patience. [1]
Professor Kalu attended the University of Toronto. Graduating with honors in 1967, he began postgraduate studies at McMaster University where he graduated with MA in history (Summa cum laude) in 1968. He began doctoral studies at the University of Toronto in 1968 and obtained his PhD in history in 1972. His quest for education took him to the Institute of Historical Research, University of London between 1970 and 1972. He obtained Master of Divinity from Princeton Theological Seminary in 1974. He was awarded Doctor of Divinity (DD) honoris causa in 1997 by Presbyterian College, Montreal, Canada.
Note must be made of his exceptional academic brilliance. He was awarded the Owuwa Anyanwu Native Authority Scholarship in 1958. Other prestigious awards and prizes include: Presbyterian Church of Canada Scholarship (1963-1967); University Teaching Fellowship, McMaster University (1967-1968); McMaster University Scholarship [Faculty of Arts, (1967). He was also nominated for Woodrow Wilson National fellowship at McMaster. At the University of Toronto, he was awarded The Waring Fellowship (1968-1969), University of Toronto Open Fellowship (1968-1969), Province of Ontario Graduate Award (1968/69-1969-70), and the Canada Council for the Arts Fellowship (1970-1972). At Princeton, he was awarded Princeton Theological Seminary Fellowship (1972-1974), Ecumenical Commission Research Grant 91973), and the prestigious Grier-Davies Award in Homiletics.
He began his illustrious academic carrier in 1974 at the University of Nigeria where he rose to the rank of Professor in 1978 and was awarded the Vice-Chancellor's Research Leadership Prize in 1986. He has served as coordinator, Humanities section, Division of General Studies (1976-1978), Director, Division of General Studies, 1978-1980, Member, Governing Council (1980-1984), Head of Department of Religion (1984-1986). He became Dean of the Faculty of the Social Sciences in 1980, and Director of Institute of African Studies at the University of Nigeria in 1983 and 1995-96. He had been a member of the University of Nigeria Senate since 1976.
Professor Kalu taught at various institutions as a visiting professor. In 1987, he was Visiting Lilly Professor at Christian Theological Seminary, Indianapolis, Indiana, USA. The following year, he became the Visiting Professor for World Missions at the Presbyterian Theological Seminary, Seoul, South Korea. Between 1992 and 1993, he was invited to serve as Senior Research Fellow at the Center of the Study of Christianity in the Non-Western World and Visiting Professor at New College in the University of Edinburgh, UK. He has served as a Charles Johnston Scholar and a visiting professor at Knox College, University of Toronto (1996-97) as at McGill University's Presbyterian College and Faculty of Religious Studies. In 1997 he became a visiting Professor at Emmanuel College, University of Toronto. In 1998, he was appointed a Visiting Professor at Harvard Divinity School and Center for the Study of World Religions.
In 2001, he was appointed Henry Winters Luce Professor of World Christianity and Mission at McCormick Theological Seminary in Chicago, USA. As a resident of Chicago, Dr. Kalu was a member of Progressive Community Center - The People's Church, where he worshipped regularly and taught adult education classes.
Professor Kalu was one of the most influential Nigerian scholars. He was respected internationally as a towering figure in the fields of Global Missions, African Christianity, and Global Pentecostalism. From the early 1970s until his death in 2009, he provided leadership in theological education in Africa and expanded the boundaries of Church History. A prolific writer on a wide range of subjects, Kalu has authored or edited more than sixteen published books including Divided People of God: Church Union Movement in Nigeria (New York, 1978); The History of Christianity in West Africa (London: Longman, 1980); African Church Historiography: An Ecumenical Perspective (Berne, 1988); Embattled Gods: Christianization of Igboland (Lagos/London, 1996); Power, Poverty and Prayer: The Challenges of Poverty and Pluralism in African Christianity (Frankfurt, 2000); African Christianity: An African Story (University of Pretoria Press, 2005), African Pentecostalism (2008); Clio In A Sacred Garb: Christian Presence and African Responses, 1900-2000 (2008); and over 180 articles in journals and as book chapters. One of his latest books was African Pentecostalism: An Introduction, published by Oxford University Press in 2008, which is already regarded by many as the authoritative work on the subject.
He served his field as a member of the editorial board of over fifteen academic journals including Journal of Religion in Africa; Mbari: The International Journal of Igbo Studies; Ikenga; African Theological Journal among others. He was also editor of West African Religion (1975-1987), Religion (1977-1980), and Nigerian Journal of Social Studies (1979-1982).
He also served Christianity in many ways. He was the secretary general of African Theological Institutions (Nairobi, Kenya) from 1970-1981; chairman, Conference of African Theological Institutions (Nairobi, Kenya). Until his death, he was secretary and coordinator, Associations of African Church Historians and member of the Governing Council, Spiritan School of Theology, Enugu, Nigeria. He was also a member of the Executive Board of Currents in World Christianity, University of Cambridge and chair of the Executive Board section on Evangelism and Globalism in 1998.
Ogbu Kalu was respected internationally not only for his scholarship but for his church leadership. He was a man of deep Christian faith and conviction and served as an elder in the Presbyterian Church of Nigeria. But the most important thing to him had always been the family. [2] Those who knew him on a professional and personal level will miss him dearly.
(Obituary notice first posted online on January 30, 2009)
Chima Korieh
---
Notes:
I first met Professor Ogbu Kalu in 1997 when I was a graduate student at the University of Toronto. He was at the University of Toronto on a sabbatical leave. In those 11 years, Professor Ogbu Kalu remained one of the greatest inspirations in my life, a mentor, and a friend. I was frequently invited by Professor Ogbu and his wife to their temporary home in Toronto during his sabbatical at Toronto. I looked forward to those visits and my occasional task of barbing his hair. Even though sometimes I did not do a good job as a barber, he was always gracious with his praise for my skills as a barber. I came to love him as a human being but most importantly as someone who genuinely loved and cared about other people.

My last conversation with him before Christmas he said: "Chima, congratulations of your new book. This has been a very productive year, but I hope you also have time for the family and doing your job in that angle."
---
Sources:
Ogbu Kalu's curriculum vitae.
Personal Communication with the subject.
---
This obituary, received in 2009, was written by Chima J. Korieh who teaches African History at Marquette University, Milwaukee, Wisconsin, U.S.A. He holds a PhD in African History from the University of Toronto, Canada. Before joining Marquette, he was associate professor of African history at Rowan University in New Jersey.