Classic DACB Collection
All articles created or submitted in the first twenty years of the project, from 1995 to 2015.
Kio, James Bamidele Akhigbe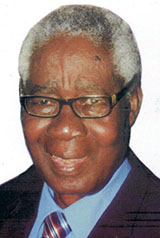 James Bamidele Akhigbe Kio was born on August 18, 1936 into the family of Pa Joel Akhirevbulu Kio and Mama Christiana Idobowa Kio (nee Osayemen) at Ifon in Ondo State. He was a native of Ujemen-Epkoma, Esan West Local Government in Edo State. He grew up in his hometown with his parents and, for a short time, his grandmother.
Kio began his primary education at the CMS Primary School, Iruekpen at the age of six. His father worked for years with the Forestry Department, which took him across Western Nigeria and the mid-west. Consequently, Kio went to school at Ijebu-Ode. He completed his primary education at Ado-Ekiti at the Christ Apostolic Church primary School in 1954. He belonged to the last generation of pupils to read standard six, as the Obafemi Awolowo Government replaced standard with primary schools.
In 1952, he unexpectedly came into contact with the Seventh-day Adventist faith when he was involved in an accident while travelling to Lagos with one of his uncles, Mathias Osayemen. They were rushed to the Seventh-day Adventist Hospital at Ile-Ife, in the Western region, for medical attention. Fortunately Kio recovered quickly, having sustained only minor injuries but his uncle had a fractured collar bone and bruises. Kio nursed his uncle in the hospital. While he was taking care of his uncle, a British missionary nurse, Sylval Turtill, and an American doctor, Nengel Sherman, took an interest in him. They introduced him to the Seventh-day Adventist faith, which laid the foundation for his exploration into Adventist education.
Having become a Seventh-day Adventist, Kio went to the Harding Modern School and then to Adventist Teachers College in Ado-Ekiti. Due to his performance, he was advised to do the General Certificate Examination. At this time he was nick-named 'Gentleman Kio'. Shortly before Nigerian independence, in 1959 he left for Ghana to attend the Seventh-day Adventist Institution. Upon completing his time there, he became convinced of his call to be a minister of the Gospel and began his ministry in Lagos. In post-colonial 1961, he was admitted into the Adventist College of West Africa where he completed part of his training in Theology. He undertook the other part in England, where in 1965 he gained a Bachelor of Arts degree in Theology and History from Columbia Union College.
At the time that Kio was completing his Bachelor's degree in 1965, Ogbonna in Etsakoland (in present day Edo State) was established. This was the place he returned to as a pastor; as the first official Seventh-day Adventist missionary to the territory. It is said that the Church of God in Christ Mennonite at Ogbonna decided, in 1965, to make the Sabbath (Saturday) their day of worship and that this decision brought about a mass conversion to the church's membership, aided by the missionary work of a veteran Seventh-day Adventist pastor, Lazarus O. Osekete, and a lay-person, P. U. Oitoto. In consequence of this, in January 1966, Kio was posted to this little village of Ogbonna where there was neither electricity nor clean water. The village was said to be a warm, cultured community of truth-loving people. Pastor Kio accepted the call without hesitation and without attempting to lobby for a more comfortable position despite coming from the United Kingdom. This was the attitude of a servant called to, not hired for, the Lord's service. He also demonstrated his service-oriented spirit in leading the community there to build a church. Kio and the church members worked as bricklayers and builders to build the church together.
Five years after his Bachelor's Degree, Kio was awarded a Diploma in mass communication from the University of Lagos. Thereafter, he served in various capacities: as a chaplain, district and church pastor, and teacher in Lagos, Edo and Oyo States. He served as Education Secretary in the West Nigeria Mission of the Seventh-day Adventist Church from 1970 to1972. Between 1972 and 1973, he was a teacher at the Adventist college of West Africa before going to the United States of America. In 1973, he went to the University of Houston, Texas, where he earned a Master's Degree in Speech Communication. In 1979, he received his Doctorate in Philosophy from the University of Kansas in Speech Communication and Human Relations. In addition, he became a member of the Speech Communication Association of America, the International Communication Association, and the International Religious Liberty Association.
While in the United States of America, Kio worked briefly in corporate communication for an oil corporation in Houston, Texas. Shortly afterwards, he moved into academia. At one time, he served as an instructor at Tulane University, New Orleans and later, from 1979 to 1980, as an assistant professor at the University of Minnesota.
From 1980 to1990 he served the church as the director for communication, youth and education at the Nigeria Union Mission of the Seventh-day Adventist Church in Lagos. Less than a year afterwards, he was moved to the African Indian Ocean divisional office of the Seventh-day Adventist Church in Abidjan where he served as the director of communications, public affairs and religious liberty. At the same time, he worked as a visiting lecturer to several Adventist higher institutions across Africa. From 1990 to 1998 Kio served as a pioneer director of the Ellen G. White Seventh-day Adventist Research Center in Nigeria.
Kio served as the last president of the church in Edo-Delta Mission and led the mission with devotion towards conference status, which was gained at the end of his tenure from 1998 to 2004. His tenure was marked by the most radical and ceaseless approach to missions and church planting in the history of the church in this area. His drive for mission and stewardship laid the foundation for the recent growths in Edo and Delta Conferences. It is a point of note that during his tenure he gave special attention to the celebration of baptisms at the workers' monthly meetings, while expressing dissatisfaction with workers who did not participate in them. However, he would only ever encourage these workers, humorously saying that God has promised that desert-like places shall blossom. In the end, he urged people to keep doing great things for the Lord. He had a passionate burden for souls.
There is evidence that following his purposeful drive towards church planting, there were twenty-nine newly established churches across the Edo and Delta fields. Among these were Otor-Iyede, Ibuso, Ugbokodo, Evboriaria, Otokutu and Useh. Thus, the greatest Seventh-day Adventist church planting activity recorded in this area to date took place under the influence of Kio's emphasis on mission driven projects.
Upon his retirement, he accepted a call to serve at Babcock University where he earned his Professorship and worked in the mass communication department until 2010. As a teacher and scholar in the mass communication department at Babcock University, Kio was a pioneer. He was outstanding in both his contribution and leadership. By any definition he was a true original; he was also described as a consummate scholar. After this period, he dedicated himself to a life of spiritual growth, physical exercise with his wife, and visits to his children until he died on June 16, 2014 at the age of seventy-seven. He was blessed with lovely children and grandchildren.
Emmanuel Orihentare Eregare
---
Bibliography
Eti , Chigozi, A paper presented on the life of Pastor (Professor) J. B. Kio at the Pioneer Seventh-day Adventist Church, Babcock University, Ogun State, Nigeria. July 22, 2014.
Eregare, E. O. An African Christian Church History: Seventh-day Adventist Cosmology in Edo/ Delta 1948- 2012 & Ecumenical Initiatives. Lagos: Christ Coming Books, 2013.
Eregare, E. O. The Growth of the Seventh-day Adventist Church in Edo-Delta Field:  1948-2010. Unpublished Dissertation Ph.D. Nnamdi Azikiwe University, Awka, Awka, 2012.
Ola, Joseph O. "Tell the Saints, A better Life is coming" (A sermon for the Funeral Service of James Bamidele Kio at Ujeme, Ekpoma. Joseph Ola is a retired celebrated Seventh-day Adventist preacher in Black Preaching.) July 24, 2014.
A Legacy of Service to God, (The funeral program of James Bamidele Kio: 1936-2014) Ujeme, Ekpoma, Nigeria. July 23, 2014.
---
This article, received in 2014, was written by Emmanuel Orihentare Eregare, Ph.D., son of James Onorakpene Eregare. Since 2013, Emmanuel Eregare has been a lecturer in the History and International Studies Department at Babcock University, Ogun State, Nigeria, a DACB participating institution. Dr. Abiodun Ayodeji Adesegun is liaison coordinator.