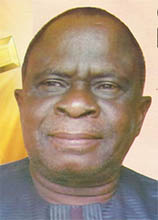 Elisha Nmeribe was born on August 12, 1945 in Umuopara Obingwa Local Government of Abia State Nigeria to the family of Sir Jonathan and Madam Mabel Nmeribe. Elisha Nmeribe was the third child in a family of six. He attended Umuopara Community Primary School in Umuopara Obingwa Local Government of Abia State and later moved to Aba in search of greener pastures. He proceeded to Kano and later to Zaria where he enrolled to study accountancy at A.B.U. Zaria before he left for Bama in Maiduguri. Being a strong and vibrant young man, in 1978, he worked with Raca Construction Company in Kangiwa, the old Sokoto State that is now Kebbi State. He later joined KUPAS for the construction of Usman Danfodiyo University Sokoto, after which he settled down in Sokoto.
Leaving the life he was used to, Nmeribe gave his life to Jesus Christ and began participating in religious outreach efforts. In 1978, he came to Sokoto and worshipped with Christian Fellowship mission. He soon was ordained as the Youth President and Crusade Coordinator and later an Evangelist by Rev. Christian Okeke. In 1985, he met and married his beloved wife Mrs. Chinyere Rose Elisha on September 6, 1985, and the union produced five children (one boys and four girls).
On October 2, 1982, Thy Word is Truth Ministries was born. Since then it has had a series of conventions and seasonal meetings that took place weekly, monthly, and annually. In February 1983, Nmeribe began a Correspondence Bible College and an outreach to prison inmates in July 1983. He published his first tract in August 1988. In November 1991, Goodness Center came into being. Through these media, God through met the spiritual needs of many people as he dedicated his entire life to the service of God and humanity. A reliable, trustworthy and selfless person, Nmeribe worked for the harvest of souls in a stony and godless land. The impact he made is most evident today as the land is flooded with ministries, churches and Christians worshipping God freely. "The seat of the Caliphate is now the seat of Christ" was always his testimony. As a missionary, he moved around villages, towns and cities in Sokoto State, other northern Nigerian states and Niger Republic.
Nmeribe held several leadership offices in the Pentecostal Fellowship of Nigeria, Sokoto at various times. He first served as the Secretary then later became the state Chapter Chairman and by 1999, he was appointed the Zonal Vice President to the Northwest (Comprising Sokoto, Zamfara & Kebbi States). Before his death, Nmeribe was serving as a member of the State Advisory Council of PFN Sokoto Chapter.
His dedication to the body of Christ cannot be over-emphasized as he was seen as one of the pillar of the entire Christian Community in Sokoto as a whole.
Among his several Christian activities, he was the instructor and facilitator of Royal Theological College; Coordinator of Sokoto Minister's Prayer Force; an Associate of FCS and a Grand Patron to the NCCF (Sokoto); Member of Christian Reconciliation Forum; and Member of the Bible Society of Nigeria.
Due to his selfless service, he was nominated for a National Award under the Presidency of Olusegun Obasanjo. Other awards include awards of Excellence and Recognition from PFN, NCCF, Christian Fellowship, Project Philips, Springs initiative among others.
In December 2014, he cemented his life's missionary journey with a visit to Rome and a pilgrimage to Jerusalem and the Holy Land.
On Tuesday, September 15, 2015, at about 10:30 am at Christian Assembly, Mami Market, Sokoto, during the PFN Pastors' Prayer meeting, he was scheduled to lead prayers. But like a prophet he knew he was going to be with the Lord soon. Instead of the prayers, he was admonishing the pastors and he told us some deep things about his walk with God. Having finished his earthly assignments at age 70, Evangelist Elisha Enyioha Nmeribe left to be with the Lord on Sunday, September 20, 2015 at the Usmanu Danfodiyo Teaching Hospital, Sokoto.
John Babatunde Adeniyi
---
Sources:
Burial program that has his biography.
Interview with his only son, Pastor Sam Nmeribe.
---
This story, received in 2019, was written by Pastor John Babatunde Adeniyi, a graduate of Science Education Unilorin, Ilorin Nigeria. He is the administrative officer of Zethar Al-Umma Foundation, Sokoto as well as a teacher, mentor, clergy, life-coach, and writer. He received training in an Oral History workshop sponsored by DACB in Nigeria in 2010. He is married to Omolola and they are blessed with two children, Bezaleel and Bethel.