Classic DACB Collection
All articles created or submitted in the first twenty years of the project, from 1995 to 2015.
Okon, Eyo Edet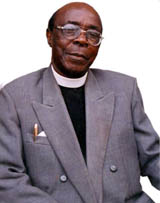 Eyo Edet Okon was the first indigenous president of the Apostolic Church in Nigeria. He joined the church in 1932 and rose through the ranks to become its national president in 1981. He held this position until his death in 2010.
Birth and Family Background
Okon was born on June 10, 1914, to Chief Edet Okon Itam also known as Edet Hogan Ambo of Atimgba Essien family, Ekpe Oku Royal House in Mbarakom, Creek Town, Odukpani Local Government Area of Cross River State. His mother was Madam Aya Uda Okon Itam of Effiat Inua Abasi, near James Town in the same Cross River State of Nigeria. He was the fifth male and ninth child of his father's fourteen children.
Calabar was one of the gateways of Christianity in what is today known as Nigeria. Creek Town, where Edet Okon was born, is on the coastal inlet of the Cross River, about three nautical miles from old Calabar. It had the prominence of being the contact point of the early European missionaries to that part of south eastern Nigeria. Today Creek Town has monuments to notable explorers and missionaries such as Richard Lander and Mary Slessor, the legendary woman who fought against the killing of twins in old Calabar. Many relics of that past history can still be found in the town. Among these is the tomb of Mary Slessor, which still stands at Okoyong, a notable area within the region.
Education
Chief Okon, Eyo's father, had a good plan for his son. He realized the importance of education in human development and had decided to give his son the best of what was available. In 1919, at age five, Eyo was enrolled at the Church of Scotland Mission School, Creek Town. He obtained his Standard Six Certificate in 1929. He followed the footsteps of Essien Edet Okon, the renowned Hope Waddell mathematics teacher (his elder brother), popularly called "Okon Geometry." He began training for the teaching profession, and in 1930 he obtained the basic qualification for enrolment in study for the teaching profession. Consequently, he was engaged as a teacher in the same school from 1930 to 1931. He later studied theology at the Apostolic Church Bible College, Penygroes, Great Britain, in the 1950s. This was followed by a diploma in theology from The Apostolic Bible College, Obot Idim, Uyo, Akwa Ibom State, in 1962. His search for godly knowledge led him to attend other international biblical training institutes in the United States, Denmark, and Britain.
Ministry
Okon was born a Presbyterian but he later fellowshipped with The Apostolic Church (TAC) following the introduction of the church to Creek Town and through divine instruction, joined the new church. He described the situation thus:
There was a gathering here in Nigeria where people from Europe came and the power of God was seen in action. Then, I was a member of the Presbyterian Church, but through the programme conducted by some missionaries like Pastors Rhodes and Evans, I began to experience a new revelation of God. They preached the gospel and many wonders and healings were performed. It was an outpour of the latter rain; there, I came to embrace the Lord and became a member of The Apostolic Church. [see Tunde, in sources]
He had already begun a career as a teacher, but his undying zeal and passion for the vineyard of the Lord surpassed every other dream. He began to follow the divine vision and received fundamental training in ministerial art and mission work from the Apostolic European missionaries in Creek Town, Calabar. With church work gradually over-shadowing his teaching career, he decided to resign his teaching appointment, so as to give his best to God's service. It was like the story of the Zebedee brothers dropping their net to follow Jesus (Mark 1:19); young Okon never looked back at his teaching job, but latched onto the vision of the church, which he pursued until death.
His entry into the church's service was followed by intense involvement and zeal with the Apostolic European missionaries in evangelism and mission development from 1933 on. Initially, he was part of the pioneering elders of TAC who received evangelist Babalola, who brought the glorious vision of TAC to Creek Town, Calabar, with Pastor C. E. O. Mfon, and later with the pioneer European missionary, Pastor Idris John Vaughan. As he would remember, he and some others were only appointed as evangelists as there was a dearth of personnel at the time and God needed people to run the church. According to him, they were just going around preaching the gospel along with the missionaries, and they were called evangelists. These teams included Pastor Vaughan and Pastor Evans, and evangelist Joseph Babalola of the Christ Apostolic Church (CAC) fame, who led an evangelism campaign to Calabar after the outbreak of the healing revival in Ilesa and some other parts of southwestern Nigeria. 
Eyo's interest in and zeal for evangelism soon showed that he would be a valuable instrument in the hands of God. He accepted the work as a task which must be done as he journeyed across creeks and various bodies of water with the Europeans to preach the gospel. He was playing a triple role on the team: evangelist, guide to the missionaries, and interpreter to the local people. At the completion of the mandatory service year he devoted himself to the service of the church and shouldered the cross to do the work of the great commission. 
His decision to follow the Lord rather than to pursue his educational career was considered by many as stupid, as education was a handsome career prospect in those days. Teachers were the prime elites of the community, they commanded an aura of authority, and were usually looked up to. However, Okon was resolved to carry his cross and follow the Lord, having very early in life come to regard the things of this world as nothing but vanity.  His decision was met with stiff resistance by some members of his family–particularly his elder brother–but Eyo was determined to obey God rather than succumb to the will and pressure of men. 
At this time, Eyo Okon was only a devoted brother beloved of the missionaries and the local people. His call into full-time ministry was as general secretary of the Apostolic Church, Calabar Area, which has today given birth to other fields, including Akwa Ibom, Rivers, and Igbo. His call to the ministry was a direct revelation through the prophet, and by the hands of European Pastors Evans and Rhodes, he was called into the Apostolic Council, comprised of the five offices of apostles, prophets, evangelists, pastors and teachers. Not long after he answered the call into full-time ministry and was ordained, he was posted on a missionary journey to plant and build up assemblies in many locations in the eastern region. This took him to various areas there where he served in several capacities and cities, including Bodo City, Ogoniland, Port Harcourt, Mbawsi, Ifiayong, Itu, and Ikot Ekpene, from 1954 to 1959. He assumed the office of superintendent of Calabar in 1965, which comprised the entire southeastern area of Nigeria and Cameroun. He led the evangelical team for the planting of the Apostolic Church in Cameroun in the 1950s and chaired the church in Cameroun as a component of Calabar area until the Cameroun church received autonomy. He also chaired the Akwa Ibom State field at several times and was instrumental in nurturing its component fields: Uyo, Ikot Ekpene, Eket, and Oron, into maturity.
In 1935, Okon, was confirmed and ordained an elder and evangelist in the Apostolic Church. In December 1936, he was called into full-time ministry in Calabar area and was appointed superintendent of The Apostolic Church, eastern Nigeria, in 1945 by the international council of the church based in Great Britain. During his tenure as superintendent, several commendable and outstanding achievements were made in the church: in 1966, the Bible Training Center was established at Nsit, and several primary and secondary Schools were established. Missionaries were also sent to Cameroon to spread the gospel. He also pioneered the spread of The Apostolic Church in eastern Nigeria and in the Republic of Cameroon. His ordination as an apostle, the highest priestly office in TAC, came on August 22, 1952, at Atabong Eket. He was ordained by Pastor D. C. Hopkins, the resident European Calabar area superintendent.
In 1981, The Apostolic Church in Nigeria was given autonomy by the international headquarters of the church in Great Britain. This necessitated that somebody be appointed to head the church in Nigeria. Due to Okon's maturity in the church's doctrine, he was unanimously elected by the Nigerian advisory executive council members as the first national president of The Apostolic Church, Nigeria.  His appointment as the national president did not come as a surprise, as many ministers of the church testified to his devotion, zeal, ability, and maturity in the ministry. Adolphus Osinowo, a pastor of the church, declared him to be a very faithful follower of the church, who proved himself as a prospective leader. It was therefore not surprising to him when Okon was unanimously appointed. Similarly, Pastor G. O. Olutola, then secretary of the executive, related that Okon was in fact chosen because of the way he approached things, his mature mind, administrative ability, and above all, his spiritual profundity. Throughout his tenure as the national president he established and justified the confidence that had been placed in him as a qualified and trustworthy leader. The Apostolic principles and practices which he upheld made him an acceptable leader to the members generally and to the leadership. He was a constitutionally minded man of God who held tenaciously to The Apostolic Church doctrines.
Miracles
A series of miracles were reported to have attended his ministry. Deacon Edem Archibong of TAC Edibe Edibe assembly testified of how Okon's image on a calendar solved his hernia problem. He said he was in his house on a certain day when the problem sparked off severe pains; he rolled up and down the room until something told him to lift his face towards the church calendar on the wall, with the pastor's image occupying a central position. He fixed his gaze consistently on it while carrying in mind the fact that following the numerous miraculous works of the pastor he had witnessed at the Edgerley Road State Field temple, he could be healed. True to his faith, Deacon Archibong said that he was healed instantly; the pains vanished completely and have not returned. As a show of appreciation to God for that miraculous encounter, the deacon said he named his last son after Okon.
Elder Andong Asuquo, of the same assembly, confirmed the story of Deacon Archibong and also told a story of how a lady confronted the man of God in a church vestry and received instant healing of an ailment she was about to spend a large amount of money on. The lady, he said, focused her gaze on the man of God as he was coming out of the vestry and when she greeted him he asked about her health–perhaps unconsciously–and as she stood to answer, something like a bright light from his eyes penetrated her and instantly she received the healing she had longed for. Sister Oku of the Edibe Edibe assembly also reported that her sister was delivered safely courtesy of Okon's face on a calendar. Her sister, according to Sister Oku, was having severe birth pains that had defied every known solution while she was in a traditional maternity ward, until she screamed over the image on the calendar saying, "Abasi  Pastor E. E Okon  yangha mi….o," (meaning the God of Pastor E. E. Okon, deliver me).
Also, one Ukeme Michael Charles, who is presently the general overseer of Born Again Christian Church, Olodi-Apapa, Lagos, testified to how he was delivered of demonic attack under the ministration of Pastor Okon during one of his ministrations at a convention meeting. He was eleven years old in 1983, when he was suddenly struck with a strange sickness which left him deaf, dumb, and partially blind. In the process of seeking a cure for the ailment, his parents carried him to a convention meeting where Okon was ministering and to the glory of God, he was healed through the prayer of the pastor.
His Death
Akamba Ete (Great Papa) or "the humble pastor," as the amiable servant of God was fondly referred to, was reported to have informed his immediate family members that there were five significant meetings he would conduct, insisting that he should be prepared for those meetings. Little did they know–those were not meetings for mere mortals. This was followed by his subsequent refusal to attend to visitors so that nothing would distract him from the meetings. By Friday, September 24, 2010, the clergyman showed signs of weakness and he died on Tuesday September 28, 2010 at about 7:30 pm at the ripe age of ninety-six. Pastor Okon lived an exemplary life, worthy of emulation. He was the embodiment of peace, love, humility, patience, kindness, empathy, gentleness, decorum, and tranquility. His leadership was characterized by consecration, discipline, servanthood, vision, compassion, trustworthiness, decisiveness, wisdom, courage, and passion.
Tributes
Many tributes came from state government, government functionaries, church leaders, traditional rulers, churches, groups, and individuals, who rightly portrayed the enormous impact Okon had on everyone in his eighty years of service in God's vineyard. Pastor Olutola, the LAWNA territorial chairman of the church and vice president of TAC, Nigeria, consoled the members not to be sorrowful as others who have no hope, because, "we believe our father (Pastor Okon) had fought a good fight, he had finished his course. He had kept the faith and 'henceforth, there is laid up for him a crown of righteousness, which Christ the Lord, the righteous judge shall give him at that day.'" Also, Pastor Emmanuel Awojide, another member of the national echelon of the church, extolled his virtues, saying that he was an epitome of Christ-like humility and that the church would remember his sterling leadership qualities and would build on them for a better Apostolic Church in Nigeria.
The government of Cross River State, his home state, described him as a pastoral icon who gave his all in the propagation and evangelization of the gospel of Christ. Governor Godswill Akpabio, represented by the Commissioner of Agriculture, Obong Eno Akpan, eulogized the late clergyman saying "his deep spiritual insight and dedication to what God says, marked him out as one of the pillars of Christian faith." The governor consoled the church faithful pointing out that "although his departure has left a vacuum, his mighty foot prints are engraved in the sands of time and his memory will forever be stenciled in the hallowed chambers of our hearts." According to the Obong of Calabar's message, "Pastor Okon was not a man of many words but a Christian and clergyman par excellence who lived long enough to see modern day clergy desire and drive for material wealth and its accumulation." [sic]  Edidem Ekpo Okon Abasi Otu V said that the Efik people "are proud of Pastor Okon as their son, brother, friend and father, a devout Christian and a humble man whose only preoccupation was to serve God in spirit and in truth."
In the words of Professor Bassey Okon Asuquo, the Vice-Chancellor of University of Calabar, "Pastor E. E Okon was a selfless figure who was not only content with his pastorate but made pragmatic efforts to promote the gospel of Jesus Christ." He commended the late preacher, for instituting an annual award in the Department of Religion and Philosophy of the university. According to him, this has enhanced the teaching of religious studies, and the award is highly appreciated because Okon gave to the university at a time when many were thinking of what they could get out from it. The Christian Association of Nigeria (CAN) Cross River State branch said, "the clergyman has left indelible footprints on the sands of time which should console all," and urged everyone to be comforted because "he has finished the race, he has kept the faith, and is now going to receive his crown of glory."
Michael Adeleke Ogunewu
---
Sources:
Adebisi Tunde and others, Pastor Eyo Edet Okon: The Humble Pastor, (Lagos: Apostolic Patriarch Book Development Group, 2009), [no page number].
Ita Bassey, "From CANAAN - Pastor E. E. Okon: The Obong of heavenly Calabar", 22, November, 2010. Http://www.sensornewsonline.com/new/index.php (accessed July 4, 2010).
Ita Bassey, "The Apostolic Church President dies at 96, 5th October, 2010. [No source.]
The Exit of a Patriarch, Internet: http://apostolicekpeneukpa.org/anounce.aspx (accessed July 4, 2010).
Ufforth Shalom & Umoh Ofonfon, "The Exit of Humble Apostle: The Life and Time of E. E. Okon" PM, News, 30 December, 2010. [No source.]
Ukpong Ukpong, "Apostolic Faithful bid Apostle E. E. Okon Farewell", 28th November, 2010
http://sensornewsonline.com/new/index.php/regional-news/1740-ukpong-ukpong (accessed July 11, 2012).
---
This story, received in 2012, was written and researched by Dr. Michael Adeleke Ogunewu,
Nigerian Baptist Theological Seminary, Ogbomoso, Nigeria.