Oladitan, Samuel Olaniyi Egbinade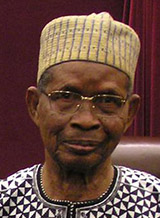 Samuel Olaniyi Egbinade Oladitan was born on February 22, 1920, into the family of Chief John Olatunji Afolabi Oladitan of Ode's Compound of Oke Aare in Iree town. His mother, Madam Esther Oladitan, was also a native of Iree in Osun State, Nigeria. Samuel Oladitan attended St. John's African School Iree between 1932 and 1936 from infant class to standard II. He was compelled to leave the school in 1937 and move to Aagba, a neighboring town, because of a dispute in the school. In Aagba, he became an apprentice to a tailor.
After a while, he desired to continue his education but the leadership of the African Church to which his father belonged refused to recommend him for further studies and to sign his form—which was needed to register him for high class. In 1938, he returned to Iree to continue with his studies. He enrolled at Baptist Day School Oke Aare and started off in standard II. Having re-enrolled and finished successfully, he obtained the standard II certificate. Between 1939 and 1940, he attended Holy Trinity African school Ikirun for his standard III and IV studies. He finally finished his standard V and VI certificate in 1941 and 1942 at Oba Adenle Primary School in Osogbo.
Young Oladitan was very happy to have a good result. Before long, he providentially met a Baptist minister, Rev. Omilade, who took an interest in him. Very soon, Oladitan approached him for help to sign his form and recommend him for further studies. Rev. Omilade did not only sign his form but also recommended him and assured Oladitan that he would be willing to serve as his guarantor and mentor. Oladitan resolved to join the Baptist Church in appreciation of such a man of God who could sign his form despite the fact that he was not his church member. Sadly, that was exactly what the pastor of African Church—the church he belonged to and where he had served—had refused to do.
Oladitan began to work as a school teacher in 1943 at Baptist Primary School Itakete Idde in Kaba province in the present day Kogi State. He served as a teacher-pastor because, while he was teaching in the school he also served as the pastor of the Itakete Idde Baptist Church. By 1944, he was transferred to Baptist Day Primary School, Aba Oba, Ogudu near Ile-Ife in the present-day Osun State. At the special request and invitation of Rev. John Bimpe Adegbite, pastor of First Baptist Church, Isanlu Isin, Kwara State, Oladitan was transferred to Isanlu Isin to help establish a primary school in January 1945. He began the school with six pupils. God crowned his selfless efforts with success and the school grew rapidly. Meanwhile, in response to a divine call to pastoral ministry, he was admitted to the Nigerian Baptist Theological Seminary, Ogbomoso in 1946 for a three-year theological training program. In 1948, he graduated from the seminary.
In January 1949, Oladitan began his pastoral ministry at First Baptist Church, Oke Iroko, now at Oke Owode, Ikirun, Osun State. The church at Ikirun was not industrious enough to support Oladitan, so he was transferred to First Baptist Church, Ada, Osun State, on July 7, 1949. On January 8, 1953, he married Miss Deborah Aderoju Adesina of Ile Nla Opin compound, Okeho, Oyo State. She was by profession a teacher. The marriage was blessed with children: Dr. Mrs. Funmilayo Adegbile, Mrs. Olakanbi Omobolanle Ojo, Mrs. Olanike Adebola Abiola, Mr. Oladokun Taiwo Oladitan, Mr. Olajide Kehinde Oladitan, and Oladitan Idowu (deceased).
At Ada, Oladitan led the church in building a church structure that is still standing today. He was ordained on December 4, 1960. In January 1, 1963, Oladitan resumed the pastorate of First Baptist Church, Ipee, Kwara State. He helped the church to build a resplendent auditorium and a standard pastorium. He remained at Ipee until September 1971 and then he was called to pastor First Baptist Church, Oke'sa Iree, his native town in October 1971. The church specifically requested him after the demise of the church pastor, Rev. E. A. Omilade. Oladitan pastored the church until December 1975. In January 1976, he was called to pastor First Baptist Church, Oke Isokun, Oyo. The current imposing church edifice was erected under his leadership. During his leadership period in 1977, the church successfully hosted the Nigerian Baptist Convention annual session for the first time since its inception in 1914.
The Nigerian Baptist Convention, in collaboration with the Southern Baptist Convention, United State of America, offered Oladitan a scholarship to study at Mid-Western Baptist Seminary, Kansas City, Missouri. He obtained a Diploma in Theology and studied further to obtain a Bachelor in Theology before returning to Nigeria. He retired from active pastoral ministry at First Baptist Church Oke Isokun, Oyo on December 6, 1986.
After his retirement, the leadership of the Nigerian Baptist Convention considered him an able vessel to serve as interim pastor of Union Baptist Church, Ekotedo, Ibadan in August 1987 for a year. Union Baptist Church was then engulfed in serious internal conflict. The Nigerian Baptist Convention felt that there was a need to rebuild the unity of the church that was threatened after their pastor's appointment was terminated. When Oladitan resumed his duties, he reconciled the members, and by the grace of God, the unity of the church was sustained. He subsequently helped them to build the current worship arena and pastorium. Within the period, he helped the church also to buy a piece of land and called a pastor to lead the Agugu Preaching Station. He also worked with the church to establish the Fountain of Life Baptist Church, Ologuneru and Mercyland Baptist Church, Apata, Agbowo, UI. He pastored Union Baptist Church, Ekotedo, for eight years and six months (instead of the one year plan) and finally left the church in January 1995.
Oladitan and his wife were instrumental in establishing Mount Zion Baptist Church, Isokun Titun Oyo. The church started in their sitting room with the help of the evangelism group of Opapa Baptist Church Oyo in 1990 while he was still serving in Ibadan. He was an encouragement to many people who later became ministers of the gospel among who was Rev. E. O. Sowo (a Baptist pastor, now retired) for whom he purchased a seminary form. He authored books among which were Bibori Awon Isoro Aye: Josefu Alapere Rere, (2004) and Orin Dafidi Oriketalelogun (Psalm 23) Oluwa ni Olusoagutan mi: Ileri Olorun Mejila lo wa fun Onigbagbo kookan, (n.d.).
He died on September 13, 2018, at the age of ninety-eight and was buried on December 7, 2018, at Iree.
Olugbade Aderemi Oludele
---
References:
Adegbile, Funmilayo Olajumoke. Interviewed. October 31, 2021.
"Celebration of life: Mrs Deborah Aderoju Oladitan (Nee Adesina)." Sunrise: December 25, 1925; Sunset: May 23, 2021. Burial Programme at First Baptist Church Oke Isokun Oyo on July 9, 2021.
"Celebration of Life: Rev. Samuel Olaniyi Oladitan." Sunrise: February 22, 1920; Sunset: September 13, 2018. Burial Programme at First Baptist Church Oke'sa Iree on December 7, 2018.
Oladitan Samuel Olaniyi. Interviewed during a visit by a representative of First Baptist Church Oke Owode, Ikirun, 2016.
——–. Orin Dafidi Oriketalelogun (Psalm 23) Oluwa ni Oluso-Agutan mi. Oyo: Jarab Enterprises, n.d.
——–. Bibori awon Isoro Aye: Joseph Alapere rere. Ibadan: Vantage Publishers, 2004.
---
This biography, received in 2022, was written by Rev. Olugbade Aderemi Oludele, PhD, pastor of First Baptist Church, Oke-Owode Street, Ikirun. Osun State, Nigeria and former student of Prof. Deji Ayegboyin (DACB Senior Advisor) at University of Ibadan. His email is deleyemisi [at] yahoo.com.
---
Photo Gallery