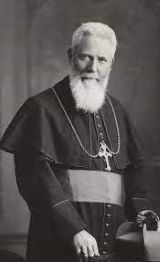 Joseph Shanahan was a Catholic missionary bishop in eastern Nigeria. Shanahan was born in Glankeen, County Tipperary, Ireland, to Daniel Shanahan, a devout Catholic herdsman, and Margaret Walsh Shanahan. He studied at the Templederry National School, and was trained by the Holy Ghost Fathers in France and Ireland. As a priest he served as a schoolmaster for some years with an eye to missionary work in Africa. The opportunity came in 1902 in the Catholic mission in eastern Nigeria. When he assumed leadership in 1906, he transformed the enterprise by using schools as means for rural evangelization. As bishop in 1920, Shanahan invited the St. Patrick's Order (formerly the Maynooth Brothers) to join the mission, and founded the Holy Rosary Congregation for educational apostolate. A consummate administrator, Shanahan was adventurous, generous, and charismatic. He retired with broken health in 1931, died in Nairobi, but was reburied in Onitsha (1955). Nigerians loved this man and named numerous institutions after him. He had revolutionized education and turned Roman Catholicism into a powerful force for good in the nation, and they called him the Apostle of Light.
Ogbu U. Kalu
---
Bibliography
Desmond Forristal, The Second Burial of Bishop Shanahan (1990).
John P. Jordan, Bishop Shanahan of Southern Nigeria (1949).
Shanahan's papers are in the Holy Ghost archives, Chevilly, Paris, and in the Holy Rosary archives, Dublin.
---
This article is reproduced, with permission, from Biographical Dictionary of Christian Missions, copyright © 1998, by Gerald H. Anderson, W. B. Eerdmans Publishing Company, Grand Rapids, Michigan. All rights reserved.