Classic DACB Collection
All articles created or submitted in the first twenty years of the project, from 1995 to 2015.
Udo, Okon Akpan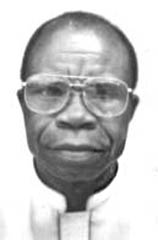 Okon Akpan Udo was born at Ediene, Abak, in Nigeria. In 1942, at the age of nine, Okon lost his father, Akpan Udo Ekpo. From that time his mother Rachael influenced his life greatly until he completed his primary education in 1946. Then she took him to a family relative, Chief Aaron Udo Inyang who became his guardian and helped him to attend secondary school. Aaron Udo Inyang was the founder and one of the first registered trustees of the Church of the Nazarene in Nigeria.
Early in life Okon Akpan joined the Qua Iboe Church of his parents and transferred to the Church of the Nazarene along them congregation. He writes: "They bought me an Efik Bible and hymn book. I was excited and became fond of reading Psalms and the book of Proverbs. Occasionally I read the Bible to them as they were unable to read."
Okon found the Lord in 1945 during a prayer meeting. Pastor Abraham Udo Ndon, a powerful preacher, spoke on Matthew 7:7-11, "Ask and it will be given to you; seek and you will find; knock and the door will be opened to you." (v. 7) He writes about it, "This became my pass word. The result was amazing. Today God is still faithful when we ask, search and knock for Him." Okon was baptized in the Qua Iboe Church.
When he completed his basic education in 1954, Udo joined the Department of Customs and Excise in the Federal Government Service. Further training and attachments took him to the major cities in Nigeria and overseas to London, England; Belfast, Northern Ireland; Dublin, Ireland in 1965, Helsinki, Finland in 1978, and Pele near the North Pole. In 1987, he retired as comptroller after thirty-four years of service.
Udo then gave all of his time to serving in the Church of the Nazarene as a layman. He served as a member of the local church board. At the district level, he served as district treasurer for a number of years and assisted the superintendent, Rev. J. U. Ekaidem. He was involved in the arrangements for affiliation with the International Church of the Nazarene from 1986 to 1988. In March 1989, he enrolled in NNTC (Nigeria Nazarene Theological College). In 1992, he was appointed district superintendent and, in 1993, was ordained by Dr. Eugene Stowe at Richfield, Minnesota. He writes further:
I remained committed to the responsibilities of making the district function under the direction of the International Church as given in the manual. For churches that had operated for forty years without clear-cut doctrine, without direction and without training, one can easily imagine the situation: syncretism and practices such as polygny abounded. There was much poverty. However, with teaching, preaching and enforcement of the manual directives, things are changing for the better. Ministers as well as lay persons now know the direction they are going and the expectations and demands of the church regarding their stewardship.

It took three years during 1987 to 1989 working with a lawyer to register the new trustees of the Church of the Nazarene in Nigeria. In 1992 I obtained federal government authority to solemnize marriages. Before that we were content with traditional marriages. That is not the case now. There is still a lot to be done but I must make way for younger persons who are coming up. Besides, my eyesight is bothering me hence my decision to retire as district superintendent during the southeast Nigeria district assembly in October 1999.
In 1989, Rev. Udo was awarded, in a colourful ceremony, the honourary title of Ata Uforo by His Royal Highness, E.U.A. Arthur, J. P., Paramount Ruler of Abak Local Government Area, Akwa Ibom State. (Ata Uforo means one who helps others to prosper or progress.) This was a very high honour granted in recognition of services rendered to people in Abak Community and beyond. At the Regional Conference of the Church of the Nazarene in Johannesburg, South Africa, in 1991 he was given the Africa Region Service Award for excellence and faithfulness in outstanding service for God and the church.
In March 1997, the eldest son of Rev. and Mrs. O. A. Udo died from an apparent heart attack.[1] At retirement in December 1999 at Ediene II, he received an Excellence Service Award from the southeast Nigeria district and also a plaque from the Africa Region.
Udo gives God the credit for all he has been able to accomplish and he writes. "I had never done enough and the job is not completed. The harvest is so great but labourers are few, too few in Nigeria in particular. Nigeria is a field with great potential and needs the prayers of us all." Okon Udo gave wise and Spirit-directed leadership to the Nigerian church. His is, without question, the principal leader in bringing about the merger between the Church of the Nazarene International and the Church in Nigeria. Without his wise and saintly leadership, the merger would not have taken place.
A colleague declared him to be "a good and dedicated Christian."[2] There is no Nazarene anywhere who better demonstrates holiness of heart and life than O. A. Udo. In 1997, Field Director John Seaman said that there are few Nazarene leaders in the world he esteems more highly or in whom he has greater confidence as a leader and as a Spirit-filled brother. "His spirit of personal sacrifice, commitment and loyalty to the Church of the Nazarene and the doctrine of heart holiness is an inspiration to all who know him. He is truly God's choice to lead the Nigerian Church of the Nazarene into an exciting future."[3]
His wife, Mrs. Grace O. Udo (1941-) was born at Ikot Afaha village in Abak Local Government Area of Akwa Ibom State of Nigeria. Her father was Chief Benson Akpan of that village and her mother was Mrs. Jenny Akpan (1915-1999). Grace attended elementary school at Anang People's Group School, Utu-Abak from 1946 to 1952. Her father and Okon's guardian were friends and so, in 1957, Okon and Grace were able to be married under customary law. In 1995, the marriage was solemnized in the Church of the Nazarene at Ediene II. The marriage was blessed with three sons and three daughters but one son and one daughter died. Rev. Udo says of his wife: "Grace is a faithful and dependable wife, the wise woman who builds her house, of Proverbs 14:1. She counsels some of the ministers' wives and is presently (2000) serving as steward and member of the local church board at Ediene II.[4]
Rev. Okon Akpan Udo died on March 31, 2001. He battled many physical ailments for years and had been a diabetic for a long time. According to Field Director John Seaman: "Udo had a dogged commitment to the message of holiness and a firm loyalty to the Church of the Nazarene. This well-loved, godly man will be deeply missed by the Church of the Nazarene in Nigeria."[5]
Paul S. Dayhoff
---
Notes:
Trans African, (Florida, Transvaal, South Africa: Africa Nazarene Publications, July - September 1997), 21.

Trans African, (March-April 1989), 13; (September-October 1992); John Seaman, letters, May 7, 1992 and July 15, 1995; Festus Azubike, letter, August 25, 1995.

Linda Seaman, 1997, Where the River Flows, (Kansas City, MO: Nazarene Publishing House, 1997), 69.

Rev. O. A. Udo, Biographical sketch and report, January 26, 2000.

Joanie Doerr, Out of Africa, Weekly E-mail newsletter from Africa Region, (April 11, 2001).
---
This article is reproduced, with permission, from Living Stones In Africa: Pioneers of the Church of the Nazarene, revised edition, copyright © 1999, by Paul S. Dayhoff. All rights reserved.