Classic DACB Collection
All articles created or submitted in the first twenty years of the project, from 1995 to 2015.
Church, John and Decima (A)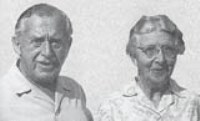 Dr. John Edward Church studied medicine at Emmanuel College, Cambridge and at St. Bartholomew's Hospital, London.
As a missionary of the Ruanda Mission of the Church Missionary Society, Dr. Church began his service at Kabale, Uganda, in 1927. Soon after his arrival he moved to Rwanda to begin a medical work at Gahini. He was married to Dr. Decima Stacey, a medical graduate of the Royal Free Hospital, London.
The development of the medical work in north Rwanda, centred on Gahini, owed a great deal to his enthusiasm, enterprise and artistic skills. In 1929, his concern for those suffering of famine in north Rwanda brought him to public attention. His pleas for assistance reached the governments and the press in Belgium and Great Britain.
The early primary work of Drs. Joe and Decie Church was centred on Gahini Hospital. At a time when he was discouraged by the spiritual development of his missionary work, he met Simeoni Nsibambi, a remarkable Mugandan, in Kampala. Both shared a deep spiritual conviction of the power of God to revive His church and, in the years that followed, that reviving became evident at Gahini. Dr. Church gathered round him a team of African workers in the hospital and church. It was there and in the adjoining territory of Kigezi, Uganda, that occurred the first major manifestations of the East African Revival. Dr. Church was convinced that a team of men and women who were "one with each other" as well as "right with God," was a major contributor to His work. He took a leading role in many evangelistic missions and conventions in Rwanda, Burundi, Uganda, Sudan, Kenya and Tanzania. Notable features of the movement were the remarkable breakdown of ethnical and national barriers, and the raising of the status of women. Dr. Church had been associated with the Keswick Convention in the U.K. and its motto of "All one in Christ Jesus" became a visible and practical reality in East Africa.
Until 1947, and partly due to the restrictions on world travel imposed by World War II, his ministry was largely limited to East Africa. A visit to Great Britain with William Nagenda and Yosiya Kinuka, began an era of travel, usually forming a team with one or more Africans. Countries visited included Africa–Sudan to South Africa,–Europe, the Americas, India and Pakistan.
During this time, Drs. Joe and Decie Church served part-time in Gahini Hospital. They had five children.
The church centre of Gahini, Rwanda, owed much to the the zeal and vision of Dr. Joe Church, but his name will most widely be associated with the East African Revival. Although not an eloquent speaker, his gentle exposition of biblical truth and his simple "pin-men" illustrations proved to be most effective. His humble deference to those who worked with him, of whatever gender, nationality or ethnical group, gained him a great and loving acceptance. His motto: "The Highest" characterised his life's aim to work for, and exhibit only "God's Highest" in honesty, racial and personal relationships.
Dr. Church¹s refusal to discriminate between ethnical groups earned him the disapproval of Rwandan revolutionaries and it was deemed wise for him to leave that country in 1961. He moved to Uganda and, in cooperation with his son, Dr. Robin Church, he developed the hospital at Kabarole, Tooro. On his retirement in 1965, he and his wife lived on the shores of Lake Victoria and finally left Africa in 1972 as Uganda was feeling the impact of the Idi Amin regime. They settled in Little Shelford, near Cambridge, England.
H. H. Osborn
---
Bibliography
Dr. J. E. Church, Quest for the Highest (An autobiography) (Paternoster, 1981).
K. Makower, The coming of the rain (Biography) (Monarch, 2000).
H. H. Osborn, Pioneers in the East African Revival (Apologia, 2000).
---
This article, submitted in 2002, was written for the DACB by Dr. H. H. Osborn, author of the book Pioneers in the East African Revival.