Classic DACB Collection
All articles created or submitted in the first twenty years of the project, from 1995 to 2015.
Church, John and Decima (B)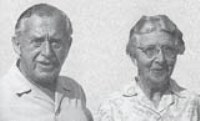 John ("Joe") E. Church was a leader in the East African Revival. Son of an English country clergyman, he was educated at St. Lawrence's and at Cambridge, qualifying in medicine at St. Bartholomew's Hospital, London. In 1927 he joined the Church Missionary Society (CMS) Rwanda mission. From Kabale, Uganda, he went to Gahini, Rwanda, at the time of a serious famine. The crisis in part triggered a searching for a victorious spiritual life that resulted in contact with a Ganda Christian, Simeon Nsibambi, who was engaged in the same search. From 1929, with Nsibambi and other African Christians, and soon with other missionaries, he spearheaded a movement known as the East African Revival. Revival spread rapidly into Kenya and Tanganyika (Tanzania), and Church led teams that took the message near and far. He still worked as a doctor at Gahini, cooperating with the hospital staff in evangelism as well as healing. Conventions were arranged, locally and in other centers, that continued that spread of the revival. In 1934, William Church, a brother and also a doctor, went to Gahini, allowing Joe Church to take on a more active evangelistic role. Revival Christians became the core of many Protestant churches throughout East Africa. Joe remained deeply involved until his retirement in 1975.
Joe and his wife, Decima (Tracey) (1904-1991), also a doctor, had five children. Their son, John, a doctor, also served at Gahini. A brother, Howard, was a CMS missionary in Kenya.
Jocelyn Murray
---
Bibliography
J. E. Church, Quest for the Highest: An Autobiographical Account of the East African Revival (1981).
George E. Mambo, "The Revival Fellowship (Brethren) in Kenya," in D.B. Barrett et al., eds., Kenyan Churches Handbook (1973), pp. 110-117.
Patricia St. John, Breath of Life: The Story of the Ruanda Mission (1971).
Max Warren, Revival: An Enquiry (1954).
---
This article is reproduced, with permission, from Biographical Dictionary of Christian Missions, copyright © 1998, by Gerald H. Anderson, W. B. Eerdmans Publishing Company, Grand Rapids, Michigan. All rights reserved.