Classic DACB Collection
All articles created or submitted in the first twenty years of the project, from 1995 to 2015.
Caulker, Solomon Brooks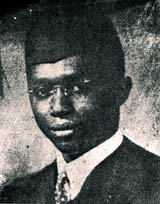 The Rev. Solmon Brooks Caulker (February 25, 1911-August 29, 1960) was a well-known broadcaster who became vice-principal of Fourah Bay College.
He was born in the village of Mambo, in Kagboro chiefdom, Moyamba district, Southern Province. The son of George Augustus Caulker, he was the fifth in a family of twelve. He was educated at two Evangelical United Brethren (EUB) schools-the Shenge primary school, and the Albert Academy in Freetown.
From 1932 to 1934 he was an assistant teacher in Bonthe on Sherbro Island, and then taught at the Albert Academy from 1934-37. In 1937 he travelled to the United States, where he attended Lebanon Valley College, Annville, Pennsylvania, where he obtained his B.A. in 1941. He then studied at Bonebrake Theological Seminary, Dayton, Ohio, where he graduated as Bachelor of Divinity in 1944. He also read philosophy and religion at the University of Chicago from 1944-45.
Caulker returned home on June 1, 1946, together with his wife, the former Olive Selby, an African American from Nashville, Tennessee. He joined the staff of Fourah Bay College as a lecturer in philosophy. He was a witty conversationalist with a sense of humor, and became a well-known broadcaster, conducting the popular weekly program "Radio Forum." He was also a minister in the EUB church, and associate pastor of King Memorial Church in Freetown.
At Fourah Bay, where he was popularly known as "S.B.," or "Show Boy," he showed interest in the welfare of the students. In 1958 he became vice-principal of the college.
In 1960 he attended the International Conference on Science in the Advancement of New States at Rehovoth, Israel, where he stressed the importance of taking steps to reduce child mortality. On August 29, 1960, he was killed in a tragic plane crash at Dakar, Senegal.
Dominic Ofori
---
Bibliography
The Sierra Leone Daily Mail, August 30, 1960; private papers of the late Rev. S.B. Caulker; News Bulletin, Independence Series, Ministry of Information, Sierra Leone, 1960-61; personal file of S.B. Caulker, Fourah Bay College.
---
This article was reprinted from The Encyclopaedia Africana Dictionary of African Biography (In 20 Volumes). Volume Two: Sierra Leone-Zaire. Ed. L. H. Ofosu-Appiah. New York: Reference Publications Inc., 1979. All rights reserved.