Classic DACB Collection
All articles created or submitted in the first twenty years of the project, from 1995 to 2015.
Ezzidio, John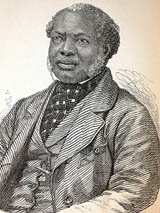 John Ezzidio (circa 1810-October 1872) was a re-captive from Nupe, in what is now Nigeria, who became the first African to sit on the Sierra Leone Legislative Council, on which he served from 1863-71.
Born in Nupe, he was kidnapped as a child and taken south to Yoruba country. Then in his teens, he was sold as a slave to be resold in Brazil. The ship carrying him was captured by the British Royal Navy's Africa squadron in 1827, brought to Freetown, and the captives released. Ezzidio was apprenticed to a French shopkeeper, Jean Billaud, and quickly took to business. Billaud called him "Isadore," a name which over the years became transformed to "John Ezzidio." When Billaud died, Ezzidio worked for two other European firms. Within a decade of his recapture, he had saved enough to establish his own business. He bought a plot of land in 1839, and a house in 1841.
In addition to this prosperous business career, Ezzidio played an even more important role in politics. In 1844 he was appointed alderman on the Freetown Town Council, and the following year became mayor.
In 1835, he had joined the Wesleyan Methodist Society. Being active in church affairs, he became class-leader and a local preacher. The general superintendent of the Wesleyan Mission, the Rev. Thomas Dove, was so impressed by Ezzidio's qualities that in 1842 he took him to visit England, where he introduced him to wholesale firms. This enabled Ezzidio to place his orders direct, instead of through middlemen. By 1850 he was importing a variety of European merchandise valued at from £3,000 to £4,000 annually. In 1859, together with other recaptives, he became one of the founders of the National Society of the Liberated Africans and Their Descendants. In the same year he revisited England.
In 1863 constitutional change resulted in the establishment of the Sierra Leone Legislative Council, to which Ezzidio was elected as an unofficial member by the Sierra Leone mercantile community, having defeated a European rival candidate, John Levi. He thus became the first African to serve on the Council, and was invested with the title of "Honorable." After the event, however, the British decided that the elective principle was potentially dangerous to the colonial status quo, and it was disallowed for the future until 1924. Governors were therefore instructed to appoint all members. Thus for more than half a century Ezzidio was to be the first and last elected member of the Legislative Council.
As a prominent Sierra Leonean, he was also, over the years, signatory to a number of petitions to the British authorities in London on various administrative matters. In 1847, for example, he was one of those who petitioned the British Secretary of State for Colonies to remove Governor Norman William Macdonald (term of office 1846-52).
Ezzidio remained an active churchman, and contributed generously to church funds. When Dove left in 1863, he took over supervision of the Wesleyan Mission for a time, but requested that another general superintendent be sent out from England. The new superintendent was the Rev. Benjamin Tregaskis, a man of authoritarian tendencies. A split occurred between them which damaged relations to such an extent that the building of Wesley Church, which Ezzidio had done so much to begin, remained unfinished at the time of his death. Shortly before the arrival of Tregaskis, the Church Missionary Society (CMS), which was initiating a policy of "de-colonization," had substituted a Native Pastorate Church for the previous one in 1861. Twice, in 1863 and 1867, Ezzidio voted in the Legislative Council for an annual grant to this CMS church. Tregaskis, because of his dictatorial orientation, was annoyed, and set about turning Ezzidio's friends against him. To crown it all, Ezzidio lost £3,000 in his business. These misfortunes combined to make him ill. He recovered and travelled to England again in 1870, but returned home ill again. His health remained precarious, but he managed to attend Legislative Council debates, voting in 1871 for the 1872 estimates, including a grant to the Native Pastorate Church. But in December 1871 he became permanently ill, and gave up public business. He was confined to his house, where he died in October 1872.
Arthur Abraham
---
Bibliography
Christopher Fyfe, "The Life and Times of John Ezzidio," Sierra Leone Studies, June, 1955; John Peterson, The Province of Freedom, London, 1969.
---
This article was reprinted from The Encyclopaedia Africana Dictionary of African Biography (In 20 Volumes). Volume Two: Sierra Leone-Zaire, Ed. L. H. Ofosu-Appiah. New York: Reference Publications Inc., 1979. All rights reserved.