Marwaale, Tabitha Maria Magdalena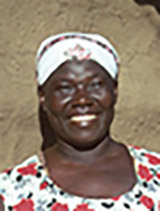 Xaawo Marwaale was born around 1915 in the village of Moofi, Jamaame District of Lower Jubba Region. Moofi was a village inhabited by the WaZigua people [also called Mushunguli]. Their ancestors came from northeast Tanzania and had been enslaved by Arabs (Omar A. Eno and Mohamed A. Eno 2014, Cabdisaciid Cabdi Ismaaciil 2015) in the early 19th century and sold to Somali plantation owners in the Middle Shabeelle Region. A large number escaped and moved to the lower Jubba valley in the middle of the 19th century where they maintained not only their culture, but also their Bantu language (Omar Eno and Van Lehman, 2003). Compared to the neighboring Shambaara/Gosha/Reer Goleed ethnic group, the WaZigua preserved more of their indigenous Bantu language and culture (Menkhaus 2003). Even in the 1980s, some inhabitants of Moofi were not fluent in Somali.
While still a young child, Tabitha was very sickly. Her parents gave her to Swedish missionaries who came to their village from Kismaayo. The Swedish Evangelical Mission had established their first mission station there in 1898 (Thoresen 20014:51). Initially her mother had refused, but Xaawo's father overruled and said this was a good opportunity for her. He told the Swedes that they could bring her to their boarding school in Kismaayo, and if she died, they were to be responsible for burying her. Herman Lundin and Selma Göransson brought Xaawo to the Swedish Mission School in Kismaayo where they nursed her back to health.
At school, Xaawo took the Bible name "Tabitha" [after an early Christian woman mentioned in Acts 9:36]. She began attending classes taught by the Swedish missionaries in Swahili. As she studied the Bible as part of her classes, she eventually put her trust in Jesus Christ. After graduating from the school, Tabitha married and had two children. However, both her husband and their children died of illness in Kismaayo.
In 1935, Mussolini's Fascist regime in Italy attacked Ethiopia from their colonies of Eritrea and Somalia. Sweden opposed this aggression at the League of Nations, so the Italian colonial government retaliated by deporting all the Swedish missionaries from the Jubba Valley. Since Tabitha had been widowed, and since they knew they were about to leave Somalia, the Swedish missionaries Per Olsson and Herman Lundin brought Tabitha back to her parents and family in Moofi.
Initially, Tabitha faced severe persecution from some of her older brothers who told her that she must remarry and return to Islam. She refused their demands and said that she would not re-marry and that she would remain a Christian. Tabitha was beaten so badly by her brothers that it took her three months to recover. However, her father then advocated for her, and said she could remain in her Christian faith. Before Tabitha's father died, he blessed her. He told her that in the future she would receive visitors from America, Italy and England, that these visitors would joyfully worship with her. Her father said that Tabitha would remain in her Christian faith until she died.
The next 20 years were very difficult times for Tabitha as she faced hostility from her family and her community. However, she did not retaliate, trusted in her Savior Jesus Christ and showed love in the face of hatred. During the 1950s, Tabitha remarried. She witnessed to her husband Xasan, sharing the Gospel with him and he joined her in faith in Jesus Christ. Xasan died in 1982 or 1983.
From the middle of the 1950s until 1972, Tabitha's life became easier. The Mennonite Mission was active in Jamaame District and she, along with the remnant of local Christians from the time of the Swedish Mission worshipped regularly with these Christians from America and Canada. Victor Dorsch built a grain storage bin of concrete at Tabitha's Moofi home that lasted for the rest of her life.
Missionary doctor Ivan Leaman wrote this recollection of Tabitha: "She made a great impression on us when we first met her on our visit in 1960. We remember her exuberant joyful laugh. In 1960 and 1961, before the restrictions forbidding us to do village visitation, we remember with fondness the trips to her village on Sunday afternoons when we had a worship service with Hassan and Tabitha which included singing Swahili songs. One picture shows Hassan and Tabitha standing outside their house and was taken on one of those visits."
Tabitha practiced hospitality, welcoming other local Christians in the Lower Jubba valley to use her house. They considered her their Macallimad (Teacher) because of her deep knowledge of the Bible and her strong faith in Christ. When other Somali Bantu Christians would travel to her village, their faith was strengthened by her on those visits.
Tabitha strongly opposed the superstitions of witchcraft and dances that were part of the local culture. She did have a good knowledge of medicines from plants growing in the area and helped people in her area as a traditional healer. Her reliance was on local medicines and praying to Jesus Christ. She was one of the few literate women in her village and had a good knowledge of the basics of nutrition and sanitation. In addition to her mother-tongue of ki-Zigua, Tabitha was fluent in Swahili and could also speak Somali and af-Maay.
Tabitha received occasional visits from foreign Christians. This was especially important to her in a second lonely season in her life, the years between 1972 [when the Mennonite missionaries were forced to leave Jamaame Hospital (Leaman and Leaman 2021)] and 1985.
A leader in the Muqdisho church Aadan Jimcaale Faarax had previously lived for a time in Jamaame. He returned in 1985 to introduce some expatriate Christians in the Jubba valley to Tabitha and others of the Christian remnant. Afterwards, some of these foreign Christians made regular visits to Tabitha's home. She would greet them joyfully, usually coming in from tilling her cornfield. After putting her tea kettle on the fire, she would open her house and invite her guests inside. On the wall of her house, she had 1960 calendar with different pictures of scenes from the Bible; she would change these pages regularly. She never knew when her Christian friends were coming to visit, so she did not just put it up to impress them. Then, while waiting for the tea to brew, Tabitha would get a wooden box out from under her bed that contained Bibles, hymnbooks and other Christian literature in Swahili and Somali. She would distribute hymnbooks to her visitors. She loved to sing hymns in both Swahili and in Somali and asked her visitors to sing with her. She knew most of the songs by heart. Once, a foreign visitor remarked on the large crowd [mainly children] around her house listening to her sing and asked her if she should not be a bit more careful and not sing so loudly. Tabitha replied, "I have been beaten, whipped and jailed for my faith. I am not afraid." This visitor was ashamed because of his own fearfulness.
Missionary doctor Ivan Leaman wrote of meeting Tabitha after 15 years: "We had the wonderful privilege of meeting her again on our visit to Somalia…in 1987. On that surprise visit we recalled old times as we sang again the Swahili songs … [she had] a deep exuberant faith which she carried all her life and shared with others."
In her last few years of life, Tabitha would regularly travel to other towns in the region where she could meet for worship with a small group of Somali and foreign Christians. During the times of singing, Bible reading and listening to sermons, Tabitha would often begin to cry. She was both joyful and sad, recalling her past times of worship with other Christians…and looking forward to the time when she be without tears, worshipping Jesus Christ in the New Jerusalem with believers from all over the world (Revelations 21).
When the civil war came to the Jubba Valley in 1990, Tabitha was extremely vulnerable. She was a Christian, an elderly widow and none of her children were still alive to care for her. The Somali Bantu villages along the Jubba River did not have militias or weapons. This area became a battleground for clan militias from the Kismaayo area and places to the north and east. Most of the Somali Bantu villager's food was looted by gunmen from the different factions. A few local Somali Christians sent Tabitha money so she could buy food, but that was also stolen from her. From the most reliable accounts, it seems that Tabitha died of starvation in November 1990.
Tabitha is like the saints described in Hebrews 11, a true hero of faith. She was someone looking for a better country, a heavenly one. From the world's perspective, Tabitha was weak and insignificant, a member of a despised minority clan with no political power. Furthermore, she was a member of the tiny Somali church. Yet, we know from 1st Corinthians 1:27 that God has chosen the weak to shame the strong. Tabitha's legacy of faith was a powerful testimony to the grace and power of God.
If you would like to hear Tabitha's testimony and four songs in Swahili, click here. This recording was made at her home in Moofi in 1986.
Ben I. Aram
---
Read Tabitha's story in Somali HERE.
---
References:
Cabdisaciid Cabdi Ismaaciil. 2015. Halgankii Tukeyaasha. Carabtu Sidee U Jileen Madowga? (The Struggle of the Crows: How Have the Arabs Painted The Black?) Nairobi: Lino Type-setters: 95-110.
Leaman, Ivan with Mary Ellen Leaman. 2021. Born For A Purpose. A Memoir From The Horn of Africa. Morgantown, PA: Masthoff Press: 190-192.
Menkhaus, Ken. 2003. "Bantu ethnic identities in Somalia." In: Annales d'Ethiopie. Volume 19 (2003), 323-339.
Omar Eno and Dan Van Lehman. 2003. "The Somali Bantu. Their History and Culture."" Center for Applied Linguistics, The Cultural Orientation Resource Center Washington, DC, USA. DOWNLOAD HERE
Omar A. Eno and Mohamed A. Eno. 2014. "The African Diaspora within Africa and the Impact of Slavery and Stigma in the Islamic Society: A Case Study of Somalia.". Journal of Somali Studies, Volume 1, Issue 2:61-89.
Thoresen, Frank-Ole. 2014. A Reconciled Community of Suffering Disciples. Aspects of a Contextual Somali Ecclesiology. New York: Peter Lang Publishing Inc. LINK
Thoresen, Frank-Ole. 2006. "The SEM Venture." Unpublished manuscript.
---
This article, received in 2022, was written by Ben I. Aram, who is Director of The New Life Media, a multi-platform social media/website ministry that communicates the Gospel in the Somali language. Ben I. Aram served seven years inside Somalia, then worked in media with Somali refugee Christians in Kenya and Ethiopia for fifteen years. This article was written and translated to Somali as part of the New Life's website "Somali Church History" section, Somali Christian biography subsection, with the aim of encouraging Somali Christians and enlightening Somali Muslims.
---
Photo Gallery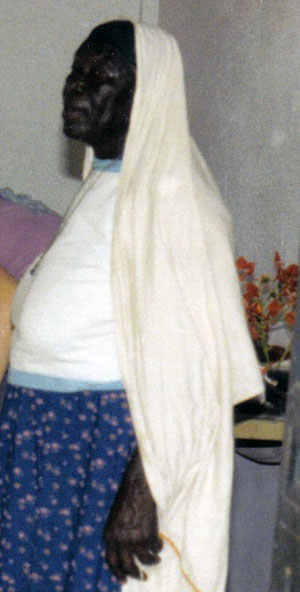 (1) Tabitha in 1988.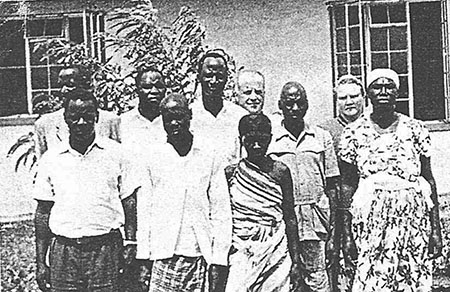 (2) Tabitha with local Christians in 1959.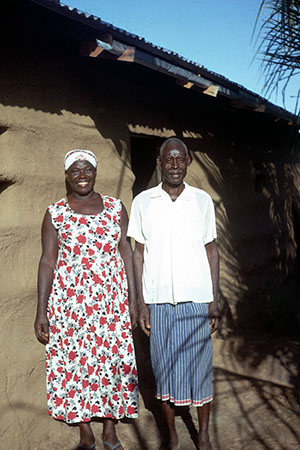 (3) Tabith and Xasan in the 1960s.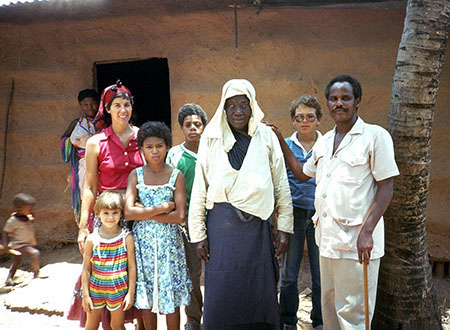 (4) Tabitha in 1983-1984.
(5) Tabitha in 1985.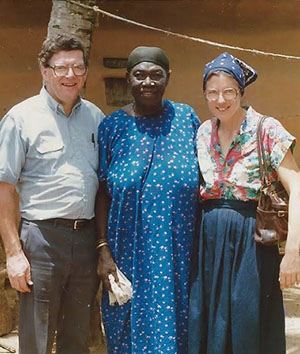 (6) Tabitha with Ivan and Mary Ellen in 1987.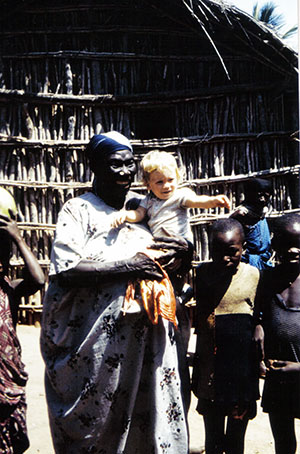 (7) Tabitha in 1988.