Classic DACB Collection
All articles created or submitted in the first twenty years of the project, from 1995 to 2015.
Datiro, Yeremaya K.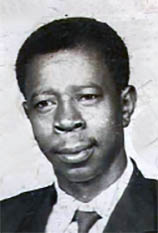 Yeremaya K. Datiro was born in Nasue village of the Gangura area, which lies twelve miles south of Yambio town, the headquarters of Western Equatoria Province in South Sudan. He was the third of four children in the family.
In his youth, Yeremaya aspired to become a diviner like his father who was a famous professional diviner in the area. He developed great interest in this profession and he associated himself very closely with his uncle, Dabukeyo, also a renowned diviner and a witchdoctor. Yeremaya had to learn his lessons very well from his uncle: in addition to practicing divination and witchcraft, he also had to learn the art of smoking marijuana (bangi, as it is known in Zande land), as part of the profession. Yeremaya was also one of the best singers at traditional Zande dances. It is worth mentioning here that, in those days, fame in Zande land was associated with the practice of divination, witchcraft and bangi smoking. So, in learning these skills, Yeremaya was on the right path to becoming a great man according to Zande culture at that time.
Yeremaya went to a missionary school at Masumbi village school in the Gangura area. Christian education did not in any way change Yeremaya's way of life, for he was still practicing divination and what he had learned from his uncle. People believed Yeremaya was really a prophet, because he was able to predict the future with accuracy. According to one account, one day in 1927, he came to Timbiro elementary school and warned the pupils not to swim in the River Uze because there was a dangerous animal there but the boys did not take him seriously and ignored his warning. A few months later, an animal appeared in the water and caught one of the boys, killing him instantly. One of the miracles by which Yeremaya will always be remembered, even today, was that he was able to read what was written inside a room while he was in another room. Many different people tested him on this. They would write in a room with the door closed, yet Yeremaya could still read exactly what was written, word for word, from where he was, even without knowing or seeing the writer.
In 1935, Yeremaya became a teacher after completing elementary four. He married Susana Zogbo the same year but they did not have children for 18 years. Only in 1953 when Yeremaya was ordained to the priesthood did they have their first child.
Yeremaya was a proud man. He was a person who loved fine things, luxury and wealth. During this time in Yambio, the Revival Movement was gaining momentum, brought there by a young British evangelist called Richard Jones who had been sent to Sudan as a missionary by the CMS. He and his wife Delphine arrived in Juba, South Sudan, in May 1938. Willoughby Carey, the mission secretary in Juba immediately posted them to Yambio, as both Yambio and Maridi districts were without a missionary.
After arriving in Yambio, Richard Jones started preaching the Gospel, also vigorously attacking missionaries for their relative wealth compared with that of their converts and for their failure, as he saw it, to bring true spiritual life to their message. Government officials also felt under fire probably because Jones repeatedly emphasized obedience to God rather than to human beings. Jones' disciples from the local people followed in his footsteps, even rejecting any salary as payment for their work as church teachers. Jones himself, was quoted as saying, "We don't want to be taught pleasure and care of money which will cause open backsliding of Christianity and a cruel injury to our souls" [1].
The Revival Movement was started in South Sudan in 1937 by Kenneth Dallison in Loka and by Richard Jones in 1938 in Yambio. [2] While Richard Jones was in Yambio, he preached that the proud, the wealthy and those living comfortable and luxurious lives on earth would not see the Kingdom of God, for they were sinners. This preaching was the first of its kind in Zande land. Those who believed in the Lord Jesus Christ destroyed their traditional gods. Any who used to brew local beer and alcoholic drinks destroyed their brewing pots and utensils. Jones' message, which turned many souls to God, had a tremendous effect on Yeremaya's life. Whereas Yeremaya's early life had focused on acquiring fame and power as a diviner and a witchdoctor, this encounter with Jones' message represented a turning point in Yeremaya's spiritual life. From that time on, Yeremaya gave up everything in order to follow Christ.
In preparation for the ministry, Yeremaya and two others,–Pauro Riani and Andrea M. Manguabayo,–were sent to be trained as vernacular teachers in the Vernacular Teachers Training Center (VTTC) in Yei. Being from the Zande tribe, they could not continue in Yei, as the VTTC was run in Bari, the local language of the area. They were sent to Abba in the Congo for training. Unfortunately, they could not continue there because the school was run in Bangala, the national language of the Congo. They were brought back to the Sudan and had to be trained locally in Maridi by Archdeacon Rilley and Mr. Hamilton.
In 1946, Yeremaya joined Yei Divinity School (YDS) and completed his theological studies at Bishop Gwynne Theological College. Yeremaya, Pauro Riani, and Andrea M. Manguabayo were ordained as deacons in 1951 and Yeremaya as a priest in 1953. In 1958 Canon Amosa Rakpi was transferred to Juba, and Yeremaya became the Archdeacon. He was later made vice principal of Bishop Gwynne College in 1959. In 1963, Yeremaya K. Datiro and Elinana J. Ngalamu were consecrated assistant bishops. Bishop Yeremaya was posted to Maridi and Elinana to Rumbek. Bishop Yeremaya served a very vast area, extending from Tombura, Yambio and Maridi in the west, to Yei, Kajo-Keji and some parts of Juba district on the West Bank of the River Nile in Equatoria Province.
After the war escalated in the early 1960s as he had predicted, Bishop Yeremaya fled the country in 1965, and lived as a refugee in Uganda for seven years. He returned from exile in 1972 after the signing of the Addis Ababa Peace Accord. Between 1972 and 1976, plans were put in motion for the Diocese of the Sudan, which was then under the Church of England, to become an independent province of the Anglican Communion. Consequently, four dioceses were created in preparation for that, namely: Juba, Yambio, Rumbek and Omdurman (now Khartoum).
In 1976, Yeremaya was enthroned as bishop of Yambio Diocese, Benjamin Wani Yugusuk as bishop of Rumbek Diocese, Butrus Idris Shukai as bishop of Omdurman Diocese, and Elinana J. Ngalamu as bishop of Juba Diocese and as the first archbishop of the Province of the Episcopal Church of the Sudan (ECS). At the inauguration of the Province of the Episcopal Church of the Sudan on October 11, 1976, the Rt. Rev. Yeremaya K. Datiro was made dean of the Province of the Episcopal Church of the Sudan assisting the archbishop in his functions and duties.
Bishop Yeremaya was regarded as a prophet among the people with whom he worked. In 1938 when he worked as a revivalist under Richard Jones, he had predicted that the the war would escalate in the early 1960s. He could easily tell what kind of life a person was living. If it was good, Yeremaya would praise them and advise them to continue living a godly life. If they were living a bad life, Yeremaya would not hesitate to tell that person what was wrong in their life and advise them to repent and to live a good, orderly and spiritual life.
Yeremaya was brilliant. He learned English by experience and with the help of the Holy Spirit. He was also full of faith. During his time, the church flourished and his leadership produced competent church leaders such as Seme Solomona, Bishop of Yei Diocese, Manaseh Binyi Dawidi, Bishop of Kajo-Keji Diocese, Daniel Manaseh Zindo, who became the bishop of Yambio Diocese after Yeremaya's death, and Joseph B. Marona, current Archbishop of the Province of the Episcopal Church of the Sudan who became the bishop of Maridi, to name only a few.
During his episcopacy, he lived a spiritual life and was an excellent, hardworking leader with a kind and loving heart. These qualities enabled him to keep the vast and ethnically diverse diocese together in unity in Christ. He loved everyone, and did not take sides among the people with whom he worked. He never segregated groups or discriminated between people nor did he identify people by their tribe or ethnic group. He preached with vigor, and his preaching was always understood by his audiences. He was a man of great honor and was respected both in the church and beyond, even in government circles.
When he returned from exile in 1972, people in Maridi wanted him to stay with them, and those in Yambio wanted him to stay in Yambio. When he decided to live in Yambio, the people of Maridi felt abandoned, for they were now like sheep without a shepherd. But, by moving to Yambio, Yeremaya already had the vision of nurturing Maridi into a diocese. Before he died, he made sure that Maridi would be placed under an assistant bishop within the Diocese of Yambio. Consequently, he raised up Joseph Marona and prepared him to be an assistant bishop for the Maridi area. Although the consecration of Joseph Marona was done later, Yeremaya had paved the way.
The Rt. Rev. Yeremaya K. Datiro died in Khartoum on September 29, 1973 at the age of 68. His body was flown to Yambio and buried there. He left behind his wife and four children.
James Lomole Simeon
---
Notes:
Anglican And Episcopal History, Essays on the Anglican Church in the Sudan, Vol. LXXI, No. 2, June 2002, pp. 175, 179 - 180.

Ibid., pp. 168 - 186.
Bibliography:
Samuel E. Kayanga and Andrew Wheeler, But God Is Not Defeated, Celebrating the Centenary of the Episcopal Church of the Sudan 1899 - 1999, (Nairobi, Kenya: Paulines Publications Africa, 1999).

Anglican and Episcopal History, Essays on the Anglican Church in the Sudan, Vol. LXXI, No. 2, June 2002.

Interviews with some of the bishops in the Episcopal Church of the Sudan during my time as the Chancellor of ECS.
---
This article, received in 2003, was researched and written by Mr. James Lomole Simeon, Esq., Chancellor of the Diocese of Khartoum, Sudan, 2002-03 Project Luke Fellow.
---
Photo Gallery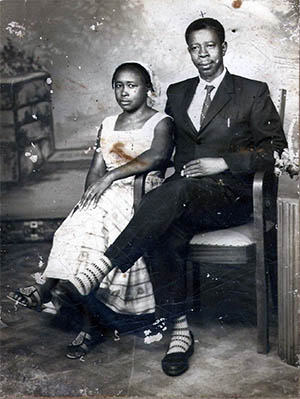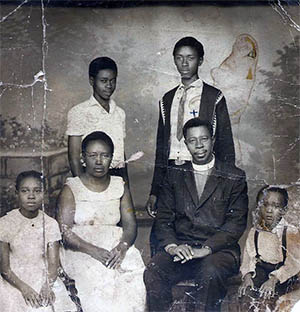 Received from Jerry Otwari Martin, grandson of Y. Datiro. Email to M. Sigg, dated 11/14/2019.