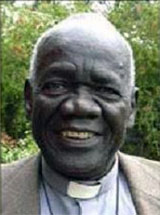 Oliver Meru Duku was born in 1935, the son of Elder and Sub-Chief Duku Kurjukeji and Wude Sworo, his second wife. He spent his childhood in Wongkijo, near CMS station Romoggi.
He attended CMS Elementary Vernacular School and Primary School in Romoggi, Yei, and Loka from 1945-49, then Government Secondary School in Rumbek from 1950-56. Later he went to Khartoum University to obtain an M.B., a B.S. medical degree in 1963. He went to Tübingen University, Germany for his Master's in Laboratory Science (Fachzart fuer Laboratioriumsmedizine), graduating in 1972 and then to Virginia Theological Seminary, USA, graduating with an M.T.S. in 1995.
He married Tabitha Kilangwa Matayo. Their children include: Dr Apollo Sworo Oliver Duku(deceased); Clement Warille Oliver Meru (Australia); Emmanuel Mogran Oliver Duku(deceased); Joseph Bali Oliver Duku(deceased).
He served as a phsician and Southern Region administrator with the Sudan Ministry of Health from 1964 to 1991. He was elected at the 6th General Assembly of the World Council of Churches, Vancouver, 1983 to the WCC Central Committee and Christian Medical Commission. He served as an instructor at Bishop Gwynne Theological College in Juba in 1995; at Nile Theological College, Khartoum North from 1996-2001; and as Principal, Bishop Allison Theological College, Arua, Uganda, from 2001-07.
He died May 26, 2013 in Nairobi, Kenya.
In the publication announcement (see below), Richard J. Jones, co-editor of Duku's autobiography, describes Duku in these words:
(…) a man who made his way from a traditional polygamous family in southern Sudan through British Colonial schools, followed by medical education at Tübingen University, to help build up the public health service of a fledgling African state and the theological schools of a church multiplying exuberantly during fifty years of devastating war.
Duku resisted government officials bent on islamization but made friends with a traditional Muslim healer. He candidly recalls the internal struggles of a multiethnic group of first- and second-generation believers in Jesus as paramount chief over all tribes of the earth. As a Bible teacher, he ponders how the homelessness of civilian Sudanese populations in his lifetime seems to repeat the ancient pattern of God's punishing his disloyal Chosen People by exile in Babylon.
---
Sources:
Biographical information compiled by Richard J. Jones, Sept. 27, 2022 (Email: [email protected])
For further information, see Richard Lindsley Walton, "An interview with Oliver Duku: Witness in Sudan" in Christian Century (July 1, 2008): 10-11.
---
Documents available for download:
Autobiography of Dr. Oliver Meru Duku: Physician and Priest (1935– 2013) DOWNLOAD. Edited by Richard J. Jones and David A. Jenkins. 2020.
Autobiography Publication announcement DOWNLOAD
---
This account, received in 2022, is based on documents and information compiled by Richard J. Jones.