Classic DACB Collection
All articles created or submitted in the first twenty years of the project, from 1995 to 2015.
Lawiri, Ezra Baya
Ezra Baya Lawiri was born around 1917 in Lanyi village. His father's name was Lawiri.
Baya Lawiri attended Lanyi village school for three years, starting in 1927. He then went to Lui Elementary Vernacular School (CMS) in 1930, finishing in 1932. He was appointed sub-grade school teacher at the young age of fifteen in 1932. He attended a training course for teachers in 1937.
Baya Lawiri accepted Jesus Christ in 1934, while working as a teacher and was baptized Ezra. After working as a sub-grade teacher for four years, he was transferred in 1936 to Kedi'ba Village school to work as a teacher. Here he met his future wife, Hana, and they were married the same year. He and Hana had six children–two boys and four girls. They eventually had twenty-four grandchildren and four great-grandchildren. In 1937 Ezra was transferred to Mideh sub-grade school as headmaster where he worked until 1944.
In 1945 Ezra Lawiri attended an evangelism course at Yei Divinity School (which was later transferred to Mundri as Bishop Gwynne College in 1948). In 1948, he began theological studies at Bishop Gwynne College at Mundri, graduating 1949 with a certificate in theology. He was ordained deacon that same year and ordained a priest the next year. He was then appointed pastor in the parish at Mundri where he served for four years. He was transferred to Lui Parish in 1954 where he worked until 1955 as pastor-in-charge of the parish. From there he went to Bishop Gwynne College as vice principal. He became the college's first indigenous principal in 1963 and held this position until 1965.
In 1959 Ezra Lawiri went to England for a course of studies at London School of Divinity, graduating in 1960 with a diploma in theology.
In 1965 the civil war–the "Anya Nya" war of 1955-1972–intensified and reached Mundri. Ezra Lawiri was forced to escape with the students and staff–including Archdeacon Elinana Ja'bi Ngalamu who was on his way from Rumbek to Juba–into exile in Uganda. Ezra Lawiri continued teaching the Bishop Gwynne College students in buildings provided by the Church of Uganda until the students graduated in 1967.
Ezra Lawiri started translating the Bible into the Moru language while in exile in Uganda. He worked in Nabu Mali Secondary School in Mbale, Uganda. He continued this work until the end of the war when the Addis Ababa Agreement was signed in 1972. In 1973 he returned to the Sudan and continued his translation work in Mundri. He also updated and revised the Moru Prayer Book and Hymn Book.
Ezra Lawiri was valued as a role model by the Moru young people. In his colorful and glorious account of Ezra Lawiri's life in the booklet "Canon Ezra, my best friend," Mr. Scopas Magyar wrote the following: "Canon Ezra was many things: scholar, teacher, priest, translator, writer, agriculturist, and also librarian. If there was anything I admired in Canon Ezra it was his honesty with God and his tactful way of handling people. He was a counselor and a peacemaker. He served young and old alike." Scopas characterized Ezra Lawiri as "the best babysitter."
The civil war resumed in 1983. In 1987 the Sudan People's Liberation Army (SPLA) abducted three expatriate staff of Bishop Gwynne College and one nurse from ACROSS (Association for Christian Relief Organization for Southern Sudan): Rev. Marc Nikkel, Stephen Anderson, Katie Taylor, and nurse Heather Sinclair (later married to David Sharland of ACROSS). These were marched across Southern Sudan and up to the Kenyan border where they were released and allowed to cross to Kenya unharmed.
The next year (1988), the situation worsened and the principal of Bishop Gwynne College, Canon Benaiah Duku Poggo, decided to relocate to Juba with all the staff and the NGO (ACROSS) staff. However Ezra Lawiri chose to remain in Mundri. When asked to go along to Juba he responded, "Death is everywhere. Even if I go to Juba I will still die when my time comes." He even refused an offer to go into exile in Kenya and continue his translation work there.
The war intensified and the Khartoum government's garrison in Mundri decided to withdraw from Mundri, when the town of Meridi fell to the SPLA. On March 20, 1991 the government army retreated from Mundri towards Juba, taking along about 2,000 civilians, including Ezra Lawiri and his family, and the Episcopal archdeacon of Mundri Lui Archdeaconry, Ven. Canon Bullen Dolli and his family. Two days later the SPLA occupied Mundri and pursued the retreating army towards Juba. It took the government army five days to travel seventy-two miles. The SPLA caught up with them in Rokon some fifty miles from Juba where a fierce battle started.
On Good Friday, March 29, 1991, Ezra Lawiri was fatally wounded by an artillery shell. He was buried the next day, March 30, in Rokon. The fighting continued and Ezra's daughter, Cecilia Baya, was also killed. However, his wife and the remaining members of his family and some other civilians, including Archdeacon (now Bishop, in 2009) Bullen Dolli, survived the battle and eventually reached Juba.
Oliver M. Duku
---
Sources of Information:
Scopas Magyar, "Canon Ezra: My best friend in Sudan" (ADH Printing, 1994), [2 Boyne Rise, Kings Worthy; Winchester SO23 7RE England].
Personal communication from Rev. Isaac Magyanwa, a Bishop Allison Theological College alumnus [ECS Diocese of Mundri, P.O. Box 113 Arua, Uganda (Tel: 0774924097)].
---
This article, received in 2009, was researched and written by DACB liaison coordinator Rev. Canon Dr. Oliver Meru Duku, Principal, Bishop Allison Theological College (P.O. Box 1076, Arua, Uganda), a DACB Participating Institution.
---
Photo Gallery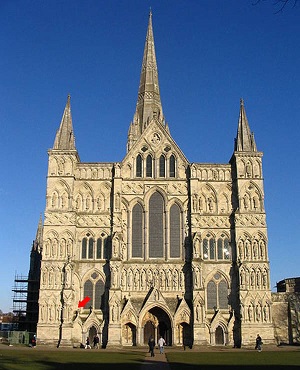 Photo credit:
Many thanks to Richard Avery for the photos. You can read an article he contributed on Canon Ezra Baya Lawiri at www.en.wikipedia.org/wiki/ Canon_Ezra_Baya_Lawiri.