Classic DACB Collection
All articles created or submitted in the first twenty years of the project, from 1995 to 2015.
Sorur, Daniel Deng (B)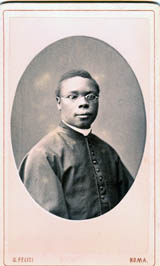 A Dinka, Daniel Ferim Deng Sorur was taken, together with his mother, to Khartoum by a slave trader when he was still a child in 1871. In 1875 he took refuge in the Catholic Mission at El Obeid and was accepted by Bishop Comboni who baptized him and sent him to Rome for ecclesiastical studies (1877-1883). After completing his theological course at Beyrut he was ordained a priest at Cairo by Comboni's successor, Bishop Francis Xavier Sogaro, on May 8, 1887. He exercised his priestly ministry in Suakin and Helouan, Cairo. He died in Cairo on January 11, 1900.
V. Dellagiacoma
---
This article, received in 2005, is reprinted with permission from Sudanese Catholic Clergy, © copyright 1997 by Fr. V. Dellagiacoma (Provincial Comboni House, Khartoum, Sudan).
---
Photo Gallery