Classic DACB Collection
All articles created or submitted in the first twenty years of the project, from 1995 to 2015.
Adams, George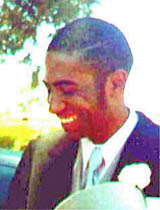 Rev. George Adams (1945 to 2008) was raised in Alexandra, just to the north of Johannesburg, Gauteng. He explained that his family was Muslim. There were three boys and three girls, but it was not a strong family unit. The house was just like a hotel, a place to eat and sleep. He said that as a boy he found himself in a world where nobody cared and he had no purpose in life. In the community there was constant fighting among rival criminal gangs. Living in such a community, survival meant a constant balancing act.
It helped that his mother insisted that he be home early in the evenings. She never knew that he was involved with these gangs and just thought that he was a good boy. He feels that God kept His hand on his life and protected him from bad habits, serious trouble and from getting hurt. However, he was living a dry, hopeless life not knowing who he was, what he was doing or where he was going.
One day when he came from school, a friend called him and said that he had found something that really brought joy to his heart. George asked him, "But hey, what is it?" He said that he had accepted Christ. George replied, "Christ? What can Christ do for you?"
He answered, "No, man, Christ has changed me!"
"But I don't see any changes in you."
"No, it's within."
George continued, "Well, if Christ did change you, let us see if Christ can change me also."
"Well, you must believe. You must have faith."
George replied: "I'll try and see."
George tells what happened: "You know, it was so beautiful that day….It was like there was a big rock here and he started to pray for me. He said I must pray also. I can still remember clearly that I said, 'Dear Lord, I know I am a sinner. I know I'm lost but I need You. I have no purpose in my life. Kindly come and stay in my heart.' And really, something just happened. It was as if Christ had taken my whole life…a regeneration was taking place that day….I felt like a new baby, as if light had come upon my way…as if all of a sudden there was a purpose in my life."
He went home and told his father and there was a great crisis in the home. George had to take his stand. His mother was not very religious but she took his part. She said, "Oh, leave the child. He knows what he's doing." His father replied, "But he's NOT a Christian." George answered, "But Christ did something for me that nobody else has done for me." From that day his father ignored him.
He met his wife, Mercia, at Bible College. She was a factory clerk in Cape Town. She first saw George when two Bible College students visited her church at Matroosfontein. She had never wanted to have anything to do with the Bible College students as she had been feeling God's call to special service but did not want to accept it and had told no one about it. However, it did not go away as she hoped it would. One night in a service God spoke to her and she felt His finger pointing to her. That night she could not sleep. She prayed daily and finally one Saturday the Lord gave her the assurance that this was His will. After that their love grew stronger and in due course they were married. Seven years later she affirmed, "I thank God today, it was not a mistake, but success."
George feels that God brought them together and they complemented each other well in their ministry together. They have a son, Craig, and a daughter, Debbie. God not only blessed their home but also their ministry in the pastorate. In 1973 they pastored at Promosa, Potchefstroom, after that at Matroosfontein in the Western Cape Povince and finally at Eldorado Park, Gauteng Province. George says, "I continue to give God everything…I can see why I am living and what the purpose of my life is. This joy He has given me is always with me…. The Bible says, 'Delight yourself in the Lord and He will give you the desires of your heart' (Psalm 37:4)…. I'm just waiting for Him to come and fetch me one day." [1]
George Adams retired in 1995 while still successfully pastoring at Eldorado Park in Johannesburg (The largest church on the RSA Northern District). In 2002 they were still pastoring the Eden Park Church on the Gauteng District. (The Northern R.S.A. District had merged into the Gauteng district.
George Adams went to be with his Lord on December 19, 2008. The tribute to "King George" Daddy from his wife and family was: "We will dearly miss you and we rejoice knowing that you soul is at peace. You have run the race and you are now receiving your reward. We will remember you and everything you have taught us. We salute you. We love you." [2]
Paul S. Dayhoff
---
Notes:
Carol Zurcher, notes on reports by George and Mercia Adams.

Obituary sent by Gauteng District Superintendent, Rev.Bethuel Mkhonde.
---
This article is reproduced, with permission, from Africa Nazarene Mosaic: Inspiring Accounts of Living Faith, first edition, copyright © 2001, by Paul S. Dayhoff, Florida, South Africa: Africa Nazarene Publications, 2002. All rights reserved.