Classic DACB Collection
All articles created or submitted in the first twenty years of the project, from 1995 to 2015.
Andersen, Oscar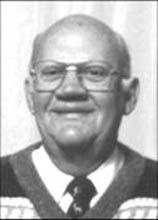 Oscar H. Andersen was born at Wynberg, near Cape Town. As a boy of ten while attending a Methodist Sunday School he gave his heart to Jesus. He did not complete high school but worked as messenger at the general post office in Cape Town and later as clerk in a shipping agent's office. When he was sixteen, his mother passed away and he had to look after the household.
In 1949, he truly found Christ during an interdenominational camp meeting. He said, "There was a wonderful change in my life and it was noticed by family and friends." A month later, Oscar was sanctified wholly through the ministry of the Africa Evangelistic Band. He attended the AEB Bible College and served for five years as an itinerant preacher, but in 1962 he felt called to the pastoral ministry.
In 1962, a young lady invited him to the Nazarene Church and Oscar Andersen joined the church at Rustenburg (North West Region). While attending Bible College, he and Miss Marie Fourie (1942-) were married. They began work at Plumstead (Cape Town) in 1969. Winning people for the Lord was difficult as the denomination was unknown in that area.
Oscar met an old friend in the street one day and gave him his card. This man was frustrated and disappointed with other denominations and was looking for a church. As a result of this contact nine people joined the Plumstead Church that later became known as the Capetown Church of the Nazarene.
Miss Meryl Pattrick and Oscar's sister Joan joined the church and later became Nazarene missionaries. Oscar was ordained and pastored at Malvern East (Johannesburg), Windhoek (Namibia) and Kimberley (Northern Cape). He helped to pioneer the Church of the Nazarene in Namibia and helped to start an exciting new church at Walvis Bay.[1]
In 1962 they pastored at Carletonville (North West Region) during a time when serious cave-ins and sink holes were occurring in the area. Many houses in the town were evacuated and some demolished. The street of the church and manse was affected and the house opposite the manse had to be demolished. People were killed when their homes disappeared without warning down sinkholes. This caused a great deal of anxiety in the community which was shared by the pastor and his family.
The Andersens prayed much and God gave them the promise of Isaiah 32:18-19 (KJV), "And my people shall dwell in a peaceable habitation, and in sure dwellings, and in quiet resting places; When it shall hail, coming down on the forest; and the city shall be low in a low place." Their Afrikaans Bible reads, "…Maar dit sal hael as die bos inmekaarstort en die stad wegsak in die laagte. (…and it will hail when the forest falls in upon itself and the city sinks away into the depths). While the nearby town of Bank was completely abandoned they stuck to their post and the church and manse remained safe and sound.[2]
After suffering severe ill health in 1989, Oscar Andersen was forced to drop out of the ministry. He recovered and in 1995, Rev. Oscar and Mrs. Marie Andersen were pastoring the Duncanville Church at Vereeniging in the Gauteng Region. After Oscar passed away, Marie found work in a second hand furniture store on the Natal South Coast and found opportunities for ministry. She wrote, "Oscar's life and influence was a real tonic to my spiritual life and I have one desire and that is to walk close to my Master, so that I can see him one day again."[3]
Oscar's sister, Joan Elizabeth Andersen, became a Nazarene missionary nurse. She served in eswatini for many years and then at Thabeng in the northeastern Transvaal (Northern Province) until retirement.
Paul S. Dayhoff
---
Notes:
Oscar Andersen, "God Grows a Pastor," World Mission, (Kansas City, MO: Nazarene Publishing House, December 1982), 15. Oscar Andersen, letters, May 5, 1992 and August 21, 1995.

J. MacLachlan, 1974, The First 25 years: A Brief History of the South African District of the Church of the Nazarene. (Florida, Transvaal, South Africa: Nazarene Publishing House, 1974), 22.

Marie Andersen, letter, April 20, 1997.
---
This article is reproduced, with permission, from Living Stones In Africa: Pioneers of the Church of the Nazarene, revised edition, copyright © 1999, by Paul S. Dayhoff. All rights reserved.