Classic DACB Collection
All articles created or submitted in the first twenty years of the project, from 1995 to 2015.
Asia, Abel Johannes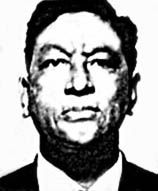 Abel Johannes Asia was born into a humble home in the Cape Town area. He was the youngest of a family of six and his parents tried to teach him Christian ways. They set a good example. As a boy, however, through the influence of his friends, he became involved in gang fights and drifted into evil ways. In 1957, he heard the message of salvation through the Nazarene missionary, Rev. Joseph F. Penn, Jr., who had just begun work in the Western Cape. Abel Asia was one of the first converts and his life was transformed. He rode the train each Sunday to attend the newly built church at Sunnyside.
In 1960, when the Rehoboth Bible College moved from Johannesburg to Cape Town, some students began visiting at Steenberg where Abel Asia lived. Through his witnessing many homes were opened for cottage meetings. He added a large room to his house as a place for the congregation to meet on Sundays, and here the Steenberg Church was organized. As the first Sunday school superintendent he saw the Sunday school grow to an enrollment of 1500.
When the first camp meeting was held, his wife Sabrena (d. 1994) was not a Christian. She refused to attend and insisted that he care for the children including a babe in arms. So he took all the children with him to camp meeting. Soon afterwards Sabrena found the Lord. Abel always kept the fires burning under the big black cooking pots at camp meeting. For seventeen years he had charge of the corps of kitchen workers. Their singing formed an inspirational part of the camp meeting atmosphere. He became an active leader in district affairs of the church.
While enrolled in Bible College extension courses, he had to miss some classes as he was obliged to move. His house lot was needed for the building of economic housing units. He had to sell the lot, take his house apart and rebuild it many miles away. He had been offered a new house in the area but his neighbors had to go into shacks. He said, "No! I will not take this good house. My old friends will not walk the extra three miles to church if I am not there to encourage them. Put me in one of the shacks also." He never made any complaint except to regret missing some classes.[1]
One evening a young gang leader, wounded in a knife fight, stumbled into the church. The men of the church cared for his wounds and prayed with him. He repented and, since he was homeless, Brother Asia took him into his already well-filled household.
In 1967 Asia testified, "The Lord has kept me for ten years through many temptations, trials, and hardships. His voice is always in my heart telling me, 'Hold on my son! I am with you!'" Mr. Abel Asia served as supply pastor at Oceanview, twenty miles from his home, before his death. He was known as "Mr. Nazarene" and left a wonderful example of a holy life. He lives on in a host of people that he won to Christ.[2]
Paul S. Dayhoff
---
Notes:
Betty Emslie, letter dated May 25, 1995.

Notes by Carol Zurcher; Mary L. Steigleder, tribute to Abel Asia at his funeral, reported by Carol Zurcher.
---
This article is reproduced, with permission, from Living Stones In Africa: Pioneers of the Church of the Nazarene, revised edition, copyright © 1999, by Paul S. Dayhoff. All rights reserved.