Classic DACB Collection
All articles created or submitted in the first twenty years of the project, from 1995 to 2015.
Bokwe, John Knox (B)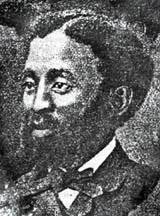 John Knox Bokwe (March 15, 1855-February 22, 1922) was a Xhosa missionary, educator, and musician who played a role in the foundation in 1916 of what is now the University of Fort Hare (originally the South African Native College) in southeastern Cape Province. Bokwe was called Mdengentonga, a Xhosa word which describes a man short in stature but tall in deeds.
He was the youngest child of Cholwephi Bokwe, a Xhosa whose parents had left him, when he was one day old, at the Lovedale Mission in Cape Province, run by the United Free Church of Scotland. John Knox Bokwe's mother was Lena, daughter of Nxe, one of the first converts of Ntsikana, a Xhosa diviner who, converted to Christianity in 1816, had become the first Xhosa prophet.
Bokwe first went to school at the age of eight or nine, and was taught by William Kobe Ntsikana, grandson of the prophet. At age ten he expressed his wish to become a minister of the church. In 1867, when he was twelve, he encountered a family with which he was to become closely associated. He later related that, when he and two friends went to watch the Thyumie River in full flood, and passed by the mission station, he was attracted by some beautiful music, which he had never heard before. Drawing nearer, he saw a white lady sitting in front of a box from which the music seemed to come. When she saw him, she beckoned to him and asked him: "Where can we get clean water?" He went and brought her the water. The woman was Mrs. Stewart, wife of the newly-arrived missionary, Dr. James Stewart. From then on young Bokwe ran errands and worked for the Stewart family. It was also in their house that he learnt to play the organ and the piano. In the same year Dr. Stewart took him into the general office of the Lovedale Mission as messenger, and later as his secretary, a post he filled until he left Lovedale in 1897. Meanwhile, in 1869, he was admitted into the mission's college department, where he was to remain until 1872. In 1870 he helped in the printing and production of iNdaba, a Xhosa newspaper produced at Lovedale. When, in 1874, Lovedale obtained its own postal service, Bokwe was appointed manager, and later became head of the telegraph office. As a student, Bokwe was active in the literary society, of which he became chairman. (His paper on "The Native Land System as Operating Today ," presented some years later, in 1894, is still relevant a century later.) He also became conductor of the mission's brass band, and also became known as a composer. His collected compositions were produced in book form in 1885. His compositions "Vuka Deborah," "Plea for Mrica, " and "Marriage Song" are still known as are his musical arrangement of the hymns of the prophet Ntsikana.
In 1892, at the invitation of friends in Scotland and England, Bokwe visited these countries, preaching sermons in churches, and telling his listeners about the work of the Lovedale Mission. In 1897, after 24 years of meritorious service, he left Lovedale to collaborate with John Tengo Jabavu in producing the newspaper, Imvo Zabantsundu ("African Opinion") in King Williamstown. Many Africans, however, were critical of the views expressed by Jabavu, in part because Jabavu was a Mfengu, a group regarded as subordinate to and unrepresentative of the Xhosa people. Opposition to Jabavu's opinions found expression in another newspaper, iZwi la Bantu ("The Voice of the People") published in East London, under the editorship of N. C. Mhala. It was to discourage these accusations that Bokwe, a Xhosa, went to join Jabavu. Bokwe's two years on the newspaper, however, were most frustrating and unhappy and this began to tell on his health. In 1899 he left for his wife's home at Tsomo, in the Transkei, to recuperate. This gave him the opportunity to fulfill his boyhood dream, and to become a minister of the church. He left Tsomo for Ugie in 1900, where he served first as an evangelist, and then as a probationer. In 1906 he was ordained as a minister of the United Free Church.
When Bokwe first arrived at Ugie, there was no school for either black or white in the district. He at once opened a school for children in the town, at first with no government grant. He then went out into the outlying areas, opening schools and churches. In 1906, through his efforts, the town of Ugie built its first European school. He also served as town clerk. After years of hard work, his schools flourished until, under the provisions of the Native Private Location Act, African squatters on white farms were turned out, and all but two of Bokwe's schools and churches were obliged to close.
In 1905 Bokwe became a member of the committee, composed of Africans and members of the United Free Church of Scotland, which sought, as a memorial to the late Dr. Stewart, to establish a college of higher education for South African men and women. As a result, largely on the strength of donations collected among the people, Fort Hare College was opened in 1916. In the same year Bokwe was elected general secretary of the Native Teachers Association in the Transkei.
In 1920, already in poor health, he appeared before the Native Affairs Commission. He died at his home at Ntselamanzi, near Lovedale, on February 22, 1922. He was buried in the Gaga Cemetery, alongside other missionaries associated with Lovedale.
Phillis Ntantal
---
Bibliography
Rex Collins, Freedom For My People: The Autobiography of Z.K. Mathews, London, 1891.
S.E.K. Mqhayi, Ubom bo Mfundisi u John Knox Bokwe ("The Life of Rev. John Knox Bokwe"), Lovedale, 1925.
---
This article was reprinted from The Encyclopaedia Africana Dictionary of African Biography (In 20 Volumes). Volume Three: South Africa- Botswana-Lesotho-eswatini. Ed. Keith Irvine. Algonac, Michigan: Reference Publications Inc., 1995. All rights reserved.