Classic DACB Collection
All articles created or submitted in the first twenty years of the project, from 1995 to 2015.
Bokwe, John Knox (A)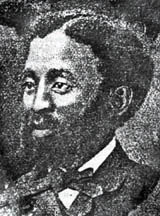 John Knox Bokwe is honoured as one of the most celebrated Xhosa hymn writers. He was a member of the Ngqika Mbamba clan and was born as Ntselamanzi, near Lovedale, on 15 March 1855.
He grew up in the district and it was here that he later became a leader in the Presbyterian Church. His father, Jacob, was one of the first pupils to enroll at Lovedale when it opened as a teaching institution on 21 July 1841.
Jacob named his youngest son after the Scottish Presbyterian churchman John Knox. As a boy, John first attended the local mission school and had as his teachers William Daniel Msindwana and William Kolbe Ntsikana, grandson of Ntsikana, the Xhosa prophet and hymn writer. In 1866 he was admitted to the preparatory classes at the Lovedale Institution. He continued on to the college in 1869 and finished his schooling four years later (Stewart 1888:22).
From the time he was a young boy Bokwe worked at the institution to help pay his fees. In 1867 he started by helping in the missionary house earning half-a-crown (25 cents) a month and his food. Gradually both his salary and his responsibilities grew until he became secretary to the head of the institution. During this time he was given piano and organ lessons by Mrs. Stewart and became proficient on both instruments. He also joined the Lovedale Brass Band (Huskisson 1969:8).
A young girl, Lettie Ncheni, was also employed in the Stewart household. She worked there from 1868 to 1873 while attending night classes and from 1871 attended as a day scholar. Five years later she accompanied Mrs. Stewart when she went to Scotland. They remained overseas for three years and when they returned Lettie became the wife of John Knox Bokwe (Waterston 1983:31). In 1879 Bokwe wrote from Lovedale to Dr. Laws of the Blantyre Mission and told him: 'As far as Lettie and I are concerned we are well and happy. God and everyone around us seems to be treating us so kindly and so friendly.' He went on to say how they appreciated having their own home (MS 7902:1879).
Bokwe in the meantime held a number of positions. He graduated from being the house and stable assistant in the Stewart household to becoming a clerk, assisting with the publication of the Lovedale magazine, the Kaffir Express in 1870. He later took charge of the Lovedale telegraph station and in 1876 became a bookkeeper interpreter and a private secretary to the principal. Further tasks were added: postmaster, choirmaster, cashier and on occasion he also helped out as a teacher.
From 1875 Bokwe started to compose hymns. He visited Scotland and sang his hymns in a tenor voice at social gatherings. In 1897 he left Lovedale to join John Tengo Jabavu as joint-editor of Imvo Zabantusundu. In an address from the Lovedale staff dated 13 December 1897, his fellow workers expressed their 'sincere regret' that he was leaving the institution. They handed him 25 pounds they had collected and a Bible, remarking that during the thirty years he had been at the institution he had come to be considered an essential part of Lovedale. After he left Bokwe soon realized that his real calling was to be a minister, not a journalist. He returned to Scotland for training and was ordained into the Presbyterian ministry in 1906.
Bokwe was given charge of the congregation at Ugie and also took part in a number of evangelistic campaigns. He was forced to retire in 1920 because of failing health and moved nearer to Lovedale again. His last years were spent helping Dr. Henderson, the principal, to translate the metrical psalms into Xhosa.
Bokwe's contribution to Xhosa religious music was exceptional. He helped with the publication of the first Xhosa hymnbook in 1884. He set to music the 'great hymn' (Ulothixo Omkhulu) of Ntsikana and also wrote his biography. He published a book of his own compositions in 1885 called Amaculo ase Lovedale or 'Lovedale music'. His works include Ntsikana's bell, Heavenly guide, Wedding song and Vuka Deborah.
Bokwe was married twice and had five children: Barbour, Roseberry, Selbourne, Frieda, Pearl and Waterstone (Jabavu 1982:18). Roseberry Tandwefika (1900-1963) qualified as a doctor in 1933 and later became active in the African National Congress. Frieda married 'ZK" (Zachariah Keodirelang) Matthews, the educationalist, church leader and African nationalist. Pearl became the wife of Mark Radebe, the composer.
J. A. Millard
---
Bibliography
Carter, G. & T. Karis, eds. From Protest to Challenge: a Documentary History of African Politics in South Africa 1882-1990. Stanford: Hoover Institution Press and Pretoria: Unisa, 1997.
The Christian Express. 1 January 1898.
Huskisson, Y. The Bantu Composers of Southern Africa. Johannesburg: SABC, 1969.
Jabavu, N. The Ochre People. Randburg: Ravan, 1982.
MS 7902. Letter from J. Bokwe to Dr. Laws dated 19 November 1879. National Library of Scotland.
Shepherd, R. Lovedale South Africa: The Story of a Century 1841-1941. Lovedale: Lovedale Press, 1940.
Stewart, J. Lovedale Past and Present: A Register of Two Thousand Names. Lovedale: Lovedale Press, 1888.
Waterstone, J. The letters of Jane Elizabeth Waterstone 1866-1905. Edited by L. Bean & E. Van Heyningen. Cape Town: Van Riebeeck Society, 1983.
---
This article is reproduced, with permission, from Malihambe - Let the Word Spread, copyright © 1999, by J. A. Millard, Unisa Press, Pretoria, South Africa. All rights reserved.