Classic DACB Collection
All articles created or submitted in the first twenty years of the project, from 1995 to 2015.
Burgers, Thomas Francois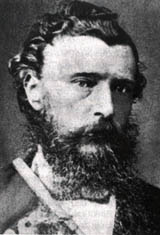 Thomas Francois Burgers (April 15, 1834-1881), a liberal and strongly reformist minister of the Dutch Reformed Church (Nederduitse Gereformeerde Kerk, or NGK), was president of the South African Republic (the Transvaal) from 1871-77.
He was born in the Graaff-Reinet district of Cape Province, the youngest child of Barend Jacobus Burgers (1775-1845) and his third wife Elisabeth Magdalena Theron (1792-1867).
In 1853 Burgers left for Europe where he studied theology at Utrecht, Holland. In 1858 he was admitted to the ministry in which year he also married a Scots woman, Mary Bryson (1836-1929). They had ten children, three of whom died at an early age.
In 1859 he was inaugurated as minister of the Dutch Reformed Church congregation in Hanover. He was radical in his theological views and soon became involved in the dispute between orthodoxy and liberalism which threatened to disrupt the unity of the Cape NGK. In 1862 he was accused and found guilty by the Cape Synod of rationalism and heterodoxy. But he won an appeal in the Cape Supreme Court against his suspension as minister, and continued to serve his congregation, who remained divided on the issue.
When Marthinus Wessel Pretorius, president of the Transvaal republic, resigned in 1871, following the dispute over the diamond fields, Burgers accepted the candidature for the presidency and was elected by an overwhelming majority. The Transvaalers believed that in Burgers they had found a learned president who would be in a position to solve the country's many problems. He was an outstanding orator with a pleasing personality and could exercise a dominating influence in the Transvaal Volksraad (parliament). He set high ideals for the republic and brought about vigorous reforms in the administration, in the judiciary, and in education. He considered a railway link with the non-British port of Delagoa Bay (Maputo) as essential for the economic survival of the country. From 1875-76 he was in Europe, attempting to raise money for a railroad loan, and to publicize the Transvaal abroad. But during his absence, his opponents at home gained strength.
Unfortunately for Burgers his means did not match his ideals, so that many of his projects ended in failure in the short term. He did not spare himself in his efforts to strengthen the Transvaal against growing British imperialism, with the result that his health failed rapidly. When the Transvaal was annexed by Sir Theopilus Shepstone in April 1877, Burgers was physically and financially a broken man. He had mortgaged his personal assets in the interest of the state, and was impoverished when in May 1877 he left for Cape Town. Later the British government agreed to pay Burgers an annual pension of £500 from the Transvaal treasury on condition that he did not settle in the Transvaal again. This gesture gave rise to wide speculation and accusations of treason against Burgers, who reacted with bitterness against the Transvaalers. Suffering from an incurable disease, he died in Richmond in the Cape Colony in 1881. The government of the Transvaal re-interred Burgers in the Old Cemetery in Pretoria in 1895.
M. S. Appelgryn
---
Bibliography
Dictionary of South African Biography. Vol. 1. W.J. de Kock (ed.). Cape Town: Nasionale Boekhandel Beperk, 1968; M.S. Appelgryn, Thomas Francois Burgers, Staats-president 1872-1877, Pretoria, 1979.
---
This article was reprinted from The Encyclopaedia Africana Dictionary of African Biography (In 20 Volumes). Volume Three: South Africa- Botswana-Lesotho-eswatini. Ed. Keith Irvine. Algonac, Michigan: Reference Publications Inc., 1995. All rights reserved.