Classic DACB Collection
All articles created or submitted in the first twenty years of the project, from 1995 to 2015.
Butelezi, Peter Fanyana John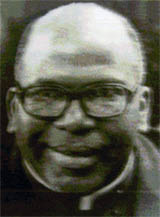 Butelezi was born in Newcastle on July 25, 1930. He finished his high school studies at St. Theresa Minor Seminary in Lesotho and joined the Oblates of Mary Immaculate (OMI). [1] After taking his first vows, he was sent to the International Oblate Scholasticate in Rome for his philosophical and theological studies. As he recalled: "I was ordained in Rome in 1957. So I was in Rome from 1951 to 1961. I did my philosophy, then theology at Gregorian University and then my Scripture at the Pontifical Biblical Institute there. From 1959 to 1961, I went to the famous École Biblique in Jerusalem." [2]
On his return to South Africa in 1961, he was appointed to the staff of St. Augustine's Major Seminary in Roma, Lesotho, where he taught sacred Scripture. Later he became the rector of the seminary.
The process of creating the Diocese of Umzimkulu was initiated in 1952, when Archbishop Celestino Damiano, was appointed apostolic delegate to South Africa. Prior to his appointment, he had worked for the Congregation for the Propagation of the Faith and had paid a visit to South Africa in 1950. As Brain expands: "In view of the Vatican's policy regarding the Africanization of the church…it can be assumed that Archbishop Damiano intended to appoint a black bishop in South Africa and, since Mariannhill Diocese had the greatest number of black Catholics and also more African clergy than anywhere else in the country, it seemed probable that this was where the new diocese would be erected." [3]
Bishop Streit of Mariannhill, and Fr. Reginald Weinmann, the Superior General of Mariannhill Congregation, suggested that instead of creating a diocese it would be more appropriate to create an auxiliary diocese. Damiano on the other hand was determined to create a new diocese with an African bishop. From the onset, some of the Mariannhill priests [4] were against the creation of the Umzimkulu Diocese, but Celestino Damiano, an Italian-American, was "a pusher" who, it seems, always got his way. According to an interview with Oswin Magrath in 1996: "Then Damiano came with orders to get a black bishop in the Republic. There was only one black bishop in Lesotho, 'Mabathoana. Damiano did his best and carved Umzimkulu out of Mariannhill. Mariannhill took it badly." [5]
The Diocese of Mariannhill had grounds to be against the creation of a new diocese, and the whole process caused a great deal of unhappiness among the Mariannhill priests. Damiano, in fact, had little or no consultation with the Mariannhill authorities and events took place very fast.
The Mariannhill missionaries had built their mission work in Natal for over seventy years and during this time had built several schools and hospitals. Brain explains further: "Mariannhill had been the leading light in the Catholic mission field, and had brought to the country many priests and several hundred highly skilled brothers; they had developed mission stations and schools, established their farms with funds they had generated themselves, opened mission hospitals and set up a mission press." [6]
In the light of such developments, the general feeling among the Mariannhill clergy was that they deserved better treatment and possibly even an opportunity to air their views and be taken seriously. At the inception of Umzimkulu Diocese, "there were doubts from the beginning about the suitability of the new diocese and even more about its viability." [7] The situation was later exacerbated when Umzimkulu Diocese was also granted Lourdes, Centocow, and Emaus mission stations–all highly prized mission stations of great historical significance.
Even after the creation of the Umzimkulu Diocese, the larger mission stations were still administered and run by Mariannhill priests. For example: "Fr. Xavier Brunner was rector at Lourdes, Fr. Siegfried Schultis was in charge of Centocow, Fr. Aurelius Boschert of Harding, Fr. Gabriel Bader of Emaus, and Fr. Raphael Boehmer was in charge of Port Shepstone. Some of the other mission stations were administered by the African clergy." [8]
Dlamini was ordained on April 26, 1954. However, the complexity of the situation later led Bishop Dlamini to resign in 1968 after serving for fourteen years. He was replaced by Butelezi who was appointed as apostolic administrator that same year. As Butelezi recounts: "I was apostolic administrator from the beginning of 1968 to 1972. Then I was followed by Archbishop Hurley, who was the administrator of Umzimkulu and at the same time archbishop of Durban, like now Archbishop Napier is bishop for Durban but administrator for Umzimkulu. So it is part of the province of Durban." [9]
The Diocese of Umzimkulu had problems keeping a single bishop and on December 22, 1986, the Rt. Rev Sithunywa G. Ndlovu was appointed second bishop of Umzimkulu. He was ordained and canonically installed on April 25, 1987. He also resigned in August 1994 after working in the diocese for less than eight years.
In 1966, while Butelezi was rector at St. Augustine's Seminary, a series of meetings was held at St. Peter's (a national seminary for black students in Hammanskraal, South Africa) attended by students and staff members from Lesotho. From June 30 to July 5, seminarians from all over South Africa met at St. Peter's Seminary in Hammanskraal. The theme of their meeting was "The priest, shepherd of the flock." The aim of the seminar was to seek answers: "The people of this country are divided–politically, culturally, linguistically and religiously. Yet the motto of the country is 'ex unitate vires' –unity is strength. This is a paradox, and a paradox calls for an answer." [10] Attending this meeting were delegates of St. Peter's, St. John Vianney, A Mater Jesu Oblate Scholasticate (Roma), St. Joseph's Scholasticate (Oblate Cedara), Salesian Studentate (Daleside), and St. Nicholas Dominican Priory (Stellenbosch).
The delegates at this meeting believed in having a united vision so that the church could speak with a single voice. In their opinion, if seminarians united, the next generation of clergy would be united and, in turn, this unity would spread to all Christians.
In a 1996 interview, Oswin Magrath, rector of St. Peter's from 1957 to 1971, said: "This was before Black Consciousness came up, but there were some considerable gaps between the different seminaries. About the same time we were having meetings with the staff from different seminaries." [11] One such meeting was held from July 4 to 7, 1966, at Hammanskraal with thirty-one priests in attendance. A past students' association was established, later to be known as SPOBA. [12] Several papers were presented. As early as 1962 Magrath was thinking in terms of unity of clergy and local clergy taking up leadership positions. For instance, in his inaugural lecture of the scholastic year in February 1962 he had said: "The unity of the church and its future also demands that such an orientation (segregation) should not go so far as to produce a clergy segregated from the rest of the clergy, nationalistic and even anti-white in spirit, and even perhaps tribally divided among themselves. This would be a mostly unhappy result." What was needed was a truly Catholic clergy ready to serve the people. Magrath's main concern was that the training of black clergy in a separate institution should not put the unity of the church at risk.
On a similar note Butelezi recalled that: "SPOBA was of St. Peter's. St. John Vianney also had its own association. Hence, you find that each of these seminaries had an old boys' association. Sometimes you had the religious too. There was a problem of uniting the clergy. The bishops were concerned to unite the priests. They did not quite know what to do. So they asked the dioceses to send delegates and the priests would elect their own chairman and would create a council like you now have the South African Council of Priests (SACOP). The bishops appointed one of the bishops, Orsmond, as convener to launch it. He was appointed as first chairman of the council. SPOBA comes in an era of strong Black Consciousness in the late 1960s, when there was the danger of forming a black church of all Christian groups. It was a question of black Catholics saying that they would break off from white Christians, and there were different meetings." [13]
The issue SPOBA was fighting for was fully addressed in the Manifesto which was published in the Rand Daily Mail in 1970. The black priests were saying that there were no black leaders and the church was not serious in establishing black leaders in the church. The black priests belonged to a low class–they were really altar boys and not worthy of being priests. As Butelezi stated: "There were no black bishops and no leaders in high positions. Therefore, this was the challenge of the 1960s and 1970s. But I said we already had Dlamini in Umzimkulu whom I succeeded in 1968." [14]
While Butelezi was apostolic administrator of Umzimkulu from 1968 to 1972, Black Consciousness was taking root at St. Peter's Seminary. In the 1969 report, rector Oswin Magrath mentioned that the growing gap between staff members and students was leading to some tensions. Furthermore, "the increasing lack of communication between Africans and whites demands the presence of African staff members, of highest quality both intellectually and as to character and personality." [15] There was a crisis at the seminary with regard to discipline with certain individuals due to a lack of maturity and an unwillingness to cooperate with other students. At the same time the aspiration of Black Consciousness had entered the seminary and the young seminarians were adopting this philosophy and way of life. Moreover, there was a need to have more black staff members to ease the gap and tension between white staff and black students.
Due to these problems of discipline, immaturity and racial tension, rector Magrath and the Southern African Catholic Bishops' Conference (SACBC) decided to invite Butelezi to the seminary to act as a mediator between black students and white staff. Butelezi spent a week at the seminary in October of 1969 as he recalls: "At the same time these seminaries did not belong to the bishops. They were regional and there was no bishops' conference before 1947. The Dominicans had a direct contract with Rome and the same applied to the Franciscans at St. John Vianney. But after Vatican II, a new arrangement came into force. The regional and national seminaries were put under the SACBC. I was asked to make a visitation (not canonical) of Hammanskraal, before the bishops took it over. The bishops wanted to get an idea of how things were going. It was 1968 and I was an administrator of Umzimkulu and not a bishop yet. But I was participating fully in the bishops conference because I was running a diocese." [16]
After the visitation he reported that he "hoped that progress will be made during 1970 without destroying the advances towards student responsibility and maturity already made" [17] in the establishment of the constitution and a more viable Student Representative Council (SRC).
He also made various points, some of which dealt with the "question of discipline at the seminary, and more specifically the interrelationships between rules and responsibility," [18] pointing out that the majority of members of staff were white so they could not monitor the situation in the nearby township known as Temba, which was close to St. Peter's Seminary.
Furthermore, Butelezi had to deal with another very sensitive issue–that of ethnic groups: "This is a very delicate matter. I would strongly recommend to the seminary authorities to be very careful here. It was mentioned to me that the Zulu group gave trouble. In my talks it appeared that this group sometimes felt it was not treated fairly, it seemed that the Sotho group was favored." [19] His report also looked at the position of rector Magrath who gave the impression that he was ready to leave the seminary and retire, as Butelezi says: "In his speech, Fr. Magrath often affirms that he is ready to leave rectorship. I doubt this. So too do some of the members of the staff. The seminary is too much a thing of his own." [20]
Butelezi's reports were studied by staff and students jointly. From these discussions, guidelines were to be formulated which would help progress at the seminary. As Butelezi recalled: "I made my reports and Oswin Magrath was the rector then. He was followed by Dominic Scholten as rector." [21]
All these factors would determine the course of events in the following years. For instance, in 1971 the priests published a memorandum which called for the removal of cardinal Owen McCann. Demonstrations took place leading to considerable tensions within the Catholic Church. This was all contributed to the emergence of SPOBA which was influenced by Black Consciousness.
SPOBA therefore contributed to the pressure in ordaining black bishops in South Africa–so much that, in 1972, Butelezi was ordained auxiliary bishop of Johannesburg. Butelezi explained: "Yes, SPOBA did contribute to my ordination. The situation remained a challenge and my ordination as bishop in Johannesburg was a pioneering move. My appointments were all pioneering. You see, if I had been appointed to Durban or Cape Town, I would not have made the same impact. But, being appointed to Johannesburg, it meant that the other towns were open. You see, I was ordained at Milner Park in Johannesburg. It used to be the show grounds for Easter shows and it moved to be part of Wits University." [22]
Even with this appointment, the issue of black leaders in the Catholic Church continued to be difficult, as Butelezi explained:
It was always a sore point, when you say that you do not have black people in leadership positions. You have a lot of problems which go with that. I mentioned that I have been in pioneering positions in those early years. When I arrived home the first time after I went to Rome in 1951, the first questions they asked me was: what do I eat? Do I still eat porridge? It was a problem. The children said we speak of "father." Should we also call the black man "father" or "abuti" (Sotho word meaning "boy")? There were a whole lot of problems like that. The Holy Cross Sisters from South Africa sent their black sisters to Lesotho because they did not know, for instance, how they would mix with the white sisters. The Oblates tried in Natal with some, but after that they sent them to Lesotho where they did not have the same laws as in South Africa. So you had a lot of problem. Times change. And it did remain a challenge and it does remain a challenge. [23]
On July 10, 1975, this very talented man, with so much leadership experience was moved to yet another diocese. This time he became bishop of Umtata on November 1, 1975 where he served from 1975 to 1978. After three years he was yet again transferred to the archiepiscopal see of Bloemfontein on August 6, 1978, as he recalls:
When I came here (Bloemfontein) in 1978, some of our white Catholics for instance were saying, what have we done to the pope to give us a black archbishop. Is he not going to take our money and give it to the blacks? So there were all kinds of questions like that. So while you wanted black bishops, you still get a lot of problems for the church and for them. When you get black bishops resigning, it is also a problem for people, or dying young. You get Archbishop Morapeli dying young, Bishop Phakoe resigning as bishop of Leribe still young, in his forties. Now, in Umzimkulu we have Bishop Dlamini resigning in 1968. It was also with sickness and so on. Bishop Ndlovu was appointed as bishop of Umzimkulu in 1987. He resigned, I think. He is working in Johannesburg partly. My successor in Umtata, Bishop Brook, has resigned also. [24]
For the pioneering bishops, the pressures were great from all sides and the changing times of the 1960s and 1970s created even more challenges for them. As a result, most of them died young or retired from their positions early.
When Butelezi became the archbishop in Bloemfontein, he used Black Consciousness to help uplift the consciousness of black people in South Africa. In 1976 he wrote a booklet for the South African Bishops Conference (SACBC) entitled: Statement on Black Consciousness and Human Rights. [25] In this publication he recalled that: "It is a whole lot of problems Black Consciousness was fighting for, especially when they say, 'Black man, you are on your own.' And this was true because even the most liberal whites ultimately could not be trusted. You would not be surprised if that white person was a spy on you. So you are on your own. And you take responsibility for what you do, whatever others think and say." [26]
While he was bishop of Umtata Butelezi gave a talk at the Anglican seminary in Umtata. In his paper, Butelezi mentioned how one could look at formation for the priesthood and the three routes that a formator (a priest training future priests) can take: First, a priest forms a priest who will assist him. The missionaries send black priests to outstations and so on. Thus he extends his influence. Where he does not want to go, he sends the black priest. This is one way of formation. The second stage is when a priest is preparing future leaders. ("When I am gone, these people will take over.") It is part of formation also. But the real challenge is when he is preparing his own superiors–basically preparing people he will be working under. That is different. The last option was happening, for instance, at Roma.
As Butelezi continues: "When we had a black bursar at the seminary, some of the black priests would ask whether he was really in charge of the finances, since you get people who could say that they will teach you to a certain extent. To go beyond that meant that one was going to take the trainers' job and he will be out of work. That was a challenge. You were having great teachers like that. But it is a complex situation all round." [27]
Butelezi died on June 10, 1997. In 2007, the clergy of the Archdiocese of Bloemfontein gathered at his tomb in Sacred Heart Cathedral to remember the tenth year anniversary of his death. Archbishop Jabulani Nxumalo OMI (present-day archbishop of Bloemfontein) presided at the mass and the prayers at the tomb, assisted by Fr. Kelello Tsoebeane (vicar general) and most of the priests of the archdiocese.
Butelezi had a phenomenal memory for details and was very knowledgeable about the history of the church in South Africa and the Southern African Bishops' Conference. He will be remembered for his pioneering appointments as bishop of Johannesburg, Umtata and Bloemfontein and his contribution to the Black Consciousness Movement through his speeches and his writings.
George Sombe Mukuka
---
Notes:
The Missionary Oblates of Mary Immaculate (OMI) is a religious order or congregation in the Roman Catholic Church. It was founded on January 25, 1816 by Saint Eugène de Mazenod, a French priest from Marseilles, and was first recognized by Pope Leo XII on February 17, 1826. The congregation was originally established to revive the church after devastation by the French Revolution. The religious congregation has priests serving all over the world including South Africa. The Oblates have since established strong missions in Southern Africa, that is Lesotho, South Africa, Zambia etc.. Though they originally focused on working with the poor, they became known as a missionary and teaching order as well. In 1938, Pope Pius XI called them "specialists in difficult missions."

Archbishop Peter Butelezi, interview by author, July 8, 1996, Bloemfontein, tape recording.

Joy Brain, A New Beginning? The Umzimkulu Diocese Fifty Years Later, (Mariannhill: Mariannhill Press, 2004), 53-54.

See New Catholic Dictionary: "In 1882 Reverend Francis Pfanner, then prior of the Trappist (Reformed Cistercian) Monastery of Mariastern (Bosnia), volunteered to establish a monastery in Cape Colony, in order to try to adapt the rule of the order to the missionary life. He settled in a place he called Dunbrody in 1880, but was forced to abandon it in 1882, and transferred his community to Mariannhill, Natal. In 1885 Mariannhill was erected into an abbey, with Father Pfanner as first abbot. During the next few years Father Pfanner founded seven mission stations throughout Natal, to provide for the needs of the natives. Between 1894 and 1900 nine stations were established in Natal and Cape Colony, and two houses in German East Africa. Later a station was erected in Rhodesia, and two more in Natal. The Congregation of Regulars, in 1909, issued a decree separating Mariannhill from the order of Reformed Cistercians, forming of it the 'Congregation of the Mariannhill Missionaries.'" (CMM), Web site http://saints.sqpn.com/ (accessed January 30, 2009).

Oswin Magrath, interview by author, July 19, 1996, Cedara, Pietermaritzburg, tape recording.

Brain, A New Beginning?, 55.

Brain,* A New Beginning?*, 55.

Adelgisa Mary Hermann, History of the Congregation of the Missionaries of Mariannhill, (Mariannhill: Mariannhill Press), 120.

Butelezi, same interview.

Southern Cross (June 23, 1965), 1.

Oswin Magrath, interview by author, July 19, 1996, Cedara, Pietermaritzburg, tape recording.

Gobi Clement Mokoka, "Black Experience in Black Theology. A Study of the RCC Missionary Endeavor in South Africa and the Search for Justice" (Ph.D. diss., Nijmegen Catholic University, October 1984), 53.

Butelezi, same interview.

Butelezi, same interview.

Annual report and account of St. Peter's seminary, Hammanskraal in South Africa: (1969): Prepared by the rector, Oswin Magrath O.P. with the Dean of studies, Ronald Torbet O.P. and Bursar, Anselm Holbery O.P.

Butelezi, same interview.

See report and account of St. Peter's seminary Hammanskraal, 1969.

See report and account of St. Peter's seminary Hammanskraal, 1969.

Letter by the Rt. Rev.Monsignor P. Butelezi OMI to the Very Rev. Vicar General O.P (April 6 1970). SADA Archives.

Letter by the Rt. Rev.Monsignor P. Butelezi OMI to the Very Rev. Vicar General O.P (April 6 1970). SADA Archives.

Butelezi, same interview.

Butelezi, same interview.

Butelezi, Same interview.

Butelezi, Same interview.

Butelezi, P J 1976. Statement on Black Consciousness and Human Rights. Pretoria: SACBC. Cadman.

Butelezi, same interview.

Butelezi, same interview.
---
Bibliography
Annual report and account of St. Peter's seminary, Hammanskraal in South Africa: (1969): Prepared by the rector, Oswin Magrath OP with the dean of studies, Ronald Torbet OP and bursar, Anselm Holbery OP.
Brain, Joy. A New Beginning? The Umzimkulu Diocese Fifty Years Later. Mariannhill: Mariannhill Press, 2004.
Butelezi, P. J. Statement on Black Consciousness and Human Rights. Pretoria: SACBC, Cadman, 1976.
Butelezi, Peter. Interview by author, July 8, 1996, Bloemfontein. Tape recording.
Hermann, Adelgisa M. History of the Congregation of the Missionaries of Mariannhill. Mariannhill: Mariannhill Press, 1984.
Letter by the Rt. Rev. Monsignor P. Butelezi OMI to the Very Rev. Vicar General OP (April 6, 1970). SADA Archives.
Magrath, Oswin. Interview by author, July 19, 1996, Cedara, Pietermaritzburg. Tape recording.
Mokoka, Clement G. "Black Experience in Black Theology. A Study of the RCC Missionary Endeavor in South Africa and the Search for Justice" (Ph.D. diss., Nijmegen Catholic University, October 1984), 53.
Mukuka, George, "Black Man, You Are On Your Own," interview with Archbishop Peter F. Butelezi in Grace and Truth no 3. (1997): 36-49.
Southern Cross (June 23, 1965).
---
This article, received in 2009, was written by Dr. George Sombe Mukuka, a faculty research manager at the University of Johannesburg, South Africa, and 2008-2009 DACB Project Luke Fellow.