Classic DACB Collection
All articles created or submitted in the first twenty years of the project, from 1995 to 2015.
Chirwa, Florence and Goodwin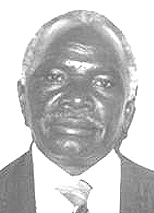 Goodwin and Florence Zodwa Chirwa pastored the Zakhele and Ngwenya Churches on the eswatini Central District. From 1990 until 1993 Chirwa was also manager of the Nazarene Bookstore in Manzini. From 1990 until 1999 he was the district treasurer. He returned to eswatini Nazarene Bible College to take degree level studies and graduated in 1998 with his ThB degree.
In 2004 Chirwa was elected the District Superintendent of the Drakensberg District, Limpopo Province, Republic of South Africa, and they moved to Arthurseat. In 2012 he was continuing in this ministry.
He married Florence Zodwa Shabangu. She was born on September 9, 1952 at Macudvulwini, Mankayane, eswatini. Her parents were Mica and Sara Shabangu and she was the fifth child of seven. She had her lower primary education at Macudvulwini Primary School. She then moved on to Mount Hermon at Mankayane for her higher education. For secondary school she enolled at Umbuluzi Girls School, a mission school near Mbabane. It was at his time that she truly gave her life to the Lord. The lady missionary asked her to teach children in Sunday school.
She enrolled at Manzini Nazarene Teacher Training College where she obtained her Higher Primary Diploma in Education. Her humble and tender life became apparent to the lecturers and students and they appointed her to present a gift to the Prime Minister of eswatini, Prince Makhosini Dlamini. She grew in her Christian life and responded to God's call to minister the good news of Jesus Christ.
She went to the Nazarene Bible College at Siteki, eswatini, to prepare for ministry. She was a hardworking and dedicated student and excelled in her classes. After graduating with her Diploma in Theology. she joined the Nazarene Literature office where she demonstrated her God-given talent for translating English books into Swati. She developed Vacation Bible School material for publication and also displayed knowledge, skills and appropriate attitudes in money management. Such was Florence's commitment and dynamism that she developed trust with church leaders and the church in general and she was given many important duties.
She was elected to the full time position as the District Sunday School Treasurer and opened and pastored a preaching point at Lozitha with the help of Missionary Edna Lochner. This helped her two sisters and their children to give their lives to Christ. It developed into a large and growing church and produced a pastor. It was in this church where the idea of the whole church joining together in prayer began. Florence also co-established a bookshop which came to serve the entire church in eswatini. Florence greatly assisted her husband in pastoring the churches at Ngwenya and Zakhele. The Zakhele church grew spiritually and in numbers.
For ten years Florence taught school and then she joined her husband in administrating the Drakensberg District in South Africa. She was hands on in many things with a gift for reviving demotivated churches such as Greenvalley Church, teaching them to pay their budgets and attend district meetings with love. She was elected as director to the District Senior Adult Ministry and it really came alive. She contributed a lot during childens' camp meetings. Florence was pastoring the Ambag Church, which was a great challenge, when she met her death.
Florence was a woman of Proverbs 31 who gave her husband full support and was always standing in the gap. Her contribution, commitment and dedication built the district. She was a humble person and did not discriminate between young or old, rich or poor, educated or uneducated, Christian or non-Christian. Indeed she was maake (mother) to all. She will be greatly missed by all who knew her especially by her husband, children, sisters and the Nazarene family. They had two children, a son and a daughter, and one grandchild.[1]
Rev. Florence Chirwa was tragically killed in a car accident on 23 February 2012. They were on their way to visit a bereaved church member. Goodwin was only slightly injured.[2]
Paul S. Dayhoff
---
Notes:
1.Obituary sent by Dr Enoch Litswele, March 2012.
2.Facebook message Dr Enoch Litswele, Feb 24, 2012.
---
This article is reproduced, with permission, from Standing Stones of Africa: Pillars of the Faith in the Church of the Nazarene, first edition, copyright © 2006, by Paul S. Dayhoff. All rights reserved.