Classic DACB Collection
All articles created or submitted in the first twenty years of the project, from 1995 to 2015.
Colenso, John William (A)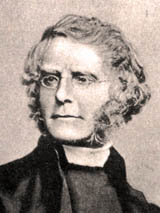 First Anglican Bishop of Natal.
Consecrated to the new diocese of Natal in 1853, Colenso settled there two years later. He promoted an active missionary campaign among the Zulu, translated many religious works into Zulu, and published a number of non-orthodox treatises which aroused considerable controversy. His tolerance of polygamy among converts, and his frank and non-canonical replies to their questions about the Bible led to his being tried for heresy, deposed and later excommunicated (1863). London law courts reinstated him, establishing a major precedent which broke the hold of the Church of England on the overseas dioceses (1866). Publicity of his case brought Natal and Zululand permanently to the attention of the English public.
Colenso was an outspoken and influential advocate of African rights. He vigorously protested Natal's banishment of chief LANGALIBALELE (1873), and later helped to secure his release. He opposed the Zulu War (1879) and later helped to secure the reinstatement of CETSHWAYO to the Zulu kingship (1883).
Many members of Colenso's family were also active advocates of African causes. Most notable, perhaps was his daughter, Harriette Colenso (1847-1932), a prolific pamphleteer. She took a leading part in organizing the defence of the Zulu chief, DINUZULU, after the rebellion of 1906.
Mark R. Lipschutz and R. Kent Rasmussen
---
Bibliography
Hinchliff, Peter B. John William Colenso. London: Nelson, 1964.
Marks, Shula. "Harriette Colenso and the Zulus, 1874-1913." JAH 4 (3) (1963): 403-11.
Dictionary of National Biography. Main Dictionary to 1900, 22 vols.; Twentieth Century D.N.B., 5 vols. London: Oxford University Press, 27 volumes, 1885-1950.
Dictionary of South African Biography, 4 vols. Cape Town, Durban: Human Sciences Research Council, 1968-81.
Brookes, E. H. & C. de B. Webb. A History of Natal. Pietermaritzburg: University of Natal Press, 1965.
---
This article is reproduced, with permission, from Dictionary of African Historical Biography, 2nd edition, copyright © 1986, by Mark R. Lipschutz and R. Kent Rasmussen, University of California Press, Berkeley and Los Angeles, California. All rights reserved.