Classic DACB Collection
All articles created or submitted in the first twenty years of the project, from 1995 to 2015.
Colenso, John William (C)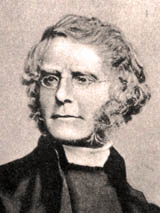 John William Colenso was an Anglican bishop of Natal, South Africa. He was born at St. Austell, Cornwall, England, and was educated at Cambridge. He became a fellow of St. John's College, a master at Harrow School (producing in 1843 a standard textbook of arithmetic), and rector of Forncett St. Mary, Norfolk. His concern for missions led in 1853 to appointment as first bishop of Natal, then a new colony. South African missions invariably found difficulty in reconciling ministry to a growing white population with African missions. Colenso's instincts were missionary. He threw himself into Zulu studies, producing a major grammar and dictionary and much Bible translation, and developed a model mission at Ekukanyeni. He envisioned the gradual Christianization of Zulu society, with Zulu institutions left as far as possible intact and polygamy tolerated in the meantime, a policy which offended the existing missions. Meanwhile, tensions arose between Colenso and the white laity, the white clergy (mainly Tractarian), and Robert Gray, bishop of Cape Town, who claimed metropolitan jurisdiction over Natal. A dispute over eucharistic theology overflowed into charges of serious heresy on publication of Colenso's St. Paul's Epistle to the Romans…Explained from a Missionary Point of View (1861), which offered an objective and universalist view of atonement. Gray brought his accusations before the English bishops, but the universalist issue was soon overshadowed by Colenso's The Pentateuch and Book of Joshua Critically Examined (1862), which applied arithmetical analysis and rationalistic literary criticism to the Old Testament. Most English bishops, and the Convocation of Canterbury, denounced Colenso's opinions. In 1863 Gray summoned him to Cape Town for trial for heresy, and deposed him, allowing appeal to Canterbury. Colenso did not attend, denying Gray's jurisdiction in English law, and appealed, not to Canterbury, but to the Queen in Council. The matter kept him in England for three years, during which he became a national celebrity, excoriated by orthodox churchmen and lauded by scientific and literary figures. In 1865 the Judicial Committee of the Privy Council ruled that Gray had no legal authority to depose Colenso. The judgment did not address the theological issue. Colenso returned as legal bishop but to uproar in his cathedral, war with his clergy, and litigation over diocesan finances. Gray and his confreres eventually secured the consecration of a new bishop, institutionalizing two parallel Anglican churches in Natal. In Colenso's last ten years, his ecclesiastical notoriety faded, but he was marginalized and starved of resources both human and financial. Nevertheless, he became an outstanding spokesman for African rights through a decade of imperial expansion. He defended the Hlubi chief Langalibalele against the colonial authorities, obstructed as far as possible the imperial dismemberment of Zululand, and befriended Zulu king Cetshwayo, viewed as the archenemy of Britain. Such actions cost the popularity with settlers he had gained over his resistance to Gray. After Colenso's death, his daughters, Harriette and Frances, continued his campaign for Zulu rights.
Colenso belonged to no one definable party in Anglicanism. F. D. Maurice influenced him but was shocked by his later rationalism. Colenso's biblical criticism had little permanent influence. Anglican synodical government and the Lambeth conferences of bishops were permanent but unintended outcomes of his career. His early missionary tracts and his linguistic works are monuments of what might have been, had other controversies not distracted him from the issues of the gospel and Zulu culture.
Andrew F. Walls
---
Bibliography
G. W. Cox, The Life of John William Colenso, D.D., Bishop of Natal, 2 vols. (1888); Jeff Guy, The Heretic: A Study of the Life of John William Colenso, 1814-1833 (1983); Peter Hinchliff, John William Colenso, Bishop of Natal (1964), "John William Colenso: A Fresh Appraisal," Journal of Ecclesiastical History 13 (1962), and The Anglican Church in South Africa (1964). Hinchliff is stronger on theological and constitutional issues, Guy on African issues. Some of Colenso's early works are collected in R. Edgecombe, Bringing Forth Light: Five Tracts on Bishop Colenso's Zulu Mission (1982).
---
This article is reproduced, with permission, from Biographical Dictionary of Christian Missions, copyright © 1998, by Gerald H. Anderson, W. B. Eerdmans Publishing Company, Grand Rapids, Michigan. All rights reserved.