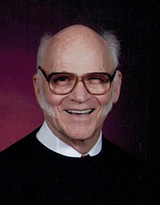 Paul Dayhoff was born on October 8, 1925, in Brackpan, Transvaal, South Africa to Rev. Irvin Earl and Fannie (Longenecker) Dayhoff. Paul grew up in the Transvaal. His parents were missionaries to southern Africa from 1916-1960. Dayhoff attended the University of Witwatersrand in Johannesburg and the Johannesburg College of Education where he majored in History and Sotho, graduating with his BA degree and Teaching Certificate. In September 1945, he was drafted into the United States Army at Accra, Gold Coast Africa (Ghana). He spent twenty months in the army at the end of World War II. In 1948, he enrolled in Asbury Seminary, Wilmore, Kentucky, where he studied for a divinity degree, which he completed in 1951. While there, he met Kathleen Taylor, and they were married in September 1950. Soon afterward, Dayhoff was ordained into ministry by the International Holiness Mission (IHM). Kathleen died in February 1952, less than two years after their marriage.
After completing his degree at Asbury, Dayhoff returned to South Africa alone as a missionary just in time to participate in a service of merger of IHM with the Church of the Nazarene. During this time, he corresponded with Margaret Stark, a woman he had met back in US after Kathleen had died. At the time, she was completing her education. Dayhoff asked her in a letter to marry him, and she agreed. After her college graduation, she boarded a ship and sailed for South Africa, arriving in August 1954. The wedding ceremony took place on September 11, 1954.
Dayhoff loved God and spent his life following God's call and direction. His life was spent teaching high school, Bible college, and degree-granting institutions. He spent several years planting church congregations, building churches and parsonages, and, of course, preaching and teaching every chance he got. Most of his work was done in eswatini and in South Africa, where he helped to found the Nazarene Theological College. In 1980, he earned his ThD degree from the University of South Africa, writing a dissertation entitled "The Message of Holiness of the Church of the Nazarene among the Northern Sotho People."
Dayhoff was a wonderful husband and father, and he loved to fish and play games with his family. He was an avid reader and a lifelong learner who loved to teach. He loved Africa and the African people and spoke several African languages, including Afrikaans, Zulu, and Pedi.
He and Margaret had four children—Paula, Patricia, Elizabeth, and James—eight grandchildren, nine great-grandchildren, and one great-great-grandchild, Aiden Criqui. He was very proud of his family, and his yearly newsletters were full of photos of all three generations. When Margaret died on February 17, 2015, they had been married for over 60 years.
After Dayhoff retired, he began the project of documenting the stories of all the Nazarene missionaries in Africa. Using his many connections from his missionary past, he assembled dozens of biographies in three volumes (unpublished) entitled Living Stones in Africa: Pioneers of the Church of the Nazarene (1999), Africa Nazarene Mosaic: Inspiring Accounts of Living Faith (2002), and Standing Stones of Africa: Pillars of the Faith in the Church of the Nazarene (2004). Some of these stories formed the first body of biographical material for the Dictionary of African Christian Biography DACB.org that first went online in 1998. From 2000 until 2014, he maintained regular email correspondence with Michèle Sigg and the staff of the DACB, to offer corrections, updates, and new biographies. He continued to add and update biographies and photos of these Nazarene pioneers until 2013 and possibly beyond. Overall, he contributed to the DACB more than two hundred biographies of Nazarenes, both foreign and local missionaries in South Africa, Namibia, Mozambique, eswatini, Cape Verde, Zambia, and Malawi.
Dayhoff not only worked to preserve the lives of these African pioneers, but also took care to preserve the thoughts of these evangelists and missionaries in their own words. Many of his biographies include quotations from articles the subject wrote, including pieces from Mutwalisi (or The Herald), the Nazarene magazine published in South Africa, or Africa Calling, published by the International Holiness Mission. Dayhoff's storytelling was simple but highlighted the faith and piety of those he described. Through the provision of small details, such as a person's favorite song or small deeds of compassion, he drew personal and inspiring portraits of these early leaders.
Paul died on April 26, 2020, in Oskaloosa, Iowa.
---
Sources:
Obituary, Bates Funeral Chapel website. https://www.batesfuneralchapel.com/obituaries/Paul-Dayhoff/#!/Obituary. Accessed July 6, 2020.
Cautheon, Hal A. Faculty member, Nazarene Theological College, Muldersdrift, South Africa. Tribute dated April 30, 2020. Bates Funeral Chapel website. David Allen Hubbard Library, Fuller Theological Seminary. Biography attached to finding aid for Papers of Paul S. Dayhoff, 1925-2009. https://digitalcommons.fuller.edu/cgi/viewcontent.cgi?article=1032&context=findingaids.. Accessed July 6, 2020. Sigg, Michèle. Associate Director, Dictionary of African Christian Biography. Email correspondence from 2000 to 2015.
---
This biography, received in 2020, is an adapted and expanded version of the Bates Funeral Chapel obituary from April 2020 by DACB editors.
---
Photo Gallery