Classic DACB Collection
All articles created or submitted in the first twenty years of the project, from 1995 to 2015.
Dibakwane, Jacobus and Leah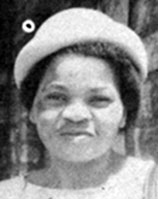 Jacobus Dibakwane was born at Mamelodi near Pretoria in South Africa. When he was twelve his family moved to Hammanskraal and at the age of eighteen he went to work in Pretoria. In 1963, Dibakwane began to attend the Saulsville Church of the Nazarene. There, he became a Christian and within six months believed that God spoke to him about becoming a pastor. In April 1964 he enrolled at the Lula Schmelzenbach Memorial Nazarene Bible College at Arthurseat, Mpumalanga, and completed a three-year course of study to become a pastor.
Leah Dibakwane (1947-) grew up at Craigieburn in Mpumalanga and attended the local Nazarene Sunday School and Church. She is a cousin of Orphina (Moyele) Mahlatji. At the age of eighteen she became a Christian and soon found work at the nearby Arthurseat Mission Station where she worked with two missionary couples during the 1960s, Paul and Margaret Dayhoff and Jackson and Janie Phillips. During this time, Jacobus Dibakwane, one of the Bible College students, came into her life and Leah felt from the depths of her heart that he was the one God had chosen to be her future husband. At the end of his studies, Dibakwane married Leah Batsebanne Mohlabine on February 1, 1967 at Mnombeleni (near Arthurseat).[1]
The young couple began serving a new church at Mohlakeng, Randfontein, West Rand. For almost three years they had an average Sunday School attendance of only about seven. After they had worked there for five years, however, the church began to grow and develop. The Dibakwanes then spent four years pastoring in Bloemfontein, Orange Free State, before accepting a call to the Sweding Church (Mmabatho), Mafikeng, Northwestern Region. There they started with twenty-eight members and after fourteen years the congregation had grown to 170 members.
In 1982, Jacobus and members from the Mafikeng Church were in a very bad car accident on their way to the farewell service for a missionary family at Ganyesa, the Rogers. The van capsized after one of the rear tires was punctured. The passengers of the van had to wait for over an hour before help came. One woman broke both of her legs, one leg broken in three places and the other leg broken in one place, and she had to be hospitalized for three months. Another woman was in hospital for six weeks and received three units of blood. Yet another woman was unconscious for several days and remained in critical condition for an extended period of time. Several others had smaller injuries and six were in the hospital for several days. Everyone was thankful, however, because none of the passengers were killed in the accident and they prayed for the recovery of the injured.[2]
In 1984, Jacobus Dibakwane, in addition to being a pastor, became the superintendent of the Northern Cape District. This meant that he had to supervise churches all the way to Kimberley, 240 kilometers to the southwest of his home in Mafikeng.[3] In 1999 Dibakwane used the film, Jesus, as an evangelistic tool and reported that, "People came to the church while we were preparing for the showing and, using the 'Four Spiritual Laws', we were able to lead many of them to the Lord, even before we showed the film. Twenty new people were saved because of seeing the film, and 150 came to pray for assurance of their salvation."[4]
Soon after Jacobus and Leah became married, clouds of dismay and disappointment began to overshadow their happiness because it seemed that they were unable to have children. They prayed to and believed that God would provide them a miracle claiming the promise: "…with God all things are possible" (Matthew 19:26). God answered their prayers when twin sons, Alfred and George, were born after ten years of marriage. Later another son, Jimmy, came to bless their home.[5] Unfortunately, Alfred drowned tragically on October 22, 1994.
The Dibakwanes enjoyed their partnership in and lifetime of ministry together as they served God both in the pastorate and in the district superintendency. Leah also served as a district president of Nazarene World Mission Society until 1992.[6] In 2002 Jacobus continued to serve as district superintendent of the Northern Cape district from their home in Mmabatho. Eleven years later, he passed away on May 12, 2013.
Paul S. Dayhoff
---
Notes
"Report and photo," Montsoša (May-June 1967): 4.

"Nazarenes Hospitalized," Trans African (July-August 1982): 2.

Jacobus Dibakwane, letter, 22 November 1996.

Jacobus Dibakwane, "Testimonies on the JFP," Trans African 3 (1999): 7.

Carol Zurcher, Memories of Miracles in Africa (Kansas City, MO: Nazarene Publishing House, 1989), 36-37.

Trans African (January-February 1995): 14.
Bibliography
Dibakwane, Jacobus. "Testimonies on the JFP." Trans African 3 (1999): 7.
——–. Letter, 22 November 1996.
Zurcher, Carol. Memories of Miracles in Africa. Kansas City, MO: Nazarene Publishing House, 1999.
"Nazarenes Hospitalized." Trans African (July-August 1982): 2.
"Report and Photo." Montsoša (May-June 1967): 4.
Trans African (January-February 1995): 14.
---
This story, received in 2014, was written by Paul S. Dayhoff, who was the son of Nazarene missionaries in Africa. Dayhoff studied at the University of Witwatersrand (B.A. 1948), Asbury Theological Seminary (B.D. 1951), and the University of South Africa (D.Th. 1980). His D.Th. dissertation was entitled: "The Message of Holiness of the Church of the Nazarene among the Northern Sotho People." Not only has he written numerous books on mission efforts by the Church of the Nazarene in South Africa he also served as a missionary in South Africa.