Classic DACB Collection
All articles created or submitted in the first twenty years of the project, from 1995 to 2015.
Du Toit, Stephanus Jacobus (A)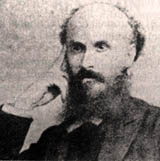 Reverend Stephanus Jacobus Du Toit was an early champion of Afrikaner nationalism and an architect of Dutch Reformed thought on its culture. Born and educated in the western part of the Cape Colony, he was ordained a Dutch Reformed minister in 1875. By this time, the church had enforced segregation upon its congregations for almost 20 years.
Du Toit became prominent both within and outside the church as a writer. He is best known, however, as the founder of a movement to promote recognition of the Afrikaans language, the Society of True Afrikaners. With the young men of his parish, Du Toit attempted to elevate a language scorned by many Afrikaners and forbidden in schools by the British. In 1876 they founded the first Afrikaans newspaper, Die Afrikaanse Patrioot, which Du Toit edited off and on until 1904. To Die Patrioot, Du Toit soon added a children's magazine.
In 1876 he produced a grammar of Afrikaans and a year later wrote a landmark history of South Africa that laid the groundwork for later Afrikaner nationalist historiography. It was also the first book in Afrikaans, a symbol of pride. It set forth a national mythology through which Afrikaners could envision themselves as a distinct people with a common destiny, bonded by the Calvinist ideal of a national calling. It was also the basis for resistance to British cultural imperialism.
Du Toit supported resistance to the British occupation of the Transvaal (1877-1881), and after restoration of the Transvaal Republic, he became superintendent of education (1882-1888). In 1879 he was a founder of the Afrikaner Bond, a nationalist party and the first political party in Cape Province. Du Toit intended it to be a Pan-Afrikaner party and established chapters in the Transvaal and Orange Free State, but it soon became exclusively a Cape party after control passed to its parliamentary leaders. Du Toit was the acknowledged intellectual father of Afrikanerdom but never became a major political leader.
Norbert C. Brockman
---
Bibliography
Lipschutz, Mark R., and R. Kent Rasmussen. Dictionary of African Historical Biography. 2nd edition. Berkeley: University of California Press, 1986.
---
This article is reproduced, with permission, from An African Biographical Dictionary, copyright © 1994, edited by Norbert C. Brockman, Santa Barbara, California. All rights reserved.