Classic DACB Collection
All articles created or submitted in the first twenty years of the project, from 1995 to 2015.
Hlatshwayo, Daniel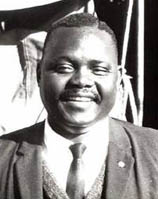 Daniel Hlatshwayo was born at Newington (Mpumalanga lowveld) amidst great spiritual darkness. His father was a traditional doctor and his aunt and maternal grandmother were both famous doctors/diviners. Daniel never knew his father who died in Johannesburg when he was still very young. His grandmother taught him the ways of divination and ancestral worship, and at an early age he was dedicated to the ancestral spirits and prepared to become a doctor.
This troubled him and at the age of fourteen he left home, joined a tribal dance group, and found work in Nelspruit. Back home in 1946 he once attended a singing competition at the nearby Nazarene mission. He heard students singing about the prodigal son, and God touched his heart. He envied those young people who wore proper clothes and attended school. Acquiring a slate he came to school at Bhekani and attended his first service in church that Friday evening. It was a youth service and he heard about the crucified Christ. Daniel Hlatshwayo fell down at his seat and prayed. Jesus visited him and forgave his sins.[1]
He sought to destroy all the traditional worship paraphernalia at home but his grandmother guarded them too carefully. He would not accept food at home for fear it was dedicated to the ancestral spirits or poisoned. Not wanted at home, he went to Johannesburg to work in the gold mines. In 1947, after hearing a message on the Great Commission he felt the call to preach the gospel. Feeling keenly his lack of preparation he told no one and, for several years, he ran from the call.
In 1955 his mother was sick but he refused to send money for her to call a traditional doctor. He said he would send money for her to go to the hospital. She repented when she read his letter.
While working on the railways at Germiston (near Johannesburg) he awoke one night. God spoke to him strongly about preparing to be a minister. Instead of going to work the next morning he locked himself in an empty boxcar and prayed. As he yielded all to God he experienced the fullness of the Holy Spirit. The next morning he gave notice to his foreman and prepared to walk the three hundred miles back home. The foreman advised him to wait until he communicated with the railway headquarters. The response was a gift of money adequate for his railway fare home and food for the journey.[2]
Pastor Thompson Mkhonto, Rev. Enos Mokoena and the missionary, Rev. Elmer "Simboko" F. Schmelzenbach, helped him go to Siteki Bible College in 1956. He and his wife, Elita (1929-), first pastored at Edinburgh and then at Cottondale, Newington and Ludlow.
They suffered great poverty as the people did not support them and the mission subsidy was inadequate. Serving out in the bush country there was no secular employment available. Hlatshwayo wanted to be an evangelist, but at that stage the district could not offer support for a full-time evangelist. Nevertheless Hlatshwayo held many successful evangelistic and revival campaigns.
At Ludlow they were not accepted well due to the failure of the previous pastor. Just two weeks before his ordination in 1965, the Hlatshwayos' five-year-old son was accidentally killed at the community well by a blow from the pump handle which broke his neck. Hlatshwayo's aunt and mother came with money to move them back home. They declined to leave God's work however and were able to move and pastor the Dingliedale Church.[3]
Hlatshwayo became the leader of the Eastern Transvaal Zone.
Stanley Mabunda, growing up near Dingliedale, first met Nazarenes in the Sunday School there. He appreciated the love shown by Pastor Hlatshwayo, unlike any love he had ever experienced. The pastor would give the children sweets, bananas and pretty Christmas cards. Stanley was greatly impressed by the pastor's tears as he preached.[4] Rev. Barnabas Ngomane's wife, Mrs. Nettah Ngomane, once remarked that Daniel Hlatshwayo was the most polite and respectful, according to the Shangaan custom, of any of the pastors.
Rev. Daniel and Mrs. Elita Hlatshwayo pastored the large Thulamahashe Church in 1995. He passed away in 2000.
Paul S. Dayhoff
---
Notes:
Daniel Hlatshwayo, "Testimony", Umphaphamisi(The Herald), Swazi-Zulu magazine of the Church of the Nazarene for eswatini and South Africa, (Florida, Transvaal, South Africa: Nazarene Publishing House, May-June 1963), 9.

G. B. Williamson, Missionary Safari, (Kansas City, MO: Nazarene Publishing House, 1962), 94.

Daniel Hlatshwayo, taped interview, 1972.

Stanley Mabunda, report, Arthurseat Bible College.
---
This article is reproduced, with permission, from Standing Stones of Africa: Pillars of the Faith in the Church of the Nazarene, unpublished, copyright pending, 2004, by Paul S. Dayhoff. All rights reserved.