Classic DACB Collection
All articles created or submitted in the first twenty years of the project, from 1995 to 2015.
Hlatshwayo, Joseph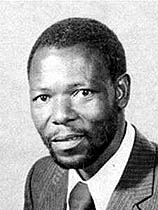 Joseph Hlatshwayo grew up and was educated in Soweto, Johannesburg. In 1971 he was invited by a friend to attend a service at a Church of the Nazarene in Soweto. That is when he found the Lord.
He married Anna Selepe, the daughter of Rev. and Mrs. Alfred Selepe, in 1976. Anna was born at Vosloorus (Boxburg, East Rand). Her parents became Christians when she was very young, and they took her and the other children with them to Bible College. She was converted at the age of twelve while attending Sunday School. Anna began working at the Nazarene Publishing House in Florida in 1975, checking translations and helping with editing.
Joseph and Anna Hlatshwayo felt called to the ministry, enrolled at KwaZulu Nazarene Bible College at Amanzimtoti, Natal, and graduated in 1980.
The Hlatshwayos pastored the Tembisa Church on the East Rand and also did translation and editing work for Africa Nazarene Publications at Africa Regional Headquarters in Florida, West Rand. In addition to his pastoral responsibilities, Hlatshwayo was a radio presenter for the last twenty years of his life. He was well known in parts of South Africa for his Zulu Radio Program, "Siphakamisa uJesu" (We lift up Jesus).
Missionary William H. Wagner spoke of him: "Hlatshwayo is a very quiet person allowing God to speak through him as he ministers to those around him. His sincerity comes through his voice on the radio with a pleasing effect on the ear and soul of the listener. Many have responded to his messages through letters and many listeners are doing the Zulu Basic Bible Studies."[1] Through his ministry, many were delivered from the power of evil spirits and became Christians. [2] The Tembisa church became self-supporting during their ministry there.
Joseph and Anna Hlatshwayo pastored the Nseleni Church near Richards Bay, Natal and Hlatshwayo was ordained by Dr. Charles H. Strickland in 1986. In 1987 he was chosen to be superintendent of the Kwa Zulu North District in northern Natal. He continued to serve in this capacity until 1996 when the Natal districts merged into one multi-ethnic district under superintendent Rev. David Holmes. The Hlatshwayos then began pastoring the Emdeni Church in Soweto.[3]
Rev. Joseph Hlatshwayo passed away on Septembr 11, 2002. Rev Pet Voges, the regional communications coordinator, paid this tribute to Hlatshwayo: "Joseph was a real gentleman with a humble spirit and positive outlook on life…. He will be missed by all of us at World Mission Communication, as well as by his listeners throughout southern Africa."[4]
Paul S. Dayhoff
---
Notes:
William H. Wagner, "Africa Nazarene Radio: Meet Our Speakers," Trans African, (Florida, Gauteng, South Africa: Africa Nazarene Publications, July-August 1985), 3.

Carol Zurcher, Memories of miracles in Africa, (Kansas City, MO: Nazarene Publishing House, 1989), 54-55.

Joseph and Annah Hlatshwayo, letter, August 30, 1996.

Joanie Doerr, Out of Africa, Weekly E-mail news from Africa Region, Church of the Nazarene, (September 18, 2002), 3.
---
This article is reproduced, with permission, from Africa Nazarene Mosaic: Inspiring Accounts of Living Faith, first edition, copyright © 2001, by Paul S. Dayhoff. All rights reserved.