Classic DACB Collection
All articles created or submitted in the first twenty years of the project, from 1995 to 2015.
Kgwadi, Johannes and Maria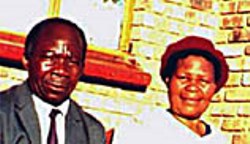 Rev. Johannes Godisamang Kgwadi was a laborer on the farm of Mr. de Kock near Barkly West, Northern Cape Region. He found the Lord through the ministry of Missionary Rev. Chris Coetzer during the 1950s.
In 1965, Kgwadi felt called to be a preacher but he did need some education as he was illiterate. His employer thought he should stay on the farm and be a witness for the Lord and win other laborers. Kgwadi, however, was adamant: "God has called me." A Christian from the area sponsored him to go to LSM Nazarene Bible College in the Northern Province lowveld with his family in 1965.
Missionary Marjorie Peel taught him to read and write. At the end of his first year he earned a prize for being the student that made the most progress. His wife was Mrs. Maria Sadie Kgwadi (1945-2011) and they both graduated in 1968. They were married on October 1962 and were blessed with seven children: two sons and five daughters. The eldest son has gone to be with the Lord.
Maria began to minister along with her husband at the Barkly West Church of the Nazarene and then at Taung. Along with the Lord's work she pursued her studies through ABET and continued at Taung College of Education in1983 to obtain her Primary Teachers Certificate (TTC). Continuing to study through ABET she matriculated and then obtained her University Diploma in Education (UDE) at the University of North West. She served as a teacher at Setshwarapeolo Primary School from 1986 until her retirement in 2010 while continuing to pastor with her husband.
She went to be with the Lord on November 4, 2011 after a short battle with cancer. She is survived by her children, 14 grandchildren and four great grandchildren. "She will be greatly missed and will remain an inspiration…" "I have fought a good fight, I have finished the race, and I have kept the faith. Now there is in store for me the crown of righteousness which the Lord, the righteous judge, will award me on that day and not only me, but also to those who have longed for His appearing (II Timothy 4:7-8)." The burial was at the Mokgareng cemetery. [1]
Johannes and Maria Kgwadi were pioneers of the Church of the Nazarene among the Tswana people. They began pastoring at Barkly West in 1969 and in 1971 they went to start a church at Mokgareng, a rural village near Taung, Northern Cape. There was no Nazarene church in the area. He reports, "God helped us greatly. We started a Sunday school with twenty children. I visited in homesteads and one day met a man that was alone with his family at home. They responded to the gospel message and gave themselves to the Lord Jesus. Evangelistic meetings were held. People came from all sides. They listened to God's word and many repented and were saved. The congregation grew greatly at that time." The Kgwadis lived in a make-shift house until the parsonage and church were built. In 1973 they began building a church building. Kgwadi continued preaching God's word and the congregation grew.
Kgwadi was ordained by Dr. George Coulter in 1975. The Kgwadis started several preaching points including Pudimoe near Vryburg in the Northwestern Region. Missionary Olga Coetzer reported that Johannes Kgwadi was a good pastor and an excellent radio speaker. [2] In 1983 the congregation was able to build a fine new church building.
Paul S. Dayhoff
---
Notes:
1.Obituary sent by Dr. Enoch Litswele.
2.Olga Coetzer, notes.
---
This article is reproduced, with permission, from Africa Nazarene Mosaic: Inspiring Accouts of Living Faith,, First Edition, copyright © 2001, by Paul S. Dayhoff. All rights reserved.