Classic DACB Collection
All articles created or submitted in the first twenty years of the project, from 1995 to 2015.
Khoza, Katrina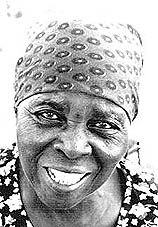 Katrina Jersie Khoza (1914 - 2006) was a pioneer worker of the Church of the Nazarene in South Africa. She was born at Zoeknog in the Eastern Transvaal lowveld (renamed Limpopo Province) near Bushbuckridge in 1914 She was the eldest child of Jotham and Marita Khoza. Although she grew up in a traditional non-Christian home she found the Lord and became a witness.[1]
She completed Standard two (Grade 4) in school and began working at Bethel Nazarene Mission as a teacher in 1933. She then went to teach at Sand River and was the lay pastor of the church there. In recognition of her faithful work, she was invited to help Sister Doris Brown to begin a clinic at Cottondale. At the clinic she worked with Ruth Mbetse, Revs Simon Ndlovu and David B. Jones. David Jones was the pioneer missionary in Africa of the International Holiness Mission and the father of Dr. T. Harold Jones who helped found the Ethel Lucas Memorial Hospital at Acornhoek. In working with sister Brown, Katrina received training and experience in nursing. Cottondale Mission and the hospital at Acornhoek were established by the International Holiness Mission from England which fused with the Church of the Nazarene in 1952.
When the Ethel Lucas Memorial Hospital was opened at Acornhoek in 1936, Katrina joined the staff as a nurse's aid and was the first African to serve on the medical staff. She was greatly concerned for the spiritual welfare of everyone at the institution. She was a woman of earnest prayer and was always ready to carry an extra load or volunteer for overtime duty. When intensive care was needed, Katrina was there to help with it. When the sick desired to see Jesus, Katrina was the one to introduce them to The Great Physician.
A few years later she moved back to Cottondale to help start an orphanage with Missionary Tabitha Evans. She adopted into her own home some of the children being cared for at the orphanage.
After a further period serving at the hospital at Acornhoek, Katrina was asked to go to the Thabeng Mission near Tzaneen about ninety miles to the north. There she worked as nurse's aid and Bible woman with Sister Ruth Matchett and Rev. Abram Maenetja. In 1964 she held a district women's meeting at Thabeng along with Missionary Olga Coetzer. Rev. Abram Maenetsha reported, "The ladies responded to a message by Katrina Khoza that opened their minds and triggered obedience. Every one of the ladies came and prayed fervently at the altar. It was like bees seeking for nectar. They all met with God in a spirit of unity and their testimonies caused the fire of the Holy Spirit to burn fiercely in their midst.[2]"
After a number of years at Thabeng, Katrina returned to the hospital at Acorhoek, which came to be called Tintswalo Hospital, to be matron of the nurses' residence. She was a real mother to the student nurses. She continued in this capacity until her retirement in 1983.
Katrina Khoza was a great Christian example at all times and in every emergency.[3] She lived in retirement at Acornhoek and passed away on December 12, 2006.[4]
Paul S. Dayhoff
---
Notes:
1 H. K. Bedwell, Black Gold: The Story of the International Holiness Mission in South Africa,, (Cape Town: Cape Times Limited, 1936),76.
2.Rev. Abraham Maenetja, "A Women's Meeting," Mutwalisi, (The Herald), Shangaan/Tsonga magazine of the Church of the Nazarene in Mozambique and South Africa, (Florida, Transvaal, South Africa: Nazarene Publishing House, May-June 1965),5.
3.Reginald E Jones, The ELM that grew at Acornhoek: the Story of the Beginning Years of the Ethel Lucas Memorial Hospital,(Kansas City, MO: Nazarene Publishing House, 1975),83.
4."Matimu (obituary) ya Katrina Jersie Khoza" sent by Dr. Enoch Litswele.
---
This article is reproduced, with permission, from Africa Nazarene Mosaic: Inspiring Accounts of Living Faith, first edition, copyright © 2001, by Paul S. Dayhoff, Florida, South Africa: Africa Nazarene Publications, 2002. All rights reserved.