Classic DACB Collection
All articles created or submitted in the first twenty years of the project, from 1995 to 2015.
Litswele, Enoch and Ruth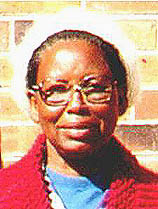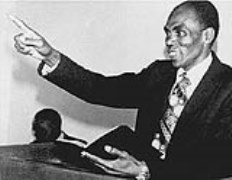 Dr. Enoch Hlupheka and Ruth Litswele served as pioneers in Central Africa and were later officially appointed as missionaries by the General Board of the Church.
Enoch was born at Sabie in Mpumalanga. When he was five years old, his home broke up when his mother passed away. Contrary to custom Rev. Samson Mkabela, the husband of Enoch's paternal aunt, gave him and his brothers a home. As a boy Enoch herded the goats.
It was on Albany farm at Bethel Church that he began to hear of the love of God when he was eight years old. When he was ten he gave his heart to the Lord and found a wonderful peace. Pastor Titus Dlamini prayed with him at the altar.
In 1952 he came to school at Arthurseat. There he found the blessing of entire sanctification after seeking repeatedly. Later, while serving in Malawi, he had this experience confirmed. While in school Enoch had no money for books, and as he was about to leave, Missionary, Rev. D. Herman Spencer "Hlalala (One who shows the way)," [1] gave him work and helped him financially. He asked to do extra work so he would have money for offering at church. [2] Enoch began high school at Arthurseat and wanted to be a teacher.
During vacation periods he would often go out into the bush and pray alone. In answer to his prayer he won a scholarship to continue in school by being at the top of his class. He also won a prize for translating choruses into Zulu. One day in 1954 during a class taught by Miss Ethel Nash (Froneman) God spoke to him about working for Him.
That year he was a student pastor at Edinburgh. He and a teacher from Rhodesia (Zimbabwe), Teacher Buwu, travelled there on bicycles every Sunday. During a preachers' meeting at Lorraine Mission in the Northern Province, the missionary superintendent, William Esselstyn, spoke about the needs of Malawi and showed slides. Litswele strongly felt God was leading him to work in Central Africa. [3]
After high school he completed four years at eswatini Nazarene Bible College at Siteki in eswatini in 1960. That same year he married Miss Ruth Magongo.
Ruth was born at Siteki, eswatini. Her parents were Dabede and Lizzie Magongo. Her mother, Lizzie Magongo, was a very strong and devoted Nazarene Christian. She took her children with her to the Siteki Nazarene Church where Ruth gave her life to Jesus at an early age.
Ruth attended the local Siteki Nazarene Primary school and the Nazarene High school in Manzini. In 1954-55 she was enrolled at the Nazarene Teacher's Training College at Manzini. This was the only Teacher's Training College existing in the Kingdom of eswatini at that time.
After graduating she returned to Siteki and taught at the Nazarene primary school from 1956 though 1960. In addition to her day-school teaching, she was also involved in local and district church activities as Sunday school teacher in her local church and as youth NWMS (now NMI Nazarene Missions International) leader on the district. She visited the local churches on the Siteki zone travelling long distances on foot.
During her last year of training in Manzini Enoch was also there enrolled at the Nazarene High School. After she went home to teach at Siteki in 1956, Enoch enrolled at the Bible school there. After they were married they moved to pastor the church at Bethel, in Mpumalanga, South Africa. Ruth taught at the local Nazarene school there at Bethel.
During the next 44 years (until 2004), Ruth served with her husband in the countries of South Africa, Malawi and Zimbabwe as a teacher in day school and in Bible Colleges. In 1963-64, she taught in the Malawi Nazarene Bible College at Limbe. God blessed the Litsweles with three sons and two twin daughters. Jabulani, Carol, Juliet, Jonathan and Sibusiso. [4]
Enoch Litswele was ordained by Dr G. B. Williamson in 1963. That same year carrying out their call to serve in Central Africa he and Ruth went to Malawi to help pioneer the work there and teach in the Bible College at Limbe. It meant learning the Chewa language. After two years, for health reasons and because of the need in Zimbabwe, they moved to Salisbury (Harare). Here they had to learn the Shona language. Litswele pastored for three years at Mbare Church, Harare, the first Zimbabwean Nazarene church. Due to Ruth not being able to get a passport they had to return home in 1968.
Rev. Litswele was a gifted and powerful preacher. In 1971 he wrote an illustration to explain the experience of entire sanctification. If a dog is given away or sold to a new owner it has to be tied for a considerable time or it will run away and return to its old home. The time comes, however, when it can be loosed and it will stay happily in its new home. The freedom to be a happy and faithful Christian comes through freedom from the desire to return to sin. [5]
Both Enoch and Ruth taught at the Lula Schmelzenbach Memorial Nazarene Bible College at Arthurseat from 1968 to 1688. Rev. Litswele became the Principal in 1975. While there he pastored the Maviljan Church at Bosbokrand. He completed his Bachelor of Theology degree there in 1984.
At Arthurseat the students were once complaining about their food and Enoch Litswele visited the dining hall. A student had a plate of their food dished up and set in front of Litswele. He ate it and said nothing. Shortly afterwards the Litsweles invited the same student to their home for a meal. The food was exactly the same as what the students had to eat. This practical lesson greatly improved the attitude of the students. [6]
Then he went to the USA for his Master of Arts degree in Religion at Bethany Nazarene College in Oklahoma. This he achieved in 1986 with honours.
In 1989 Ruth obtained a South African passport so they returned to Zimbabwe where she taught and Litswele served as Principal of the Bible College. In 1990 as a missionary, he was appointed Mission Director of Zimbabwe. They served from 1992 until 1994, she as teacher and he as the Principal in the Nazarene Theological College of Central Africa (NTCCA) in Malawi. Rev. Litswele was elected in 1995 the Rector of Nazarene Theological College at Muldersdrift (Johannesburg), South Africa. Since 1991 he had been a member of the Regional Advisory Committee.
In 1991 he wrote, "I dream of seeing the African church being self-sustaining - not depending on the General Church for support but learning that God can provide all our needs through our own body - and then reach out to others. I know God can do that." [7]
Missionary Rev. Maurice Hall wrote, "We in Central Africa have been greatly blessed by having workers like Enoch Litswele and Salome Dlamini. We owe much to their work done in Southern and Central Africa across the years." [8] Africa Central Field Director Steve Doerr wrote of Rev. Litswele, "His great integrity and depth of wisdom make him an outstanding leader." [9]
In 1998 Enoch Litswele was honoured by Southern Nazarene University, Bethany, Oklahoma, with a Doctor of Divinity degree. In October 2001 he accepted the position of Assistant to the Regional Director on the Africa Region. Ruth supported him well at the Regional Office.
Their daughter Juliet Jayne Litswele passed away suddenly after a brief illness on 27 April 2004. She had been a school teacher for eleven years after training at Bushbuckridge. About 1,000 people attended the funeral at Arthurseat Mission on Saturday, May 1. Juliet left two daughters, Sharon and Heidi. [10]
In January 2006 the Litsweles retired and moved to their home at Shatale near Bushbuckridge, Eastern Transvaal (Limpopo Region). Soon after that Enoch Litswele was diagnosed as having diabetes and on 4 May 2006 suffered what seemed to be a stroke. He was seriously ill and was taken to various hospitals. He finally underwent a successful operation in Nelspruit on June 5th to remove blood clots from the brain and was back home. He was receiving physical therapy and began improving. [11] He was working on compiling a history of the Church of the Nazarene in Africa and was called frequently to preach.
On 21 October 2010 Ruth Litswele passed away. She had a mild stroke in September and never recovered. It was just 50 days before she and her husband would have celebrated their 50th wedding anniversary on December 10. "She faithfully fought her good fight of faith, finished her race and kept her faith. She blessedly died in the Lord and she is eternally resting from her pain and labours." [12]
Paul S. Dayhoff
---
Notes:
Name given to him at the District Assembly, Tavane, Mozambique in 1972. Mutwalisi, (The Herald), Shangaan/Tsonga magazine of the Church of the Nazarene in Mozambique and South Africa, (Florida, Transvaal, South Africa: Nazarene Publishing HouseMutwalisi, July-September 1971),7.

Mary Meighan, letter, (March 28, 1992).

Enoch Litswele, taped interview, (1972).

Bio-sketch of Ruth Litswele sent by Dr. Enoch Litswele, (December 2004).

E. Litswele, Lebone la Kgalalelo, (The Lamp of Holiness), Pedi/Sotho/Tswana magazine of the Church of the Nazarene in South Africa, (Florida, Transvaal, South Africa: Nazarene Publishing House, October-December 1971),14.

Told by Caleb Mathebula at Nazarene Theological College, Johannesburg, (October 1993).

Enoch Litswele, "Answering the Call",Trans African, (Florida, Gauteng, South Africa: Africa Nazarene Publications, September-October, 1991), Enoch and Ruth Litswele, letter, Honeydew, (20 January 1996).

Maurice Hall, I Sought for a Man: The Story of Nazarene Missions in Central Africa, (Kansas City, MO: Nazarene Publishing House, 1966),68-9.

Steve Doerr, "Report",Trans African, (November-December 1990),3.

Kyle Lauf ,Out of Africa, E-mail News Bulletin, (Florida,1710, South Africa Africa Nazarene Publications, May 4, 04), 2 .

Jonathan Litswele, E-mails to Marilyn Goin, (11 and 13 May 2006). Jabulani Letswele, E-mail, (May 22, 2006). Jonathan, E-mail, (June 13, 2006).

Colile Letwele (granddaughter of Enoch and Ruth Litswele), E-mail message (21 October 2010).
---
This article is reproduced, with permission, from Living Stones In Africa: Pioneers of the Church of the Nazarene, revised edition, copyright © 1999, by Paul S. Dayhoff. All rights reserved.