Classic DACB Collection
All articles created or submitted in the first twenty years of the project, from 1995 to 2015.
Luthuli, Albert John Mvumbi (A)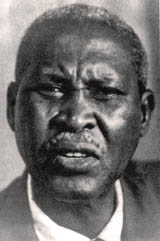 Zulu Christian leader.
Albert Luthuli was born to a Christian family. Groutville, the mission station of the American Board of Commissioners for Foreign Missions (ABCFM), became the family home, and the Groutville Congregational Church the focal point of their life. Luthuli was educated at the ABCFM Adams College, south of Durban, where he became a member of the staff; in 1921 he became the first African to be appointed a teacher-training instructor in South Africa. In 1934 he was appointed a chief and returned to Groutville to serve his people. Elected a deacon of the Groutville church, he also served for a term as chairman of the Bantu Congregational Church (now part of the United Congregational Church of Southern Africa). He became involved in the political struggles of the time, was elected president of the African National Congress (ANC) in 1952, and was banned by the new Afrikaner Nationalist regime. Nevertheless, he led the ANC Defiance Campaign of the late 1950s. Arrested with many others for treason in 1957, he was found not guilty in 1961 but was banished to Groutville. In 1960 he received the Nobel Peace Prize.
John W. de Gruchy
---
Bibliography:
Albert Luthuli, Let My People Go: An autobiography (1962); E. S. Reddy, ed., Luthuli: Speeches of Chief Albert John Luthuli (1991).
---
This article is reproduced, with permission, from Biographical Dictionary of Christian Missions, copyright © 1998, by Gerald H. Anderson, W. B. Eerdmans Publishing Company, Grand Rapids, Michigan. All rights reserved.