Classic DACB Collection
All articles created or submitted in the first twenty years of the project, from 1995 to 2015.
Maake, Charles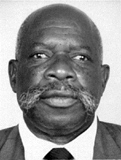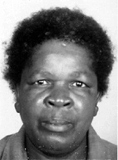 Rev. Charles Maake is from Moime in the Letaba area of Northern Province, and he used to be afraid of the church. In 1956 however he began to realize the great sinfulness of his life. He told the woman he was living with that he wanted to choose Jesus and that he was leaving for Cape Town (about 1,300 miles to the South) to work. She opposed him but he said she could leave him if she so desired. He found work on the railway at Touws River in the Cape along with a friend, Mr. Elias Malatji.
A Dutch Reformed minister advised him to buy a Bible and read it. He did so and God spoke to him. A passage that helped him was Acts 16:30-31, "'Sirs, what must I do to be saved?' They replied, 'Believe in the Lord Jesus, and you will be saved–you and your household.'" Kneeling at his bedside in a railway tent he surrendered to God and repented of his sins. He entered the membership class in the Dutch Reformed Church.
As he read his Bible, a passage that spoke to him was: "If you want to be perfect, go, sell your possessions and give to the poor, and you will have treasure in heaven. Then come, follow me" (Matthew 19:21). Maake felt God speaking to him about many "possessions" in his life, including living with girlfriends, consulting traditional diviners, unchristian dancing, his use of tobacco, liquor and marijuana. The other Christians told him they could not give up such things but that it was up to him if he wanted to do it. He declined to be baptized as he was determined to give them all up before taking that step. When he told his friend about it his friend reprimanded him so Maake decided to leave.
He wrote to Rev. Abram Maenetja and received encouragement. Then he returned home to Moime where the Church of the Nazarene took him in. Through prayer and fasting, trusting in God's Word and placing everything in God's hands, he was able to break all of these old habits and change his life completely. [1]
He married Miss Elizabeth Sebopetsa (1934-) from Ga-Mogoboya. God impressed on Maake a deep concern for his unsaved family. His mother did not respond positively, but Elizabeth came to church. At first she did not like it but she finally found the Lord. She repented, was saved and left her sinful life. Then she went on and found complete cleansing and the infilling of the Holy Spirit. Maake told Rev. Abram Maenetja that he felt God's call and prepared to leave for Bible College.
Meanwhile his sister had returned home. She was a Christian but was opposed to Maake leaving Elizabeth to go away to Bible College. His brother-in-law took him to the Chief's court to stop him from leaving. Maake told the chief, "I am serving God and the nation like you are. I am not fighting against God." The chief agreed with him and ruled in his favor.
He and Elizabeth were both able to go to Siteki, eswatini, to Bible College in 1960 and they completed the three-year course. They were appointed in 1963 to begin work at Letaba Estates. At first they lived in a small, leaky hut. When he began ringing the bell, people shouted and jeered at him saying he was mad. The other churches complained and reported him to the compound manager to answer as to what authority he had to hold services.
Maake produced his Pedi, Tsonga and Zulu Bibles and told him, "I preach the Bible." The manager was also conversant with several languages and was impressed. Maake was permitted to continue. They started services with children but God helped them to also win adults for the Lord. Elias Maeko and Daniel Mongwe felt their call to preach during Maake's ministry there. In 1968 the mission helped to build a fine permanent church building at Letaba Estates.
In 1964 the Maakes planted the church at Nkowankowa (Tzaneen) and they also served this congregation. Mrs. Nellie Mothunywa found the Lord at Nkowankowa during their ministry and became a leading Christian. The Maakes pastored at Ramokako from 1974 to 1984 and the Lenyenye (Tzaneen) church from 1984. These were all in the Tzaneen-Letaba area. Both Rev. Abram Maenetja and Rev. Dalton Maenetja helped and encouraged the Maakes greatly during their years of ministry.
On September 3, 1963, Charles Maake wrote thanking the Lord for saving him from sin and giving him the Holy Spirit to enable him to witness to people. He was thankful that God had called him to minister in order that people might repent and be fully sanctified so as to have courage like the Apostle Peter on the Day of Pentecost. He continued by saying that God spoke to him in his heart night and day that all in the church should find this power of the Holy Spirit. [2]
Maake was ordained in 1967 by General Superintendent Hugh C. Benner. Charles Maake knew the secret of fervent and effective prayer. In 1972 he wrote: "Prayer is as vitally necessary in our land and homes as is water….We need to pray for our non-Christian, traditional neighbors. We need to pray for our chiefs to repent so that their people will repent. We need to pray for our Christian leaders and all believers so that we will humbly and joyfully be known as Christians." [3]
Elizabeth proved to be a great help in pastoral work. They had four sons and three daughters. Maake thanked God for the gift of a wonderful wife. She was a woman of prayer. She was a great help to the women in the congregations they served. When he was away holding revival meetings, she would pastor the church. She faithfully persevered during times of sickness and was willing to trust the Lord in times of poverty when they received very poor support. She never urged him to go out and find other work. In 1983 she was asked to pastor the Ramalema church and still continued serving it in 2000.
She was a great help in bringing up the children well and leading them to know the living God. She helped them to persevere in school and not drop out as many others did. In summary Maake said of Elizabeth, "Throughout her life she has put God first."[4]
Maake was greatly used by the Lord as an evangelist and he held many evangelistic and revival campaigns in Venda, North West Province, Blouberg, and southeastern Northern Province areas. At Edinburgh (Eastern District, Northern Province), Elmon Makhubela heard God's call to the ministry in one of Maake's meetings. Rev. Charles Maake had to retire in 1993 due to poor health. The Maakes continued to reside at Lenyenye in 2000. [5]
He passed away on February 24, 2012 at the Tzaneen Medi-clinic Private Hospital from difficulty in breathing and heart failure. "Rev. Maake served and pleased his Master. He ran his race and he has finished running. He is ready for his crown." [6]
Paul Dayhoff
---
Notes:
Charles Maake, "My Testimony", Montsoša-Bošego (The Herald), Pedi/Sotho magazine of the Church of the Nazarene in South Africa, (Florida, Transvaal, South Africa: Nazarene Publishing House, November-December 1961, 8.

Montsoša-Bošego, January-February 1963, 6.

Lebone la Kgalalelo, (The Lamp of Holiness), Pedi/Sotho/Tswana magazine of the Church of the Nazarene in South Africa, (Florida, Transvaal, South Africa: Nazarene Publishing House, April-June 1972, 3.

Rev. Charles and Mrs. Elizabeth Maake, report in letter, March 2000.

Charles Maake, taped interview by Calvin Maenetja, August 1993. Charles and Elizabeth Maake, letter, Lenyenye, April 15, 1995.

His son Mr. Jerry Maake, the family, children and grandchilddren, e-mail, February 25, 2012.
---
This article is reproduced, with permission, from Living Stones In Africa: Pioneers of the Church of the Nazarene, revised edition, copyright © 1999, by Paul S. Dayhoff. All rights reserved.