Classic DACB Collection
All articles created or submitted in the first twenty years of the project, from 1995 to 2015.
Maenetsha, Abram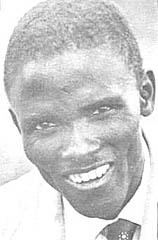 M. Abram Maenetsha was a nephew of Josefa Maenetja and grew up in his home. He completed high school and found the Lord. While teaching in mission schools God spoke to him about the ministry.
He was reading a Gospel of John given him by his uncle, Pastor Josefa Maenetja, when he responded to this call. He enrolled at the International Holiness Mission Bible College at Rehoboth (near Johannesburg) and graduated in 1952.[1] He and his wife, Mrs. Maria (Mogale) Maenetsha (1930-), pastored the Moime Church and Abram Maenetsha also taught in the school there.
Ordained in 1963, Maenetja was teaching at the Arthurseat Bible College at Mohlatsweng (Mnombeleni, Acornhoek) when elected to be the first superintendent of the Northeastern District in 1974.[2] He was greatly concerned that the churches and the district become self-supporting as quickly as possible. In 1964, while on the Bible College faculty, Abram Maenetsha wrote the following poem:[3]
SE BOIFE FEAR NOT

"Se boife gobane ke go lopolotše, "Fear not for I have redeemed you,

Se boife gobane ke go biditše, Fear not for I have called you,

Ke go biditše ka leina la gago; I have called you by your name;

Se boife gobane ke wena wa ka bjale." Fear not for you are now mine."

Se boife wena, mohlanka wa Morena, Do not fear, servant of the Lord,

Ke wena mošomi tšhemong ya Morena; You are a worker in the Lord's field;

Le ge go ka ba le meutlwa tšhemong, Even though there may be thorns in the field,

Le ge go ka ba le mafsika tšhemong, Even though there may be stones in the field,

Se boife, mohlanka wa Morena. Fear not, servant of the Lord.

Morena o tshepišitše go kwetše, The Lord has promised, He feels for you,

Se tšhoge selo gobane o boletše, Do not be frightened by anything for he has spoken,

Ga a bololle go ema go le bjalo, He never fails to be faithful,

A re, "Se boife", gobane a go lopolotše. He said, "Fear not", because He has redeemed you.

"Le ge o ka tsena gare ga meetse, "Even though you may enter into watery depths,

Le ge o ka sela dinoka le dinokana, Even though you may cross rivers and streams,

Le ge o ka phatša mello le mellwana, Even though you may go through fires large and small

Ke nna Mophološi wa gago ka mehla." I am always your Saviour."

Boemo bja kereke ya gago bo ka ba thata, The situation of your church may be difficult.

Go bjalo! Go bjalo! Mohlanka wa Morena, Even so! Even so! Servant of the Lord,

Morena wa gago o fela a re: Your Lord continues to say:

"Se boife, nna ke na le wena." "Fear not for I am with you."
Abram Maenetsha strongly opposed the traditional initiation schools in the area. Besides learning discipline and social customs, the young people were taught non Christian traditions and worship. Boys often died of sickness and exposure. He persuaded the local authorities to exempt Christian boys from these schools held in the bush and to allow them to go to the Acornhoek Mission Hospital for circumcision. Through his influence his cousin's son, Calvin Maenetja, decided not to enter the initiation school.
In 1971 Abram Maenetsha wrote, "Long ago we believed our traditional doctors. We believed that the badimo, or people that have died, have a relationship with us. Today we believe and see with our eyes that such beliefs have no value in human society. As Christians we reject them."[4]
In 1981 Maenetsha rejoined the faculty of the Bible College. He pastored the Craigieburn and later the Brooklyn churches while teaching in the college. Abram Maenetsha was a fine example to the college students and was of special help to them in dealing with problems arising from African traditions. In 1989 he became principal of the L. S. M. Nazarene Theological College at Arthurseat. After the college merged into the Nazarene Theological College, Johannesburg, in 1990, Rev. Abram and Mrs. Maria Maenetsha returned home to Moime where they continued to pastor. Maenetsha retired in 1992 and remained an active member of the Lenyenye Church of the Nazarene. He passed away on March 9, 2003. In Out of Africa, a weekly E-mail newsletter, Joanie Doerr wrote "Africa Region salutes Rev. Abram Maenetsha, a great pioneer of the faith!"[5]
Paul S. Dayhoff
---
Notes:
H. Friberg, 1982,Like a river flowing: The Church of the Nazarene in Africa and the Republic of Cape Verde, (Kansas City, MO: Nazarene Publishing House, 1982), 20.

Lebone la Kgalalelo,(The Lamp of Holiness), Pedi/Sotho/Tswana magazine of the Church of the Nazarene in South Africa, (Florida, Transvaal, South Africa: Nazarene Publishing House, October-December 1975), 3.

Lebone, (May-June 1965), 12.

A. Maenetja, "Circumcision," Lebone, October-December 1971, p. 3.

Joanie Doerr, Out of Africa, Weekly E-mail newsletter from Africa Region, No. 13 (March 19, 2003).
---
This article is reproduced, with permission, from Living Stones In Africa: Pioneers of the Church of the Nazarene, revised edition, copyright © 1999, by Paul S. Dayhoff. All rights reserved.