Classic DACB Collection
All articles created or submitted in the first twenty years of the project, from 1995 to 2015.
Malan, Daniel François (A)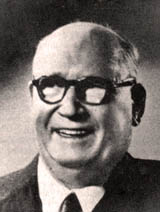 South African clergyman and politician who strongly believed in Afrikaner nationalism and apartheid.
Daniel François Malan was born on 22 May 1874 at Riebeeck, West Cape Province, South Africa. He was educated locally, after which he attended the Victoria College in Stellenbosch where he passed his matriculation examinations. In 1901 he travelled to Holland to study at the University of Utrecht, graduating four years later.
On his return to South Africa he became a preacher in the Nederduitse Gereformeerde Kerk (NGK) (Dutch Reformed Church). He remained in this position for several years during which time he travelled extensively, preaching to NGK congregations in Southern Rhodesia (now Zimbabwe) and the Belgian Congo (now the Democratic Republic of the Congo) as well as in South Africa.
His interest in politics developed against a background of Afrikaner identity. He became a member of the National Party in 1915 and was appointed the editor of Die Burger, a newspaper published by Afrikaner nationalists in Cape Town who were opposed to the government fighting on the side of Britain during World War 1. He was later elected chairman of the Cape Province branch of the National Party, and although he was defeated in the 1915 parliamentary elections, he was offered a seat when a successful candidate stepped down in his favour.
By the end of the First World War support for the National Party was growing, partly owing to the government's unpopular handing of a miners' strike in 1922. In the 1924 elections the nationalists gained a majority of the parliamentary seats and Malan became minister of the Interior, Education and Public Health in the new government.
He began to introduce proposals to realize his nationalist beliefs and ideals. He amended the 1911 South Africa Act to include a clause which stated that the people of the Union of South Africa "recognized the sovereignty and guidance of God," reflecting his own deep religious beliefs, while also altering the electoral laws and making Afrikaans the official language of South Africa. He introduced a law, which demanded that during parliamentary elections, all newspaper articles seeking to influence opinions must bear the name and address of the writer.
In 1926 he married Martha Margaretha Elizabeth van Tonder, née Zandberg, with whom he had two sons before her death four years later. Meanwhile, the National Party had been successful in the 1929 elections and Malan continued to hold his ministerial position. However, the Wall Street crash of 1929 and the ensuing world economic recession, combined with drought, had an adverse effect on the South African economy.
In 1933 the National and South African Parties formed a coalition government. Malan, although remaining in the government, did not approve of this coalition as he disagreed with the South African Party's policies.
The following year the South African Party and National Party merged into the United South African National Party. Malan, objecting to the merger, kept the National Party alive, supported by 19 other members of parliament who shared his views on Afrikaner nationalism, the necessity of racial segregation and the eventual establishment of an Afrikaner Republic of South Africa. Although the United South African National Party retained white popular support, the National Party's capture of an extra seven seats in the elections showed that the latter was gaining more white support. During this period Malan married Mana Ann Sophia Louw, and later adopted a daughter.
At the outbreak of the Second World War in September 1939 the internal political differences increased with many dissident nationalists from the United Party joining Malan to form the Herenigde Nasionale Party (Re-united National Party). Malan's party, in the meantime, increased the number of seats it held in the parliament to 43 in the 1943 elections.
In the post war period, tensions between the various races in the country increased. Malan and his supporters advocated the introduction of apartheid under which the political, cultural, and social development of all the races would be subordinated to white supremacy. By the time of the 1948 elections the two Afrikaner nationalist parties had overcome their differences and agreed to work together. Supporters for Afrikaner nationalism among the white population had grown to the extent that the two nationalist parties managed to gain an overall majority in parliament, with Malan becoming prime minister.
In this position he began to implement his nationalist and apartheid policies. So as to overcome the remaining elements of British imperialism in the country, Union nationals became South African citizens instead of British subjects in 1949 and the following year the British Privy Council was removed as the highest court of appeal. Also in 1949 he moved to link Namibia (South West Africa)and members of parliament representing Namibia, all of whom belonged to the Herenigde Nasionale Party, joined the South African Assembly in 1950. The following year the two Afrikaner parties merged into the National Party and won the 1953 elections with an increased majority. The implementation of the government's policy of apartheid in 1950 saw the endorsement of residential segregation, the prohibition of sexual relations and marriage between people of different races, and the classification of all adults by race in the new popular register. In 1950 Malan appointed Dr. Hendrik Verwoerd as minister of Native Affairs, in which position he became the architect of apartheid. Malan also feared "communist" influence and sponsored the enactment of the Suppression of Communism Act in 1950. Three years later the Criminal Law Amendment Act was passed under which a state of emergency could be called at any time if the government thought the situation so required.
Malan saw the emergence of African states as a threat to the white race and proposed that European colonizers should ensure that Africa developed as part of Western Christian civilization. He justified the apartheid policy using the argument that African people were backward and their development needed to be supervised by the white race.
After a long political career during which he had remained constantly committed to the objectives of Afrikaner nationalism, Malan retired from his position as prime minister in 1954 at the age of 80. He died five years later on 7 February 1959, at Stellenbosch.
---
Sources Consulted Include:
Africa Year Book and Who's Who (London: Africa Journal, 1977).

Africa Today, first edition, (Denver, CO : Africa Today Associates, 1981).

Africa Who's Who, first edition, 1981.

Africa Who's Who, second edition, 1991 (published by Africa Books Ltd., U.K).

Ralph Ewechue (ed.), Makers of Modern Africa, 2nd edition (London: Africa Books, 1991).

Daily Times of Nigeria (Lagos).

Nigeria Year Book, 1974, 1975, 1976-1978, 1979, 1980 (Lagos : Nigerian Printing & Publishing Co.).

S. Decalo, Historical Dictionary of Togo, 3rd ed., (London : Scarecrow Press, 1996).

Ralph Uweche, Africa Who's Who, 1991 (Lagos, Nigeria: Africa Book Ltd.).

J. C. Choate, The Voice of Truth International, 1991, Vol. 21 (U.S.A.)

E. EL Hadj-Omar, Who's Who In Africa Dictionary.

In the Land of the Pharaohs- An introduction to a 1968 case study by Khalil Mahmud, 2nd ed., (London : Cass, 1968).

L. H. Ofosu-Appiah, Dictionary of African Biography, volume on Ghana & Ethiopia, volume on Sierra Leone & Zaire, (New York : Reference Publications, 1977-).

Cyril P. Foray, Historical Dictionary of Sierra Leone (London : Scarecrow Press, 1977).

Gailey H. A., A History of Sierra Leone.

I. Geiss, The Pan-African Movement (London : Methuen, 1974).

L. C. Gwan, Great Nigerians.

E. Kay (ed.), Dictionary of African Biography (London : Melrose Press, 1971-1972).

Pan-Vegio Patriot Macdonald- H. Edward Wilmot

R. K. Rasmussen, Historical Dictionary of Rhodesia Zimbabwe (London : Scarecrow Press, 1979).

E. Rosenthal, Encyclopaedia of South Africa, 7th ed., (Cape Town : Juta, 1978).

S. Ramgoolam, Seychelles Government Annual Reports.

S. Taylor (ed.), *The New Africans * (London : Paul Hamlyn, 1967).

V. Thompson and R. Adlof, Historical Dictionary of Congo (London : Scarecrow Press, 1996).

Times Newspapers Ltd; Obituaries from the Times (Volume 1, 1961-1970; Vol.2, 1971- 1975)

P. J. Vatikiotis, The History of Egypt, 3rd ed., (London : Weidenfeld and Nicolson, 1985, c1969).

H. Zell and H. Silver (eds.), A Reader's Guide to African Literature (London : Heinemann, 1972).

H. Zell, C. H. Bundy and V. Coulon (eds.), A New Reader's Guide to African Literature, rev. ed., (London : Heinemann, 1983).
ARTICLES IN LEARNED JOURNALS
Journal of the Historical Society of Nigeria (Ibadan : Ibadan University Press): Vol. V Nos. 2 & 3, 1970, (Adeleye, R. A.).

Journal of the Historical Society of Nigeria (Ibadan : Ibadan University Press): Vol. VI Nos. 204, 1969, (Ekejiuba, F.).

Journal of the Historical Society of Nigeria, "A Biographical Sketch," (Omu Okwei), (Ibadan : Ibadan University Press): Vol. III No 4, 1967.

Journal of African History, (London : Cambridge University Press): Vol. V No 3, 194 (Hopkins A. G.).
PERIODICALS AND NEWSPAPERS CONSULTED
Africa (Tunis : Ministère des Affaires Culturelles et de l'Information, 1971 ff).

Africa Diary (Delhi : Africa Publications (India), 1961 ff).

Africa Research Bulletin (Africa Research Ltd), (Oxford : Blackwell, 1964 ff).

Ambassador International (Vol 211; 1985).

Commonwealth Currents (1978).

Guardian (London, s.n.).

Independent (London, s.n.).

The Times (London).

West Africa (London : West Africa Publishing, 1917).
---