Classic DACB Collection
All articles created or submitted in the first twenty years of the project, from 1995 to 2015.
Malomane, Willias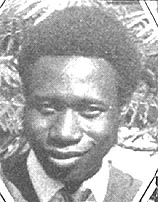 Rev. Willie Willias Malomane was born at Rasmeer (between Gardees and Bushbuckridge in the Southern Lowveld of the Limpopo Province of South Africa.) on November 23, 1952. He began his schooling at Masana where he passed Standard Six. Willias enrolled in the L.S.M Theological College at Arthurseat in 1974 and graduated with his diploma in 1976.
In 1977 Malomane began his ministry at the Marite Church of the Nazarene (near Hazyview), one of the larger congregations on the district. One of the strengths of his pastorate was his ability to enlist and encourage the participation of strong laypersons in the development of the church.
On December 16, 1978 he and Pastor Rosina Malomane were married. They were blessed with four children, two sons and two daughters.
They successfully pastored the Marite Church for 33 years and planted four other churches: Dwarsloop, Arthurseat, Tsakane and Dwalalokuphila.
In 2008, Rev. Malomane began suffering from hypertension and met his untimely death on the way to Mapulaneng Hospital on March 13, 2010. He was survived by his wife, Rosina, two sons, one daughter, one brother and two sisters.
At the funeral Rev. Dr. Enoch Litswele gave the message and also brought tributes from missionaries Paul Dayhoff and Elizabeth Fullom.
Paul S. Dayhoff
---
Notes:
Obituary sent by Rev. Dr. Enoch Litswele, April, 2010.
---
This article is reproduced, with permission, from Standing Stones of Africa: Pillars of the Faith in the Church of the Nazarene,First Edition 2006, copyright 2006, by Paul S. Dayhoff. All rights reserved.