Classic DACB Collection
All articles created or submitted in the first twenty years of the project, from 1995 to 2015.
Marais, Christopher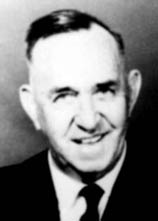 Mr. Christopher Johannes Francis D. Marais (1898-1987) was a pioneer member of the Central District. Nicknamed Stollie, he grew up on a farm called Suurfontein on the border of a Xhosa homeland in the Eastern Cape. Two of his uncles fought against the British in the Boer War. One battle was so close that bullets struck the roof of their home. His father's first wife passed away leaving five children and, as Stollie's mother, Jeanette, had ten children, there were fifteen in the family.
Farming was hard work. Breaking wild horses, cutting wheat with a sickle, shearing sheep, milking cows, building fences, winnowing grain, and driving teams of fourteen mules were some of the tasks. One afternoon Stollie was sent to find some stray mules. After a halfhearted search, he returned at dusk to say he could not find them. His father replied, "The mules have not evaporated. Saddle a fresh horse, and look until you find them." This time he sought diligently and he had the mules back by midnight.
Life was not all work. Sometimes they would play with the Xhosa boys. At the swimming hole, they would often take off their clothing and play an old African game. Each boy would cut a kleilat or flexible cane. A ball of clay pressed onto one end would be flung at high speed toward another boy. When it hit the bare skin it would sting like a hot coal and raise a welt.
He did not start school until he was ten and then walked three miles over stony hills to a country schoolhouse. The family was faithful to the Dutch Reformed Church and each evening at home there was prayer and Bible reading. He grew up with the tradition of long sermons, strict discipline and hard work.
When he was fifteen he raised his hand showing his desire to accept Christ. The minister did not explain what it meant to accept Christ so there was no change in his life. This experience only turned him against the church. At the age of twenty-two, he completed the catechism course and joined the church but continued in his sinful life. He wanted to be a minister but there was no money for such an education.
He did however become a very successful teacher. He loved sports, especially track, rugby, and table tennis. He became assistant to a godly high school principal, Mr. Carl Marais, who led him to the Lord and into the experience of entire sanctification. Stollie had a lot of restitution to make. He married Miss Thalitha Marais (?-1993), the daughter of Carl Marais. As a teacher Stollie had a wonderfully successful ministry for the Lord throughout his life.
He graduated from Potchefstroom Teachers' Training College and began teaching there in 1945. There he was unwilling to join either of the two Dutch Reformed churches because membership depended on a person's political leanings. The Marais joined the New Protestant Church but were not happy because of the dissension among the leaders.
Rev. Chris Botha assisted with the second tent campaign held by the Church of the Nazarene in Potchefstroom in 1949. Deeply suspicious of new churches, Stollie Marais did not attend the meetings. Thalitha however had a rooming house where the Nazarene Superintendent, Rev. Charles H. Strickland, found a place to stay. He invited the Marais' daughter to come and sing in a service as she had a good voice. They had to take her as it was too far to walk. It took only one service to convince Stollie Marais that this was his church. They became charter members of the Potchefstroom congregation.
Stollie Marais struggled with two serious problems in regards to his newly chosen church. First, this was a foreign rather than a South African denomination. Second, this church was committed to ministering to people of all ethnic groups. The Lord helped him to overcome these problems and he became a pillar of strength both in the local church and in the district. At his school, he encountered great opposition from the school board because he had joined the Nazarenes and he had to find another teaching post.
Their second daughter, Jan Marais, had been an invalid for nine years, unable to feed herself because her hand was paralyzed. She suffered from a neurological disease similar to chorea and medical specialists could not help her. She was fifteen when the new church building at Potchefstroom was dedicated in 1951. Among the visitors was a South African minister, Rev. Pienaar, who stayed with the Marais for the occasion. After explaining to Jan about faith in God, he anointed her and prayed for her healing. Jan also prayed, thanking God for healing her. Then with sparkling eyes, she declared that God had healed her.
That was Monday and through the rest of the week there was no change in her condition. On Friday evening they took her to an old saint, Oom (Uncle) Frans, to be prayed for. Jan told him, "I will not allow you to pray for me, because I am healed. Jesus has already done the work." They all knelt and followed her in thanking God again for her healing. The following Monday morning while the family was at breakfast, Jan came running from her bedroom still in her nightgown shouting, "Mother! Look! I am healed! Watch!" With her right hand, that had been totally paralyzed for three years, she wrote her name. Thorough examination showed that the disease was completely gone with no residual evidence. She has never had a relapse.
In 1965 Oom Stollie retired at sixty-seven years of age. His ever-increasing concern was to become involved in Christian witness to African people. He went to teach at Orhovelani High School at Thulamahashe fifteen miles east of the Arthurseat Mission in the south east part of Northern Province. They lived in the old mission home at Cottondale that lacked modern plumbing and electricity. He taught Bible, English and Afrikaans, and got up at two o'clock every morning to correct the many essays he gave the students to write. As a result of such dedication, his classes always achieved spectacular pass rates in the public matriculation examinations.
According to government policy the door was wide open for Christian witness. Oom Stollie was in charge of Sunday services for the boarding students. At school there were ten minutes of prayer each morning before classes. Bible study was part of the curriculum. Many students found the Lord through his ministry, both public and personal, during the eight years that he taught there. Students started a volunteer prayer meeting during their twenty minute mid-morning break.
Through Oom Stollie's ministry at the Cottondale Church, Willie Nkuna found the Lord. Oom Stollie asked the Lord to help him find opportunity to witness to at least one person each day.[1] When greeted, he always responded with the cheery and happy reply, "Dit gaan blikkies! (It goes great!)."
They retired to a home at Warmbaths north of Pretoria in the Northern Province. Oom Stollie placed a notice in a public place directing people to their home for personal counseling. He carried on a great ministry of prayer and correspondence. Always friendly and cheerful he had an encouraging word for everyone on all occasions. Children and young people loved him because he always joked with them.
Even in his nineties he never missed a prayer meeting or Sunday service.[2] While in hospital in Johannesburg shortly before he went to be with his Lord, he said to a nurse, "Sister, be careful with the blood you draw from me. It's blue blood. I'm a king's son." Pastor Kobie Vlok was with him during his last moments. Oom Stollie asked him to read a passage of Scripture and then pray and ask the Lord to strengthen Tannie (Talitha). He passed away in absolute peace.[3]
Paul S. Dayhoff
---
Notes:
H. Hamlin, 1974, The Crack in the Wall: Vignettes of Two South African Nazarenes Who Typify the Emerging National Church. (Kansas City, MO: Nazarene Publishing House, 1974.), part 1.

Trans African,(Florida, Transvaal, South Africa: Africa Nazarene Publications, May-June 1988), p. 2.

Frans Erasmus, term paper for Lecturer Lorraine Booyens, Vanderbijlpark Satellite Bible College, 1991, using interviews with Rev. Louis Kriel, Rev. Jan Pater, Rev. G. S. Voges, and Rev. Kobie Vlok.
---
This article is reproduced, with permission, from Living Stones In Africa: Pioneers of the Church of the Nazarene, revised edition, copyright © 1999, by Paul S. Dayhoff. All rights reserved.