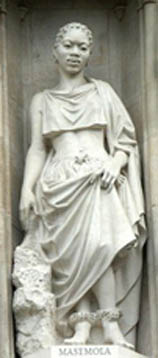 "Missionary records, although prejudiced against Pedi society and customs, and shaped by piety, give her (Manche Masemola [1]) a name and preserve details of the life of a young woman who would not normally have received much recognition in either Pedi society or the Christian church." [2]
Manche Masemola, a teenage convert in the Anglican Church in Ga-Marishane, Sekhukhuneland, came to be known after she died in 1928. Manche Masemola was thus popularized by her death, one that local Anglicans came to recognize as the death of a martyr.[3] In the view of Mandy Goedhals, most of what is known about Manche Masemola can be found in missionary records. Her narrative is shaped more by Christian hagiography than by actual history.
As the Pedi people in Sekhukhuneland, the home region of Manche Masemola, were generally negative and resistant to the British Anglican missionaries, the missionaries' attitudes to the Sekhukhuneland Pedi people left much to be desired. Does it occasion any wonder that they paid only sporadic visits to Anglicans in Sekhukhuneland? [4] On account of the harsh climate as well as the unwelcoming people, white clergy became reluctant to settle in Sekhukhuneland.[5]
An African priest by the name of Augustine Moeka founded a school and St. Peter's Church at Marishane. The chief at gaMarishane, albeit willing to accept the missionaries, was never baptized. Other developments in the neighborhood included the establishment of a mission center and a hospital in Jane Furse. Jane Furse was 16 km from Marishane.[6] One missionary regarded the preceding two entities as two tiny Christian "oases in a great desert."[7] In Goedhals' view, the quoted phrase is key to our understanding of the early life of Manche Masemola. These details have more in common with hagiography than history and "bear some of the crude and uncritical characteristics often associated with missionary writings."[8]
There were two assumptions running through the missionary accounts of her life and death. First, the narratives ignored Pedi history, regarded their political and social structures as hostile to the growth of Christianity, and rejected Pedi culture while the benevolence of western rule was taken for granted. Also, conversion to Christianity was usually equated with the adoption of western norms and standards by local people. Second, the Sekhukhuneland missionaries identified strongly with the legacy of the early church that endured fierce and prolonged persecution. According to Goedhals, "The result of these two tendencies is that Manche, stripped of the cultural context and worldview in which she was brought up, is presented as a stereotype of the faithful Christian who is courageous in the face of persecution and obedient unto death."[9] She was thus used by the missionaries to represent an ideal rather than respected as a person holistically.
Tracing the Origins of Her Story
Father Augustine Moeka collected the first accounts of Manche Masemole's story. When the news of Manche's death was brought to the church, Moeka was not in the village. Upon his return to the village, Moeka sought recollections of the conversations with Manche in his attempt at making connections.
Moeka's notes shed considerable light on the events leading up to her death. During the missionary period, in any community whose people resisted Christianity, the period for baptism was usually prolonged. Moeka came to know Manche when she attended the hearers' classes. By the middle of 1927, Manche was a catechumen, which meant that she was being formally prepared for baptism. Given the general hostile attitude of parents—that is, the elders and custodians of Pedi customs and culture—it was quite common for young women to experience parental anger around Christian rituals, especially if they were viewed as threats to the traditional ones. Being aware of the dilemma the young women faced, Moeka told those who were being subjected to various degrees of corporal punishment to respect the authority of their parents and not defy them. Manche is purported to have replied as follows: "I am sorry, but from now on, I am going to stand by myself." And again, "If they cut off my head, I will never leave my faith."[10] She was warned that it would take some time before she could undergo baptism. She responded, "I may be baptized with a better baptism."[11]
The plan in place was that Manche would be baptized just before Easter in the year 1928. Moeka proposed to the young women that they retain their traditional dress after their baptism but they rejected this idea. However, Manche subsequently told him that she regretted the communal rejection of his proposal. Particularly in the context of her later death as a martyr, it is not clear why Manche would have reacted as she did. Shortly before her death, Moeka reported that she predicted: "I shall be baptized with my own blood."[12] When asked if she was afraid to die for her faith, her response was, "Never."[13]
The earliest written record that mentions Manche Masemola was by Mrs. Moffat, wife of missionary Robert Moffat. Some have attributed Manche's death to illness because many people fell ill during the rainy season. But if this claim is true, it is unclear why it is ignored by many reporters. Second, Manche's time of trial was short while other accounts, including Moeka's, feature prolonged persecution. Mrs. Moffat claimed that Manche laughed as she was beaten to death asking why the death of a young native catechumen should be chronicled. It is clear that Moffat's report was deliberately prepared to support the claim that Manche died as a martyr rather than to foreground the value of human life.
By November of 1928, the cause of Manche as a martyr was well established. Records indicated that at Easter of 1929, there was a pilgrimage to Manche's grave and that on the gravestone were inscribed the words, "The noble army of martyrs praise thee." In reality though, a tablet with the preceding words was only erected in 1949. The preceding report, written by a woman, seemed geared at proving a specific point rather than respecting the integrity of Manche Masemola's humanity. Therefore it is no surprise that there was an appeal at the end of the article for donations to build a permanent church in Manche's village, that is gaMarishane.
The last report that provides a window into the life of Manche before her death is provided by Lucia, her cousin who, due to her status as an orphan, stayed with Manche and her three siblings. The report, translated by Moeka, was given to Wilfred Parker, the bishop of Pretoria, in Jane Furse in 1937.
Lucia was attending the hearers' class with Manche. She also witnessed Manche's beatings before her death. When Manche was 13, the young girls had heard Father Moeka preach at St. Peters Church at gaMarishane. Manche then became interested and asked permission to attend the hearers' classes.[14] Although her parents allowed her to attend the classes, they wanted her to attend the initiation school as well. Given the generally hostile attitudes of the Pedis towards Christianity and the way the missionaries brought divisions between the Christians (majakane) and the non-Christians (bahedene or heathens), and the missionaries' general contempt of Pedi and African cultures, (including the initiation schools), it makes sense that all these factors would regrettably take their toll on an innocent young girl, culminating in her death, perhaps not as a martyr, but by default. When Manche's interest in Christian teachings persisted, she and Lucia were sent away to take care of youths who were cattle herders in a distant location. When she persisted in her faith, the parents resorted to beating and humiliating her. They also sent Lucia, who was viewed as a bad influence, back to Marishane.
Manche's family lived in Mabuke next to their fields. The fields were the only source of the family's livelihood, hence the expectation that whatever field-related chore was allocated to her was to be taken very seriously. Parental violence continued to increase. The real causes of tension in the family and the fears that caused the violence were never clearly spelled out. It is noteworthy that the main cause of tension was Manche's commitment to church over her work in the fields, something that invited especially the wrath of her mother as the responsibility for the fields rested on women's shoulders. On one occasion Manche's mother followed her with a whip and a spear. As some point Manche told Lucia that she would obey her parents and work to the best of her ability but that she would not turn away from the Church. The medicine from the traditional doctor that was forced on her did not turn her away from Christianity. Another version related to this account is that the medicine from the traditional doctor was smeared on Manche's hoe as a way of hitting back at the suspected magic of the Christians. Upon touching the hoe, Manche was infected and died. Though Manche's clothes were taken away from her, she continued praying outside, in the mornings and in the evenings. According to Goedhals, "Eventually, in about February 1928, her parents took her to a lonely place and beat her to death, because she refused to give up her allegiance to Christ and her desire for baptism."[15]
After Lucia's report, Bishop Parker was satisfied that Manche's death presented a genuine case for Christian martyrdom. The South African bishops recommended that Manche's name be included among the list of holy persons commemorated annually on special days by the Anglican Church.[16] The latter was implemented only 40 years later however. A small group of people participated in the pilgrimage to her grave after a few years. But by the 1960s, many hundreds, all over the Northern Transvaal were drawn, and continue to come on pilgrimages to Manche's grave.[17]
Although Manche's mother continued to display her hatred towards Christians after Manche's death, she was drawn to the church, and became baptized and confirmed in 1969, taking the biblical name Magdalene. Manche was given an official feast day in the Anglican calendar of saints in the year 1975. Statues of ten Christian martyrs were put above the west door of Westminster Abbey in 1998. Among them was that of Manche Masemola.
What Lessons may the Church derive from Manche's Narrative?
On Missionaries and Missions
Many Western missionaries to Africa colluded with the colonizers in the act of civilizing heathens and savages, imposing western norms and values as normative in the contexts of their missions. Even though they did this in the name of God, it did not do justice to the cause of Christian missions. It is essential that those who are committed to the cause of missions appreciate and respect both the people and the cultures they wish to reach through their missionary work. If the early missionaries had acted this way, perhaps the Sekhukhuneland Pedi people would not have viewed them with such suspicion, and perhaps the tragedy which befell Manche would have been averted.
About the Hosts of the Missionaries
In the tradition of African hospitality and the spirit of ubuntu (humanness and kindness), visitors are highly respected in African cultures, especially those whose cause is genuine. A pertinent question in this regard would be: If the missionary genuinely feels called by God to conduct missions within a specific location only to be confronted by the wrath and rejection of the host, what would be a reasonable way out of the situation? In a hierarchical context such as traditional Africa, what might be the role of resistant parents vis-à-vis their children who might have an earnest thirst to be taught about the things of God? Which parent should take precedence for the child who is also equally created in God's image—the Heavenly Parent or the earthly one? Which role may parents play regarding the holistic nurturing of their children in the preceding scenario?
The Agency of Young Gospel Recipients
Statistics have revealed that Africa is a young continent, with more than 60% of the population falling within the category of "youth." Although traditional African mentality prioritizes male and age hierarchy, could present day African parents appreciate and accept the agency of young people especially when it comes to matters of faith and religious practice? Particularly parents who are persuaded that God should be involved in the lives of all people, including the youth, would they be willing to acknowledge the agency of younger ones like Manche, the martyr? As scholar Mandy Goedhals states, "Her labor was controlled by her parents, and she could not read or write. But we can take her life history seriously, even in the circumscribed form in which we have it. Though illiterate, she was capable of making decisions, she had resources for survival and resistance, an inviolable sense of self."[18]
Madipoane Masenya (ngwan'a Mphahlele)
---
Notes:
What attracted me to the difficult story of a young Pedi girl whose strange and controversial death turned her not only into a local, national, and international icon, but also more importantly for the purposes of this brief introduction, into a martyr? First, coming from the Anglican tradition, residing then in the northern Transvaal, not far from Manche's gravesite, I once, as a secondary school pupil, participated in a pilgrimage to Manche's grave in the year 1972. Second, unlike the many relatively older heroes and heroines whose lives are celebrated in the Dictionary of African Christian Biography, Manche's narrative presents a unique case of a faith commitment by a young rural girl. Third, being part of the Pedi people and cognisant of the strict gender and age hierarchies between parents and children as well as the difficult relationship that I sometimes had with my parents, especially my father, on account of my newly found faith, Manche Masemola's story hits close to home.
Goedhals 2000, p. 101; the brackets are mine.
Goedhals 2000, p. 99.
Hinchliff 1963, p.153-157.
Goedhals 2000, p.100.
Goedhals 2000, p.100.
Lewis and Edwards 1934, p. 640.
Goedhals 2000, p.100.
Goedhals 2000, p.101.
Goedhals 1998, p.37.
Goedhals 2000, p.101; Goedhals 1998, p.37; Whitnall 1983.
Goedhals 1998, p.36-37.
Goedhals 2000, p.102; Whitnall 1983.
Goedhals 2000, p.103.
Goedhals 2000, p.104.
Parker 1944.
Blake 1950; Whitnall 1983.
Goedhals 2000, p.111.
Bibliography:
Blake, CR Francis. "The Sekukuniland Martyr."" CR Quarterly St John the Baptist 20-23 (1950).
Goedhals, Mandy. "Imperialism, mission and conversion: Manche Masemola of Sekhukhuneland" in The Terrible Alternative: Christian Martyrdom in the Twentieth Century. Pages 30-45. London: Cassell, 1998.
Goedhals, Mandy 2000. "Colonialism, Culture, Christianity and the Struggle for Selfhood: Manche Masemola of Sekhukhuneland, c.1913-1928," Alternation 7.2 (2000): 99-112.
Hinchliff, Peter. The Anglican Church in South Africa. London: Darton, Longman and Todd, 1963.
Lewis, Cecil and Edwards, Gertrude Elizabeth. Historical Records of the Church of the Province of South Africa. London: SPKC, 1934.
Parker, Bishop Wilfrid. "The Death of Manche Masemola." AB393f. Notes of 1937. Interview typed in 1944. CPSA Archives, William Cullen Library, University of the Witwatersrand, 1944.
Whitnall CR Dominic. "Manche Masemola, Sekhukhuniland Martyr." AB2038F. CPSA Archives. William Cullen Library, University of Witwatersrand, 1983.
---
This biography, received in 2017, was written by Prof. Dr. Madipoane Masenya (ngwan'a Mphahlele), professor of Old Testament Studies in the Department of Biblical and Ancient Studies at the University of South Africa, DACB advisor and JACB contributing editor.