Classic DACB Collection
All articles created or submitted in the first twenty years of the project, from 1995 to 2015.
Mathebula, Madambi Aaron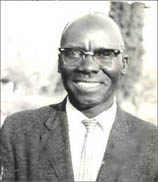 Madambi Aaron Mathebula was born at Zoeknog about twenty kilometers east of Mnombeleni, the Arthurseat Nazarene Mission in the Eastern Lowveld of the Limpopo Region of South Africa. He was the fifth child and second son of six children born to Pikinini and his first wife Nkothasi. Madambi's father Pikinini and his grandfather Magomondwani were both tinyanga (traditional doctors) at Zoeknog. His grandmother Nxoma and wife of Magomondwani named him Madambi.
Madambi was a bold and dutiful child. Because of this his father used him as an aide and a traveling companion from his early teenage years, thereby grooming him to become a nyanga. As tinyanga were supposed to walk freely with only a stick in hand, Madambi became the carrier of the tintshevele (the kit containing divination bones and medicines) and was responsible for administering emetics to his father's patients. He attended a traditional initiation school held by the Pulana chiefs in the area and upon completion he gave himself the name Silolisi.
Christian light began to shine in their home when his brother and sister, who attended the Pilgrim Holiness (later Wesleyan) Mission of Missionary Isaac Lehman at Casteel, received the Lord into their hearts. Madambi was led to repent in the Church of the Nazarene because he attended the lower primary school at the Zoeknog Church of the Nazarene close to his home. His teacher and pastor of the church was Rev. Samson Mkhabela. Madambi began attending church and was saved as a teenager. He adopted the Christian name of Aaron. The Zoeknog Church was a camp meeting centre in the area before the mission was established at Mnombeleni.
In 1938 or 1939 Mathebula went to the Mnombeleni Mission School for further primary education. As the mission station had only started in 1935 at the place called Lebambano, Aaron was one of the first converts.[1] Soon after his conversion he felt called into the preaching ministry. He led his mother to the Lord at the Zoeknog Church and his eldest sister Wavasi and younger sister Ruth gave their lives to the Lord at Zoeknog. The elder sister who had repented at Casteel moved her membership to Zoeknog Church of the Nazarene. Mathebula kept in close touch with Rev. Samson Mkhabela who continued to give him pastoral care and guidance and encouraged him in his calling.
As the church leadership helped him go to Bible College to prepare for the ministry, he was able to attend Siteki Bible College in eswatini in 1941 and 1942. While there he gave the following testimony: "I repented at home in the Eastern Transvaal in 1939. There God called me to work for Him. It was very hard for me but at last I said 'yes' but found it hard to tell others about it. At camp meeting I settled it and publicly confessed to my call. I am happy in Bible School and want to prepare myself for His work among my own people."[2]
In January 1943 he married Miss Tryphina Makhubele from Tsakane (Greenvalley) who was also a Nazarene convert and had attended the school at the mission. She worked as receptionist and auxiliary nurse at the Mnombeleni Clinic. Their marriage was solemnized by Rev. W. C. Esselstyn at Mnombeleni. They were blessed with six daughters and two sons: Virginia, Angeline, Phyllis, Naphtali, Solly, Gertrude, Fairie, and Thuliwe. Naphtali passed away around age four and Thuliwe around age two. In 2005 all of the other children were full and active members of their local Church of the Nazarene congregations.
After their wedding the couple ministered for a short time at the Greenvalley Church and then took their first pastoral assignment in 1943 at Klaserie. After that they served the Islington Church from 1955 to 1958 and the Zoeknog church from 1958 to 1963.
At the beginning of 1961 Mathebula returned to Bible College at Siteki along with Rev. Daniel Hlatshwayo to complete his third year of study that was required for ordination. He left the Zoeknog Church in the hands of Pastor Wilson Makhubela, who had just completed his ministerial training at Siteki. That year Mathebula was ordained an elder at Mnombeleni.
He helped start the Thulamahashe Church of the Nazarene along with Pastor Thompson Mkhonto and helpers from the Tintswalo Hospital. In 1963 Rev. Elmer Schmelzenbach, missionary son of Sibhaha pioneer Nazarene missionary to eswatini, arranged for his appointment as the first regular pastor of the Thulamahashe Church where he served until 1974. Mathebula was popular with the students at the nearby Maripi High School (later named Orhovelani) that had moved from Arthurseat in 1963. He was allowed to accompany boarders to and from church services and on Friday afternoons he visited the school to hold Nazarene Youth International (NYI) services. As zone and NYI leader he stimulated Nazarene Youth International and church growth on the Eastern District. He was often invited to conduct revival meetings from as far afield as Pinetown, Natal. In the 1970s Mathebula served on the Advisory Board of the Eastern District.
The Thulamahashe Church showed steady growth in membership and finances. They had a financial breakthrough after Mathebula invited Evangelist Rev. Thomas Ndlovu from eswatini to teach on the giving of tithes and offerings. Growth in membership occurred as a result of regular revival meetings conducted by pastors such as Rev Johanne Mthethwa. Mathebula led the church with charisma and treated every individual in the congregation as important, emphasizing faithfulness and discipline. Church members who failed to attend worship on Sunday knew he would be at their homes in the afternoon to find out the reason. In 1974 the Thulamahashe Church became self supporting and had developed into one of the largest congregations on the district. That same year Mathebula was elected district superintendent to succeed the long-serving pioneer district superintendent, Rev. Enos Mokwena. He served in this capacity until 1976 and then continued his ministry in the Carolina area.[3]
In retirement Mathebula worked as an ambulance driver at Tintswalo (formerly Nazarene) Hospital at Acornhoek. He passed away on September 15, 1987.
Mathebula is remembered for his enterprising and pragmatic church leadership He was especially gifted in counseling and mentoring. He was a good marriage counselor and mentored a number of persons who became recognized community leaders. He helped start Nazarene Youth International groups throughout the district and encouraged young people to accept Christian marriage. He visited public schools and held weekly Bible classes for the Nazarene youth in those schools.[4]
He is remembered as having a great personality–a pioneer in Christian evangelism and a leader who worked diligently to build the church.[5]
Paul S. Dayhoff
---
Notes:
Lebone la Kgalalelo, (The Lamp of Holiness), Pedi/Sotho/Tswana magazine of the Church of the Nazarene in South Africa, (Florida, Transvaal, South Africa: Nazarene Publishing House, January-March 1978), 3.

The Other Sheep, mission magazine of the Church of the Nazarene, (Kansas City, MO: Nazarene Publishing House. July 1941), 19.

Theodore Esselstyn, 1975, Cut from the African Rock: A Portrait of the Church of the Nazarene in Africa - 1974, (Kansas City, MO: Nazarene Publishing House, 1975), 73-74.

Marjorie Peel, letter to P. Dayhoff, February 12, 1992.

Nyiko Nkuna (grandson of Rev. Aaron Mathebula), e-mail report, April 15, 2005. Biographical compilation by Solly Mathebula (son of Aaron Mathebula) with background information from Aaron Mathebula's widow Tryphina and sister Sannie Ravuhali, May 29, 2005.
---
This article is reproduced, with permission, from Standing Stones of Africa: Pillars of the Faith in the Church of the Nazarene, unpublished, copyright pending, 2004, by Paul S. Dayhoff. All rights reserved.