Classic DACB Collection
All articles created or submitted in the first twenty years of the project, from 1995 to 2015.
Matshedisho, Andrew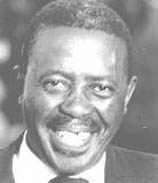 Andrew Matshedisho's first encounter with the Church of the Nazarene was during a tent campaign in Moroka Township (Soweto, Johannesburg) in 1952. He was a tall man and he entered the tent followed by his rowdy companions. The theme of the message that evening was "Jesus answered, 'I am the way and the truth and the life. No one comes to the Father except through me'" (John 14:6). Matshedisho and his friends shuffled continually to disrupt the service and periodically they called out, "Afrika! Mayebuye!" (a political freedom slogan, "Let Africa return!"). The minister closed the service in frustration, but Matshedisho left with a sense of guilt and could not sleep that night.
The next evening, his son David wanted his father to go to the tent with him. Matshedisho refused as he was tired from work, but his son cried and persisted until it touched his father's heart. He wondered what it was that the boy saw in it. So they went. The words of Galatians 5:19-21, which enumerated his sins, troubled Matshedisho and he began to tremble with fear. Then the invitation of Matthew 11:28-30 spoke to him, "Come to me, all you who are weary and burdened, and I will give you rest. Take my yoke upon you and learn from me, for I am gentle and humble in heart, and you will find rest for your souls. For my yoke is easy and my burden is light." He stumbled down the aisle to the crude bench that was used for an altar. Describing it later he said, "I saw my sins and wept. I confessed my sins and named them. God forgave me. I thank God very much for how he used a child to bring me to salvation and to become a child of God. Hallelujah! Praise God!" He arose a changed person. The jealousy and bitter hatred were gone and, as he later testified, he felt like he could love the whole world.[1]
The next morning he returned a sack full of stolen tools to his workplace. The response from the manager was, "This is wonderful! I don't know about this Jesus business but take all of my workmen to your tent. I'm about to go bankrupt because of their stealing."
Matshedisho started a prayer meetings each evening at his small home in Jabavu Township. His wife's name was Angelina (1918-1982). The neighbours were not sympathetic and hired a traditional doctor to stop all the noise. The most powerful medicine was placed in the dirt at the gate of Matshedisho's home, but Matshedisho remained unharmed. The neighbours angrily tried to get their money back from the doctor but he kept assuring them that it would soon work.
Matshedisho gave up his political activities. He quickly responded to God's call to the ministry and left to attend Bible College. Upon completion of his training he returned to minister in his home area and pastor the Moroka Church. He was the first pastor in Soweto after Pastor Salome Khumalo from eswatini who began holding services at Jabavu in 1950. Matshedisho was ordained in 1961 by General Superintendent G. B. Williamson. One of his favourite expressions was, "Modimo ke Modimo!" (God is God!) He was able to prove it many times.
One night while returning home from working on a church building, he was knocked unconscious by tsotsis (gangsters). They robbed him of his week's livelihood and then miraculously left him there, alive. He regained consciousness and struggled on home. Usually they stripped and killed their victims so they could not report them.
Returning home on bicycle another night he rounded the corner near the "Self-helping-Hand Funeral Parlor" in Moroka. Attackers hit him on the head and he fell to the ground. As they leaned over to search him the flashlight he had been holding turned in his hand and shone full in his attackers' faces. Thinking he was still conscious and about to hit them, they fled. A minister who was nearby walked over to help him and, seeing it was a friend, he exclaimed, "Oh, Matshedisho! Surely God is with you! This gang never leaves its victims alive!"
In 1960, the evangelism tent was pitched on the site granted to the church at Moletsane, where the mission planned to build a church. The workers visited extensively in the area and the forty-by-ninety-foot tent was packed each evening. Many people were finding the Lord. Suddenly a revolutionary group called a strike and the whole area erupted in violence. At Zola the missionary, Rev. George R. Hayse, was robbed of the payroll for five building crews.
Matshedisho carried on with the tent campaign. "God is God," he said. Material began disappearing from the building sites. As Brother Hayse was preparing to haul everything away, a preacher came excitedly telling the news of what had happened the previous evening at Moletsane. Earlier that evening, as Matshedisho was kneeling in the tent, praying for the service, three men had entered, pushed him in the face and told him to stand. They asked what was going on and the pastor explained that the tent was the house of God and that he was there to tell people about the God who could change their lives. They took the microphone and demanded that he call on the people to rally against their enemy, the government. Matshedisho snatched the microphone from the leader and told him that he was a messenger of God. He said God loved all men and wanted to save them. He could not use this equipment to speak such words of hate as they wanted.
This enraged the leader who took out a long knife and slashed at Matshedisho but missed. He cut the cord of the microphone, kicked over the light plant and smashed the amplifier. Then he lunged at Matshedisho again with the knife and said angrily, "Yes, we know that you are an enemy of the people and not fit to live. I am going to kill you." He covered Matshedisho's mouth with his hand, jerked his head back and put the knife to his throat. One of the other men pulled his hand away and told him not to kill the preacher then because people had seen them enter the tent. They would be in real trouble if they were known to kill and it was reported to the police.
They told Matshedisho that they would go and fetch a gallon of petrol (gasoline). "When we return, if you still refuse to cooperate, we will kill you and burn this tent. That way it will look like it was an accident." They soon returned as they had promised and again found Matshedisho and his helpers praying at the altar. With his tear-stained face turned upwards he continued to pray that God would preserve the tent, protect their lives and have mercy on these wicked men. The men stood for a few minutes holding the can of petrol and muttering among themselves. Then without a word they slowly moved back out through the tent flaps and disappeared into the darkness.
George Hayse urged that they take down the tent and return later when the unrest was over. Matshedisho's reply was, "Is God God, or is he not God? Can't he care for this tent? Can't he protect my life? Can't he deal with these people?" The evangelism campaign went on and peace soon returned to that great city. Crowds increased at the tent and a thriving church was established at Moletsane.[2]
Twelve preachers and their wives came from Matshedisho's congregation at Moletsane. One of his first converts was Mr. July Ndhlovu, who had once been the secretary of a prominent revolutionary organization and who was an illegal immigrant from Central Africa. Ndhlovu later returned to Zimbabwe to help found the church in his homeland.
When Matshedisho was pastoring at Meadowlands East, his wife Angelina passed away on October 11, 1982. While he was visiting her in the hospital his car was stolen.[3] He suffered from diabetes in his later years. Rev. Andrew Matshedisho was a man of prayer and great evangelistic fervor. He always encouraged the Christians and especially young preachers in their early ministries.[4]
Paul S. Dayhoff
---
Notes:
A. Matshedisho, "Testimony," Montsoša-Bošego,(The Herald), Pedi/Sotho magazine of the Church of the Nazarene in South Africa, (Florida, Transvaal, South Africa: Nazarene Publishing House, March-April 1960), 5.

G. Hayse, The Other Side of the Shield, (Kansas City, MO: Nazarene Publishing House, 1966), 65ff, 78.

Trans African, (Florida, Transvaal, South Africa: Africa Nazarene Publications, November-December 1982), 2.

Trans African, (September-October 1990), 14.
---
This article is reproduced, with permission, from Living Stones In Africa: Pioneers of the Church of the Nazarene, revised edition, copyright © 1999, by Paul S. Dayhoff. All rights reserved.