Classic DACB Collection
All articles created or submitted in the first twenty years of the project, from 1995 to 2015.
Mavhetha, Piet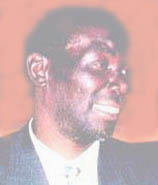 Malori Piet Mavhetha and his wife, Selinah (Nenzhelele) Mavhetha (1941-), are from Venda, Northern Province. Piet was born on June 23, 1942 and attended primary school at Folovhodwe. He continued his education at the secondary school at Malilele. He married Selinah in 1965.
Mavhetha found the Lord at Schaaphok, near Potgietersrust, Northern Province. He worked in the Department of Water Affairs. His coworker and new convert, Samson Chauke, told him about Jesus Christ and took him along to church. The pastor was Mrs. Rosina Boshielo. She preached from Luke 5:28, "and Levi got up, left everything and followed him." In 1975, Mavhetha recounted what happened at hearing those words:
That message pierced my heart. I went to the altar, surrendered and repented. I had the witness in my heart that the Lord Jesus was my Savior. I was happy knowing that I was that day a child of God. I felt an exceedingly great and eternal joy. I renounced all my sins including drinking and immoral living. But my problem was tobacco. It would not go away. I promised God that if he would take away my craving for smoking I would give Him R2.00. I fasted and prayed for a whole day and God helped me to overcome that habit. To this day I no longer desire it. Amen! It was a miracle answer to my prayer and I took the R2.00 to church. They gave me an Alabaster Box to put it into and it was an offering for world mission buildings. After that I was baptized and joined the church. I am thankful that on May 18, 1975 I found the fullness of the Holy Spirit. I am happy![1]
Mavhetha was the first Venda person to answer the call to the ministry in the Church of the Nazarene. He enrolled in Bible College at Arthurseat, Northern Province, in 1975 and he and Selinah both graduated in 1978. They were asked to plant a church at Folovhodwe, Venda, Selinah's home village.
Bible College students helped them get started with a tent campaign in 1979. In January 1980, twenty-seven converts were baptized and joined the church. The growing church experienced opposition from the surrounding community. Other Christians asked, "What new sect is this that teaches that a person can live in the world and not sin?" In light of these challenges, Mavhetha emerged a true shepherd of the flock. He loved the new disciples and guided them into a loving, obedient relationship with Christ.[2] A church building was erected in 1980.
Mavhetha expanded the church from the community at Folovhodwe to Matshena. Encouraged by Mrs. R. T. Matshusa, Mavhetha made the thirty-five mile journey every week on his bicycle. He would leave on Wednesday, stay overnight at Tshiungani and arrive at Matshena at midday on Thursday. It was very hot traveling through the Limpopo valley and he would arrive dusty and thirsty. As a result of the ancient customs practiced at Matshena, no one came out to welcome him. He would arrive and sit in the muta alone. Eventually, Mrs. Matshusa would come out to talk a little and give him water. Mavhetha always wondered whether they really wanted him there. Her husband almost never made an appearance and when he did he would walk away quickly. The would rest through Thursday then teach and conduct a service on Friday. Mrs. Matshusa was the only one that came to the meeting, with a baby on her lap and a small child at her side. He would conduct the service as though there was a full congregation. The singing went terribly as she could not carry a tune at all. When he asked if anybody would like to make a new commitment, she always stood up, came forward and knelt, and they prayed together. It went on like this for two years. Then her husband was converted and shared responsibilities with Mavhetha. He traveled there only once a month and Matshusa family would carry on the rest of the time. People began coming and soon there were ten converts. The little hall where they met would be full. Matshena developed into a strong congregation and a church was built in 1986.
Mavhetha was ordained by Dr. Jenkins at the Africa Regional Conference in 1983. He was responsible for the distribution of bags of mealie (maize) meal from the Nazarene Hunger and Disaster Fund during a time of severe drought and famine in the area. An estimated 160 families, representing about six hundred people, were helped.
Mavhetha contracted tuberculosis and was deathly ill in the hospital, weak and totally exhausted. He heard Jesus speak the words to him, "You are worthy." He recovered and did not forget those words. He often used them in preaching and exhorting to bring hope and faith to those he ministered to.
The Mavhethas continued to minister successfully at Folovhodwe. They were able to get electric lighting installed.[4] In 1998, a church was built at Dombone. In 200l, the Mavhethas were overseeing five churches, Folovhodwe, Matshena, Mapakone, Dombone and Maramanzi.
Pat Stotler, a missionary who worked with Mavhetha for many years, said of him, "What a prince of a man! He was a wonderful pastor." Dr. van Rooy, a scholar of the Venda language, said he was "a true example of holiness."[5]
Rev. Piet Mavhetha died on Sunday, January 23, 2005. Besides his wife, Selinah, he was survived by a great family of nine living children. He was dearly loved by the Folovhodwe Church and the congregation gave a feast for those attending the funeral. They included leaders and colleagues from surrounding districts.[6]
Paul S. Dayhoff
---
Notes:
Piet Mabetwe, "My Repentance", Lebone la Kgalalelo, (The Lamp of Holiness), Pedi/Sotho/Tswana magazine of the Church of the Nazarene in South Africa, (Florida, Transvaal, South Africa: Nazarene Publishing House, January-March 1976,)12.

Friberg, 1982, Like a River Flowing: The CThurch of the Nazarene in Africa and the Republic of Cape Verde, (Kansas City, MO: Nazarene Publishing House, 1982), p.28.

Rev. Piet Mavhetha, Report, August 2001.

Trans African, November-December 1981, p.7.

Pat Stotler, letter, 29 July, 1996.

Pat Stotler, e-mail report, January 30, 2005.
---
This article is reproduced, with permission, from Africa Nazarene Mosaic: Inspiring Accounts of Living Faith, first edition, copyright © 2001, by Paul S. Dayhoff. All rights reserved.